Hubby and I had an impromptu trip to SM Aura Premier one late afternoon. Somehow, we always find ourselves there whenever we need to pass the time. We always make it a point to try something new. We decided to have a snack at Yakitori One located at the Food Court.
Unlike most food courts which are usually situated in basements, SM Aura's is located on the 4th level and is called Food on Four. This is actually our second attempt to try Yakitori One. The line was too long the first time we were there. Yakitori One serves grilled skewered meats and if you prefer, rice. I first heard about Yakitori One from Chuvaness. She tweeted about it when it first opened. It's her new concept and it's located beside Pepper Lunch Express at Food on Four.
Unfortunately, I was unable to bring my cam with me so I had to settle for cellphone photos. They have this rotating yakitori griller so that the skewered meats cook evenly.
Everything is freshly grilled!
There are many different kind of skewers to choose from. Prices range from P30 to P60 a stick. You can get a better deal (a complete meal for below P200) if you order them as a rice meal set.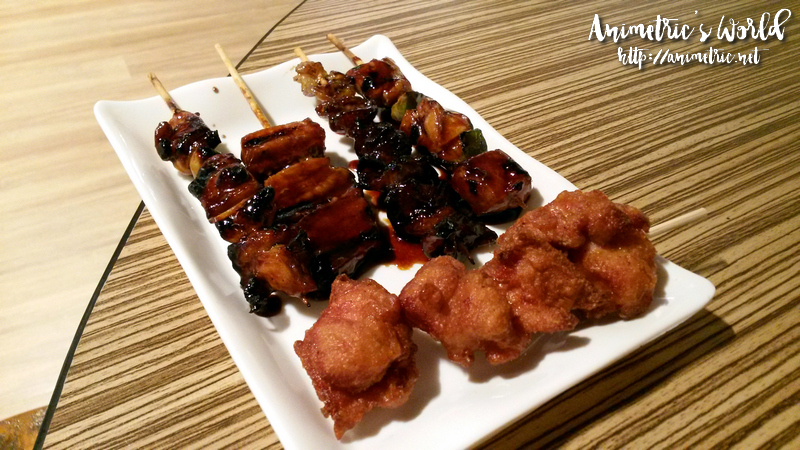 Hubby and I ordered five sticks: Chicken & Garlic (P50), Pork Butabara/Pork Belly (P45) Chicken Karaage/Fried Chicken (P45), Chicken & Bell Pepper (P50), and Chicken Skin (P30). The grilled meats are basted with a Japanese soy sauce-based sweet-savory glaze. I like how it tastes better than the usual teriyaki sauce.
This plate of 5 sticks cost P200+.
Considering that a rice meal with 3 sticks costs around P160+, Yakitori One is actually one of the more affordable places to eat at SM Aura Premier's Food on Four. I tried another stall one time and ended up paying over P200+ for a single order of salad, lol! No wonder there's usually a line at Yakitori One.
Yakitori One
Level 4, Food on Foor,
SM Aura Premier, The Fort, Taguig City
http://yakitorione.com/
Like this post? Subscribe to this blog by clicking HERE.
Let's stay connected: