I was invited to an intimate blogger dinner at Yabu The House of Katsu in SM Megamall last June 12, 2012. They serve what is undoubtedly the best tonkatsu (Japanese-style breaded pork cutlet) this side of town so of course I confirmed my attendance! 😀
We started off with appetizers while waiting for the other attendees. Yabu The House of Katsu has four kinds of appetizers on their menu and you can order any two for P175. There's Hiyayakko Tofu, a big block of cold silken tofu semi-immersed in ponzu sauce and topped with minced green onions and tasty bonito flakes. It was paired with Potato Salad which Yabu serves Japanese style, using a combination of Japanese mayo and mustard with the cubed potatoes for a slightly tangy flavor.
The other two appetizers are Edamame which are young green soybeans. You take the beans out by tearing through the soft outer covering. It doesn't really have any definitive taste but it feels light, cool, and fresh so it's nice to munch on. It was paired with Wakame which is seaweed salad topped with ebiko (shrimp roe).
Chef Kazuya Takeda, the Katsu Master, was there to talk a bit about tonkatsu (ton = pork, katsu = cutlet). Chef Kazuya is the head chef of Tonkatsu Takeshin, a popular tonkatsu restaurant in Tokyo. He trained the chefs at Yabu so that we too can enjoy delicious authentic katsu. Chef Kazuya said that one of the secrets to good katsu is the use of canola oil to cook it. It's what they do at Yabu.
For the main event, we were first served Yabu Special Katsudon created exclusively by Chef Kazuya. It's katsu drizzled with miso-based sauce then topped with nori, bonito flakes, fried egg, and shisho (Japanese basil). Of course it's all served on top of piping hot steamed Japanese rice. It's soooo yummy. We were asked to choose if what kind of katsu we wanted: Rosu (pork with trimmings of fat), Hire (lean pork), Chicken, or Ebi (shrimp) & Fish.
I opted for Rosu. This is how it looks after I fiddled with it some to show you how thick a slice of pork is. Still, it's very soft and tender. It's so good it's not too far off from the taste of their most premium pork which is the Kurobuta pork I ordered last time.
Yabu then introduced their Seafood Set No. 2 (P515). Breaded salmon, oyster, creamy crab, and prawn are served with miso soup, unlimited rice, unlimited shredded cabbage with dressing, and a bowl of fruit. Actually, almost all Yabu meals come with unlimited rice and cabbage which is good (especially the cabbage which I love so much!).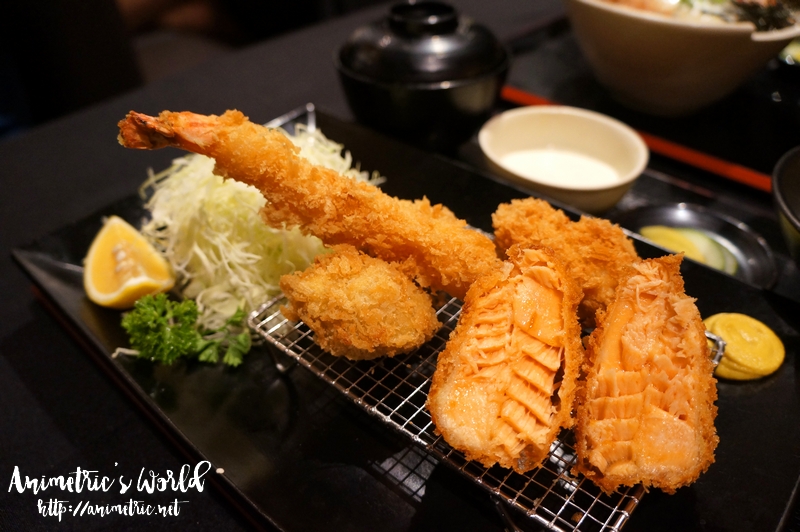 Here's a closer look at the delicious seafood. I know not everyone eats pork so now you have more to choose from at Yabu.
We were told to try the seafood katsu with Yabu's very own homemade chili sauce. It's slightly sweet and not too spicy — I liked it a lot!
Guess what? Yabu House of Katsu is opening more branches! They'll be serving up their yummy tonkatsu at the SM Mall of Asia and the new Robinsons Mall that's currently being built in New Manila… soon!
Yabu The House of Katsu
2/F Mega Atrium, SM Megamall,
Julia Vargas Ave., Mandaluyong City
576-3900
http://www.yabuhouseofkatsu.com/
Like this post? Subscribe to this blog by clicking HERE.
Let's stay connected: