*This establishment is now closed.
One Sunday last month, we were invited to have lunch at Wrong Ramen at Burgos Circle, BGC. It's not the usual ramen place.
The name is indicative of the restaurant's concept, which is to serve unconventional ramen. They admit that it's not the way ramen should be.
The place is pretty small. There's one long table at the second floor which you can divide amongst different groups via partitions. There are bar seats near the window though.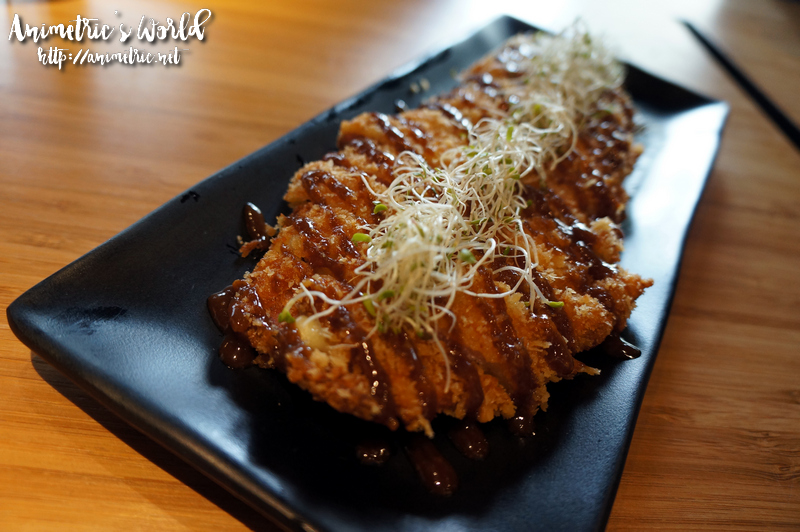 Anyhow, without much ado we proceeded to order food, starting with Bacon Katsu (P260). It looks like tonkatsu (crispy pork cutlets) but it's not exactly tonkatsu. Inside the breading are bacon and cheese. It's okay but kind of greasy with all the fatty stuff going on. I recommend this for sharing since having too much can diminish your appetite for other food.
I found Chashu Rice Rolls (P140) to be a better appetizer. Shredded chashu (pork) is wrapped in veggies and rice wrappers then served with ponzu sauce on the side. Yummy!
We also had Kushikatsu, or Japanese fried kebabs. There are seven kinds to choose from but I only tried the Hamburg (P180). It's actually breaded hamburger steak although the shape doesn't seem like it. It was juicy, tasty, and at the same time crispy.
You can choose to dip your Kushikatsu in any of five different sauces available: Ponzu, Soy Ginger, Chili Soy Ginger, Tartar, and Curry Mayonnaise.
We each got to choose a bowl of ramen from the menu. I picked F.U. Ramen (P425). It's ramen topped with black pepper spam, bacon strips, cheese, and a fried egg. The menu describes it as your breakfast in liquid form. The pepper and garlic broth is extremely flavorful but very greasy. Yes, it tastes good. However, I couldn't finish half of my order because it's just too overwhelming in the long run.
We also tried Crispy Pata Ssam (P980). Pork leg is cooked for 5 hours then served with lettuce and ssam sauce. It's nice and crispy outside yet juicy inside. You take pieces of meat and wrap them in lettuce with the sauce. Good but too expensive at almost P1,000.
Hubby opted to have Wrong Ramen Light Tonkotsu (P385). I thought it tasted like grass, suffice to say I didn't like it.
For dessert, we ordered Poop of the Gods (P130). It's an attempt at clever word play for the usual pastry Food for the Gods. This is literally a poopy-looking (just look at the shape and color, lol!) piece of very moist and rich Belgian chocolate drizzled with olive oil and topped with sea salt for contrast. Too sweet. It's so small but I could only manage one teaspoonful. No can do next time.
I had a so-so experience at Wrong Ramen. It's an interesting concept but the food left me feeling overwhelmed because most of the things in the menu are simply too greasy for my tastes. If it's not fried, it's soup that I would describe as oil-based. No wonder I had a slight heartburn afterwards. It's a novelty, maybe nice to try once or twice but to be honest the food won't make me crave or hanker anywhere in the near future. Prices are pretty high for what is offered too. The servings are pretty big though. I suggest sharing orders so it's more manageable in terms of satiety and monetary value.
Wrong Ramen
Forbes Town Center, Burgos Circle,
Fort Bonifacio Global City, Taguig City
823-8249
Like this post? Subscribe to this blog by clicking HERE.
Let's stay connected: