Last Sunday, my hubby, daughter, and I had lunch at Wingstop Eastwood City. We had just dropped off our son at a classmate's birthday party and we decided to finally try out Wingstop.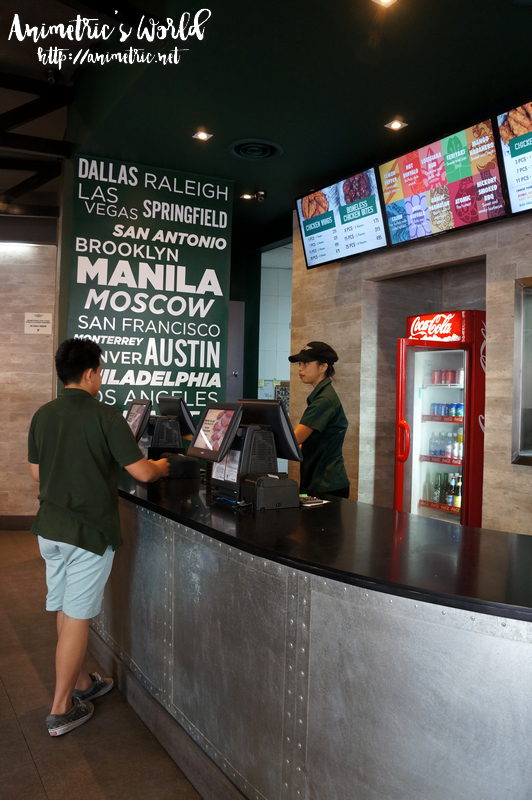 Wingstop is located on the ground floor of Eastwood Citywalk 2.
Each table has a set of paper napkins and utensils.
Hubby ordered a Wings Meal (P235) which comes with 4 pcs. of chicken wings in your choice of flavor plus either Chipotle rice or Texas-style fries. There are a total of ten (10) chicken flavors to choose from:
Lemon Pepper
Hot Buffalo
Louisiana Rub (Garlic and Cayenne Rub)
Teriyaki
Mango Habanero
Cajun
Mild Buffalo
Garlic Parmesan
Atomic (the hottest!)
Hickory Smoked Barbecue
Hubby opted for Lemon Pepper and it was very very good — citrusy lemon with a dash of black pepper flavored chicken wings for the win! We loved it!
Our daughter picked the Tenders Meal (P175). It's 2 pcs. of chicken tenders with your choice of dip (Honey Mustard or Barbecue) plus either Chipotle rice or Texas-style fries. She had rice. She said everything was yummy and devoured her entire order with gusto.
Meanwhile I had the Fried Chicken Sandwich Meal (P175). For the Fried Chicken Sandwich, you have a choice between Hot Buffalo, Cajun, and Louisiana Rub. I picked the Louisiana Rub with Bleu Cheese dressing. Wow, surprisingly the Fried Chicken Sandwich was delicious! I honestly wasn't expecting much, maybe the usual chicken burger we'd find in other places but this was different. The chicken patty was very flavorful and juicy. The fries are crisp and nice too.
In order to try some of the other flavors, we ordered some Boneless Chicken Bites (P175 for 8 pcs, 2 flavors). We ordered two 8-pc Boneless Chicken Bites and got to try 4 flavors: Garlic Parmesan (in the photo above), Lemon Pepper, Hickory Smoked Barbecue, and Louisiana Rub (in the photo below).
I really enjoyed the Boneless Chicken Bites (P175 for 8 pcs, 2 flavors) because they let me experience the delicious Wingstop chicken flavors without giving me a hard time. I mean all I had to do was pop them in my mouth, lol! No bones, no effort… just the way I like my chicken.
Drinks aren't included with the meals and you will have to order them ala carte. There's drinking water available at a self-service area on the counter for free though.
We had a lovely lunch at Wingstop Eastwood City. Food is good and prices are very reasonable, our orders came out to around P1k and we were stuffed afterwards. Will definitely be back to try the other chicken flavors and side dishes like Coleslaw and Onion Rings.
Wingstop
Ground Level Eastwood CityWalk 2,
Libis, Barangay Bagumbayan, Quezon City
706-3106
Like this post? Subscribe to this blog by clicking HERE.
Let's stay connected: