I had dinner with my cousins a couple of weeks ago at Wildflour Cafe + Bakery Greenhills. It wasn't really my first time there, but somehow it's only now that I'm blogging about it. I love Wildflour. I don't feel yucky after eating their food. Plus everything I've ever ordered have all turned out to be yummy (except for their Ice Cream Sandwich, but more on that later).
Wow, I usually visit during the daytime (for breakfast or brunch) so I was surprised by the date night vibe the place exuded during the evening.
While waiting for our orders, we were served a complimentary loaf of bread with butter. The bread is really good — crisp and crusty, similar to a baguette. Perfect with butter. Everyone around me was on a Keto diet and refused to eat carbs. I had like 3 slices for myself lol.
We ordered Wild Mushroom Salad (P420). It consists of Arugula, slivers of Fuji Apples, pistachio nuts, and freshly grated parmesan cheese. The salad is drizzled with a lemon olive oil dressing. I liked it, it's very refreshing and light. This is the kind of salad I can live on everyday!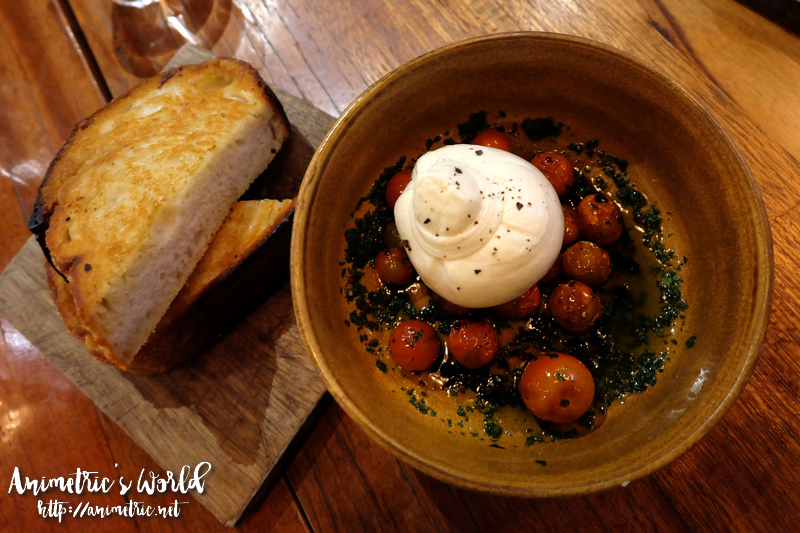 Then we had Burrata and Roasted Tomato Caprese (P540). It's served with thick slices of sourdough bread. Burrata is fresh Italian milk cheese made with mozzarella and cream. The outer shell is firm, but once you break it, it's creamy inside. We pretty much broke it up and mixed it with the tomatoes to put on the bread. Yum! It's soooo good. The cheese is incredibly milky and creamy.
For our main course, we had the Steak Frites (P2,200). A 400g Kitayama Rib Eye Steak is evenly sliced and served with butter, mixed greens, and french fries on the side.
The steak is really nice and tender. They got the doneness right too — we requested for medium. It's flavorful enough on its own with no additional sauces. We also ordered a California Burger (P520) but I failed to take a photo of it.
For dessert, we opted for their Ice Cream Sandwich (P225). You mix and match your choice of cookie and ice cream flavor. We decided on Oatmeal Cookies and Cookie Dough Ice Cream. The cookies were the absolute worst. These are by far the HARDEST and blandest cookies I've ever had. I've made Oatmeal Cookies from packaged mixes and they all taste better than this rip-off.
Had a great time catching up with my cousins over dinner at Wildflour Bakery + Cafe Greenhills. Service was efficient. We didn't have to wait long for our orders. Staff was generally attentive to our needs too. Everything we ordered was great except for the Ice Cream Sandwich which I would not wish on my enemy.
Wildflour Cafe + Bakery Greenhills
G/F O Square Building, Ortigas Ave. cor. Wilson St.,
Greenhills Shopping Center, San Juan City
775-3543
Like this post? Subscribe to this blog by clicking HERE.
Let's stay connected: