When I was a kid, computer and video games were few and far between. I remember having to wait for my turn on my uncle's Apple II e back in 1980 and then I would play games like Wilderness Campaign and Mystery House. I loved Wilderness Campaign. It was totally devoid of fancy graphics (it was black and white!) and would rely on computer-generated dice rolls and text to get going but wow — it was a turn-based medieval fantasy game where I would go to villages (which looked like doodles mind you), buy supplies, equip my party… oh what fun! I show my kids screenshots of this game now in the year 2023 and they're like… ehhh? Lol.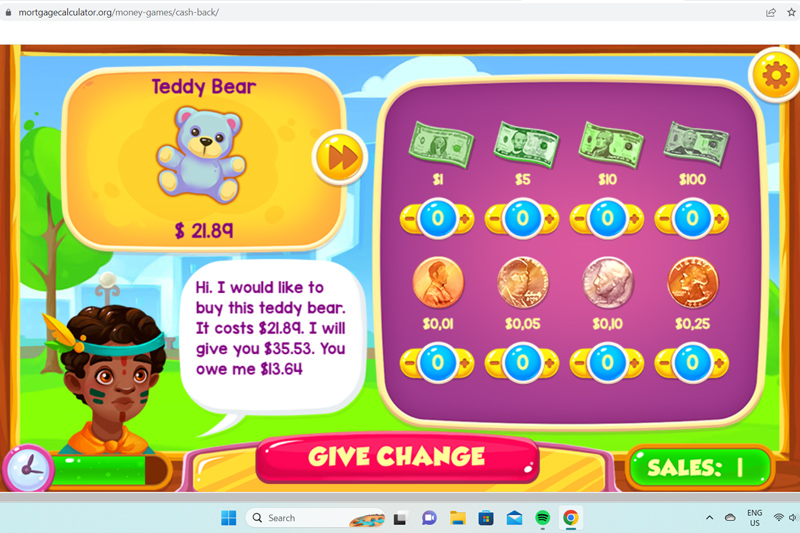 Computer and video games these days have a lot more graphics, sounds, and all the bells and whistles. Controls are also more intuitive. Kids now get to experience ALL sorts of things with games. We even have money games so they don't actually need to set up a lemonade stand and sell juice in order to learn how to give the correct change. Yes, there are games for that now. One such game is Cash Back. In Cash Back, people would approach you wanting to buy things and you need to give them the correct change before time runs out. There are varying levels of difficulty so it can still be challenging for older kids. Kids not only learn how to do the math, they also learn how to distinguish nickels from dimes and pennies.
You know times have changed when there are even games that feature Bitcoin. Bitcon Tap Tap Mine is one such game. It's simplified for kids so it doesn't really delve into the intricacies of setting up your bitcoin mining rig and such. What it does is introduce you to the concept of Bitcoin and give you an idea of how it accumulates and what you need to mine it. It's a cycle — you mine, earn, and upgrade your set-up so you can mine more coin in a shorter amount of time. The more Bitcoin you have, the more money you have.
My husband and I are in the real estate business so Real Estate Tycoon was especially interesting for me. You're given a bit of capital to start so you can buy a property. You see how property prices fluctuate and you make money by buying low and selling high. The more money you make, the more properties you can buy and sell. It's actually fun watching your finances grow.
If you want to give your kids an early start on financial literacy, you might want to check out Mortgage Calculator's catalog of free money games for kids. That is after all where I found all the above gems. Browsing through the titles, I've even seen a stock market game and an NFT game aside from the usual restaurant simulators, puzzle games, and arcade games. They're all FREE to play too! It's never too early to learn how to handle money and manage finances. Kids are smarter than we think and they absorb knowledge like a sponge. As a mom, I can definitely see the benefits of exposing them to educational but fun money games.
Like this post? Subscribe to this blog by clicking HERE.
Let's stay connected: