One year ago, I was not even considering getting the covid vaccine. I was iffy about the fact that it was rushed. I thought I'd let people take it first then sit back and watch what happens. But see, one year later, we're a lot worse off than when we started. Over 10,000 people are testing positive daily. My FB wall has become an obituary of people who've passed away either from COVID or from not being able to get treatment because hospitals are full. People I actually know are getting sick. And with the way the government is handling things, I doubt we'll be seeing improvements any time soon.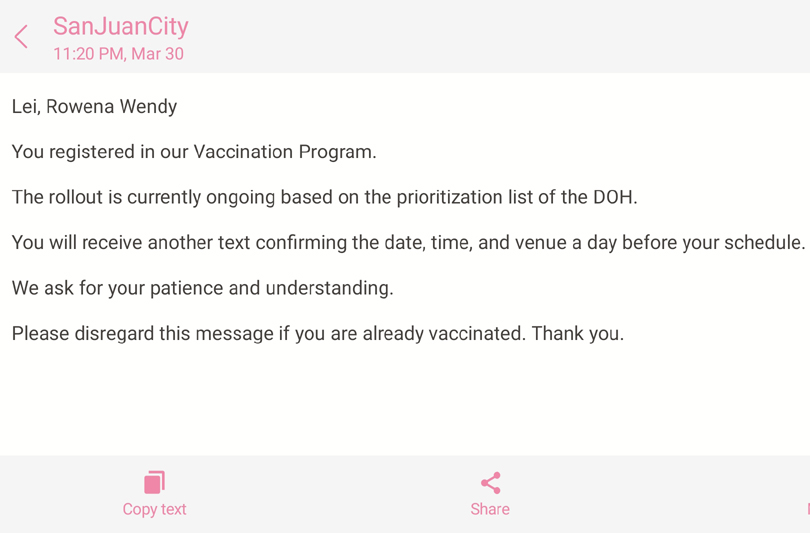 When the San Juan LGU team came to our store and asked us to register for the COVID vaccine, hubby and I jumped at the chance. Although we reside in QC, our businesses are in San Juan and we pay taxes in San Juan.
My main takeaway from all the reading and research I've done is all COVID vaccines prevent death. This is what we need. Yes, you can still catch the virus but you won't require hospitalization and you won't die from it. But here's the thing — no one knows or has tested just how long the vaccine's effect will last. My mom got the Pfizer vaccine in the US and she was told that the protection can last for a week, a month, 6 months, 1 year… no one knows. It hasn't been around long enough for them to determine how long it lasts. Even so, some degree of protection is better than none at all.
Hubby and I need to go out to work. Staying home 100% of the time indefinitely is unfortunately not possible for us. This is why we'll take the first vaccine that's available. If it's Sinovac, then so be it. We need at least 70% of our population to be vaccinated for us to attain herd immunity.
We don't have comorbidities and we're not seniors nor are we essential or health care workers so we don't know if and when we'll get our turn. Hopefully, the covid vaccine will eventually be something we can get from our doctor like the flu shot.
At the rate the virus is spreading here in Metro Manila, I'm surprised that a lot of people do not want to get vaccinated. There's been so much death and yet there are still COVID deniers. I can't even count the number of people who don't wear their masks properly coming into the store everyday. Then they go on about COVID being a government scam to make money, so you know they're really not taking it seriously. Apart from the administration's poor handling of the pandemic, it's this mindset that will keep us from overcoming the virus.
Given the chance, will you avail of the vaccine?
For more information, you can check the World Health Organization's Q&A regarding the COVID-19 Vaccine.
Like this post? Subscribe to this blog by clicking HERE.
Let's stay connected: