Yes, I'm attempting some form of wordplay when I ganked one of my favorite books' title "What to Expect When You're Expecting" and turned it into the title of this post.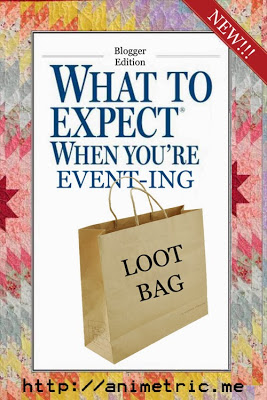 I made my own virtual cover too.
I've been reading too many event-related rants on my Facebook timeline again. The topics covered ranged from people getting offended when they're not invited to events to people getting offended because of issues regarding GCs and tokens. There was even a vicious blog rant about a newly opened restaurant, a group of bloggers, and GCs (I'm not posting the link here because I don't want to give it publicity). I attribute all the fuss to one thing: expectations. After all, if you're not expecting anything, you wouldn't get all worked up over it would you?
I think I've attended more than enough events to know what to expect when I RSVP. Like most new bloggers, I had my "excited" early blogging days maybe 2-3 years ago. I would say yes to everything, mainly because I was not used to being invited and I was curious about what was there. I remember trooping to SM Mall of Asia on several occasions — for a softdrink, juice, donut, movie, and skin care event — and I live in QC (yes once upon a time I was that gungho). Nowadays, I almost always decline MOA-based events… I only make exceptions if it's income-generating (i.e. events by blog sponsors / advertisers). It's not because I don't like MOA, it's because the time, effort, and expense it takes to attend are just too much for me.
I've attended a wide variety of events — food, beauty, parenting, health, tech, travel… etc. I think I can safely say that I know which PRs and brands to accommodate and which ones to avoid.
Cutting to the chase, what are you supposed to expect when you attend an event? In turn, what is expected of you? It depends on what kind of event we are talking about. I will divide them into categories:
Food
By food, it's usually restaurants inviting media guests/bloggers to eat. If you're invited to a food event, expect to eat… a lot. Food events will usually let you sample a lot of dishes. But I've actually attended food events wherein attendees were left hungry lol, because the restaurant would not provide enough for everyone. The scenario was something like 2 small orders to be shared by 10 people.
Tokens? Some PRs/establishments give you GCs or food items as a token, some don't. Of course it would be nice to get a token because after all, you did exert effort in going to wherever it is to give them a few hours of your time. It's a two-way street. GCs also partially ensure that there will be a return visit and perhaps a second post from the blogger/media guest so it could get the restaurant a bit more mileage.

Fact: I attended a food event earlier this year. When the PR was handing out press kit folders, the newspaper person beside me opened it and expressed dismay when there were no GCs.

Bottomline is, the purpose of a food event is to feed you so expect to be fed. Anything beyond that is a bonus. If you're not fed, that's a different story — it's up to you how you will react to it. My suggestion is to take it up privately with the organizer and not turn your blog into an outlet for personal vendetta.
In return, you are expected to share your dining experience with your readers.
This category includes anything from makeup, shoes, toys, chocolate bars, shampoo, etc. — anything a consumer can buy.
If a new product is being launched, you can expect first dibs — you get to sample it in the event, you get to meet and greet the celebrity endorser, you get to ask questions… in short, information overload. You usually take home the product too, if it's not too expensive to distribute to all the attendees. I mean, if Hermes or Louis Vuitton had a launch event, you can be sure they wouldn't be giving out Hermes or LV things as tokens to all attendees, lol.
If the product is too expensive to give to the attendees, they will usually give something else as a token. I once attended a luncheon held by a top computer processor manufacturer. Obviously they couldn't give everyone computers, so they gave the attendees spa vouchers instead. Of course, there's always a possibility that there will be no token.
In return, you are expected to post about the product of course — information, availability, and pricing. It's up to you how far you will take it — will you just announce it as something new? Go in-depth and review it? It's your decision.
Tech

This covers cellphones, computers, TVs, cameras, software, and other types of gadgets/gadget-related things in general.
Tech products are usually too expensive to give as tokens so what they will do is raffle a few units off then give everyone else another token. What the token is depends on which tech brand is holding the event. Some are more generous than others. There are tech events which give you just an eco-bag, notebook, and pen. I actually attended one where all I got was a cupcake, hahaha.
You are expected to post about the product… share the prices, specs, and availability. A review is expected if they lend you a demo unit (doesn't always happen).
Movie
Free movie… 'nuff said.
If the film company (i.e. Warner Brothers, 20th Century Fox, etc.) is holding the screening with no sponsors (press screening) there will usually be a buffet spread outside the theater so you can eat before the movie starts. This kind of press screening expects a movie review in return.
If what you're attending is a sponsored screening (you can tell from your ticket), the sponsor companies would usually give away free samples of their products. They might even hold some games before the show starts or have some raffles. This kind of screening expects publicity for the movie AND the entity/sponsor who invited you (not necessarily a movie review). Food and drinks are sometimes included in this kind of screening.
Live Performance
This could be a concert, musical, cirque du soleil, etc.
You watch for free. Period.
You're expected to share info like show dates, venue(s), promotional materials, and perhaps a review or an account of your viewing experience.
Fashion Show
You will watch a fashion show, not sure whether you will be seated or not. There are usually cocktails. Don't expect a full-blown meal.
You will get a token but what it is depends on the organizer. I once watched a fashion show staged by a skin care brand and a fashion brand, they gave us all the lotion variants and a top afterwards. Meanwhile, one fashion show I attended gave guests a piece of shell which I'm not sure what to do with, lol. Whichever the case, you better have a genuine love for fashion or the brand before you RSVP.
They expect a write-up with lots of photos so you can share the collection with your readers.
Service
By service, this could cover spas, salons, aesthetic centers, and other service-oriented establishments.
You will usually get to sample what they offer — massage, hair cut / color / treatment, facial, etc.
You may or may not get a token afterwards, it depends on the establishment. If you do get a token, it will be something related to the service (ex: Your hair underwent L'oreal Xtenso Rebonding, they might give you some L'oreal products which can help maintain the results you got). In my case, I have such high maintenance hair so if a trustworthy salon were to provide free treatments and services, I would already be very very happy.
You are expected to share your experience with regards to the services rendered along with complete info — how much it costs, which branches offer it, what the benefits are, and so forth.
Travel
By travel, it usually pertains to airlines, hotels, and resorts.
You almost always get a meal in a nice restaurant. Air tickets and accommodations are sometimes raffled off.
You may or may not get a token. If you're lucky, everyone gets tickets for two or free overnight accommodation (this has been known to happen). If not, you just get a press kit folder and CD (yes, also known to happen).
You are expected to share whatever it is they shared to you during the event — New destination? Ticket promo? Accommodation packages? — whatever it was.
Advocacy
This is usually either socially or politically motivated and it involves doing something that's deemed helpful to society.
Tokens? Unless a big company is funding the advocacy (ex: handwashing day powered by a big soap company), don't expect any. You're invited to help spread the word and lend a helping hand out of the goodness of your heart and your interest in supporting the advocacy. Sometimes they give simple things like shirts, baller bands, pens, baseball caps with the advocacy's name and logo but that's usually it.
You're expected to help spread the word about the advocacy to help create awareness for it and help it gain supporters.
A PR agency / event organizer who knows what they are doing would know that happy guests boost the probability for better write-ups and better exposure. This is true for both traditional media people and bloggers. Let's not be fake about it, that's the way it is. While tokens are technically not required, some PRs, brands, and establishments give them anyway with the intention of fostering goodwill. Just think… in a day when five events are happening all at the same time, what will make an influential person who is invited to all five choose a particular one? It's the track record… how past events have been conducted by the PR/brand and how guests have been treated. Like it or not, that decision is influenced by factors like food (Did they go hungry?), timing (Did they have to wait forever for the event to start?), convenience (Was there ample parking? Were there enough seats/tables?), engagement (Were they bored?), and token received (Did they get something nice for attending?).
Speaking in general, when you agree to attend an event you must do so with managed expectations. When in doubt if it's worth your while then don't go — nobody's forcing you… free will and all that jazz. Like anything, it's still very much trial and error. If you feel that you've wasted your time attending an event, just make a mental note to avoid that particular PR / brand / establishment in the future. It's really that simple. Do yourself a favor and don't go on a blog ranting spree just because you didn't get what you thought you would… most probably that kind of behavior would just backfire on you.
Like this post? Subscribe to this blog by clicking HERE.
Let's stay connected: