Okay first off let me clarify, I'm not getting separated, lol! I'm here to talk about my own experience of separation when I was a child. Not in the general sense, not in the theoretical sense but in the very real purely personal sense. I used to not be able to talk about it for a good many years while I was growing up and I've been wanting to do so for the longest time… especially since broken homes are now alarmingly common (even in my children's schools). What I'm about to share is my parent's separation's effect on me.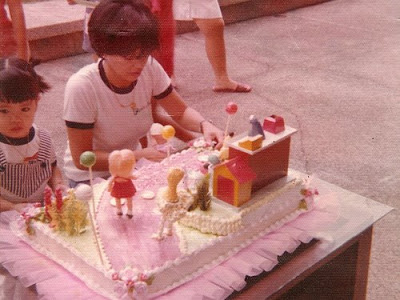 I grew up in a relatively normal home for the first maybe 5 years. My dad's Chinese, my mom's Filipino. At the time, mixed marriages were frowned upon and I know for a fact that my mom did not have it easy with her in-laws (although this has changed a lot over the years). She forced herself to learn Chinese because she couldn't stand the thought of not being able to understand what was being said around her. I was maybe 6 or 7 when mom and dad started fighting. Eventually they separated. My mom moved to my maternal grandma's with my sister and I in tow. I was maybe in second or third grade?
It was the early 80s and I felt abnormal. It seemed as if I was the only one in school who had this kind of family arrangement. All my classmates would be talking about their parents and their families and I would be too. I pretended everything was okay. I got so good at pretending everything was great everybody in school thought I had the perfect life and that I got everything I wanted. I was playing pretend way up until I graduated from high school. Parents just didn't get separated in the 80s. Only mine. At least that was how I felt. I was always comparing our family situation to that of our cousins'. True enough, none of their families ended up like ours. I've always wondered why. Why? If my parents had stayed together would we have had a better life?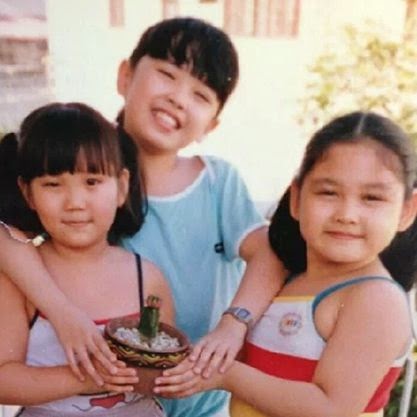 My cousin, me, and my sister
That I got everything I wanted (at least materially) was partially true. My dad was extremely generous. I still remember him buying me a P1,000 peso toy (that was a fortune in 1980). It was a Little Twin Stars themed supermarket which had 4 floors and a mechanical elevator. I remember it so clearly. He would see us on weekends and take us out. He pretty much gave in to whatever we requested.
In January 1984, my mom left for the United States. The plan was, she would get settled there and we (my sister and I) would follow suit. Things did not go as planned and we were left here in the Philippines. My maternal grandparents however migrated to the US too. The day they were to fly to Los Angeles, we were dropped off our paternal grandparents' home.
All of this happened while I was in grade school. We had moved houses a total of 3x by the time I was in grade 3 or 4. There was no indication of my somewhat chaotic family life in my performance at school. I got high grades. I was always the contestant in essay, speech, and in other similarly themed school competitions. I passed the entrance exams for UP, Ateneo, and La Salle. I was so confident I didn't take the test anywhere else but the top 3 colleges. I would joke that DLSU was my back-up. I was very busy keeping up the perfect facade. It wasn't hard. I simply did not talk about family life as I grew older. My mom would send over things from the US so pretty much all my things were imported. My paternal grandparents were well-to-do so we never lacked for anything. We had an allowance, a yaya, a car and driver that would take us to and from school… on the surface, it seemed like I was living it.
But in my mind were always questions. Endless questions. They could all be summed up in one word — why??? My dad may have stayed in the country but we hardly saw him after our mom left so he might as well have gone too. During weekends our cousins would go out with our aunts and uncles, and well to be fair our aunts and uncles exerted every effort not to make us feel excluded. They would take us with them. But I knew it was different. And yes, I've always thought it wasn't fair. Why were we the only ones who had no parents? I envied the kids with complete families who would go out during weekends.
Why did I hide it all and pretend everything was perfect from grade school through high school? I've always thought I was the only one in that situation at the time and I was afraid of being ridiculed and ostracized. I didn't want to be the odd man out. It was especially more pressuring since I studied in a Chinese school and well,  Chinese people don't really like talking about things that have gone wrong.
Eventually, I chose to go to Ateneo. It was in college when I realized that I wasn't the only one who came from a broken home. My schoolmates in college were a lot more open about it and for the first time I felt it was actually okay. Very few people from our high school chose to study in Ateneo (less than 20 and there's 400+ people in our batch). It was then that I finally felt a gigantic wave of relief. I didn't have to pretend anymore. No more lies about why my mom was in the US.
For the first time, I could just be who I was and I didn't have to make up some story to explain why my parents were not together. It was like starting all over again since I didn't know almost everybody in my block. Everyone just seemed more open and accepting in college. Broken homes weren't uncommon.
Looking back now, I still consider myself fortunate. I was not an abandoned child because I still had family — my sister, grandparents, aunts, uncles, cousins… and I do have a lot of happy childhood memories even if my parents were not in the picture.
After all that I've been through as a child, all I only have this to say: Let separation be the absolute LAST resort when trying to sort things out in your marriage (UNLESS PHYSICAL ABUSE IS HAPPENING THEN LEAVE ASAP). Try to remember why you got married in the first place and start from there. Making it work is a decision TWO people have to make. When all is said and done, it's really the kids that suffer the most. They may not be able to say it because they might not even realize how it's affecting them, but it's something
they will carry until they grow up.
Like this post? Subscribe to this blog by clicking HERE.
Let's stay connected: