So I started my Dear Diet Delivery program last Aug. 29, 2017. I'm going to be blunt. My main motivation this time is the fact that I don't want to be the Goodyear blimp at my brother's wedding next month. It's purely superficially driven by looks. I simply got tired of always being the fat one in event photos. Plus I want to be able to wear nicer clothes. I'm still allergic to the weighing scale so we don't have one at home. I'm going by how my clothes fit and how I look in photos.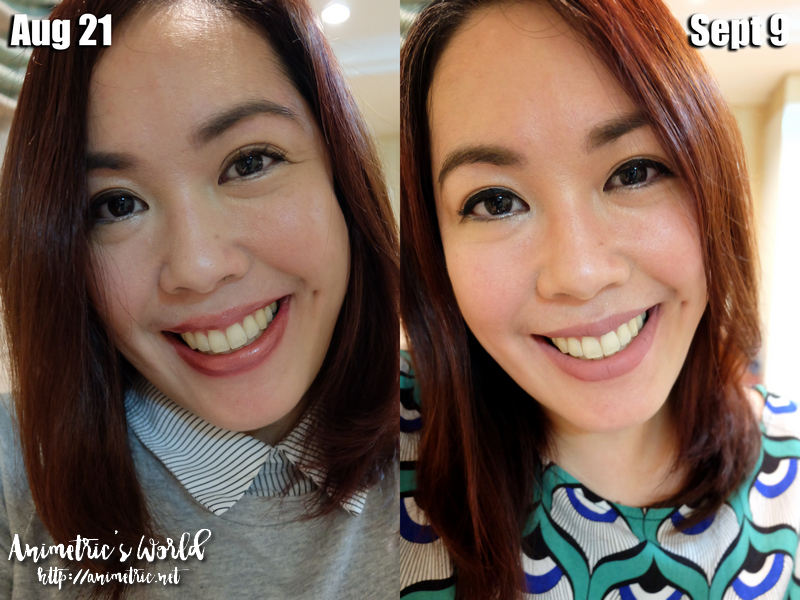 I started my 1200 calorie a day meal plan last Aug. 29. It's only from Monday to Friday. I'm free to eat whatever during weekends. Still, I try my best to keep to 1200 calories even without the food delivery. Prior to this, I think I was taking in 2,500 to 3,000 calories a day. Oh I'm picky with food — I trim the fat from meat, remove the skin from chicken, and scrape the icing off cake. I don't drink sodas and juices too much too. It's the volume of food, not the kind of food that's my problem. Proof of that is my blood pressure is still a very normal 110/80 at age 40+ and I have no maintaining meds. I've also never felt that ache at the back of the neck which people here refer to as "putok batok".
So anyway, after 11 days of my extreme food and calorie cutdown, I feel slimmer. My clothes fit better. To my surprise, my face is smaller too. I was trying to compose some beauty reviews and I was surprised by the difference in my full-face photos. To think I haven't done any exercise. Well, I was feeling hungry and hot-headed practically all the time during the first week so I couldn't really think of exercising. After just 11 days of eating miniscule amounts of food, I'm starting to see results. It's more challenging now because I cook most of our meals. I limit myself to a taste so I know I'm serving my family decent meals. I'm getting the hang of this 1200 calorie plan so my goal is to create my own meals after my subscription ends.
Normally in photos like these when we're all seated I look Jabba The Hutt-ish, especially when I'm in the foreground. Not anymore, YES! I actually look normal. I'm more motivated than ever to see this weight loss journey through.
This is just the beginning of an uphill climb. The real challenge is fitting into a nice RTW formal dress next month. Good luck to me!
And hey, if I can do it, you can too! You just have to want it badly enough.
Like this post? Subscribe to this blog by clicking HERE.
Let's stay connected: