Last Mother's Day, Discovery Suites Ortigas invited our whole family over for a staycation. This is actually our second time staying at this hotel, the first time was back in 2008 — I wasn't even blogging back then.
I wasn't quite sure what to expect since 7 years had passed. We checked in Saturday afternoon.
Surprise #1: We were given a Serendipity 3-Bedroom Suite on the 14th floor. The last time we stayed here, we were in a Junior Suite. Wow, it was like having our own luxury condo for the weekend. We were amazed by how big the space was. There's a living room and a study area…
There was a framed family photo on the study table. Talk about personal touches! 😀
There were fresh fruits and welcome drinks waiting for us.
The dining area is so cool, six people can eat here comfortably.
There's an entertainment system in the living room area.
There's even a kitchen!
Complimentary water, coffee, and tea can be found in the kitchen.
This is the first of three bedrooms. It's furnished with two single beds. There's also a wall-mounted LCD TV. Our son chose to stay here.
This is the bathroom. It's big and spacious, located in between two rooms.
It's got a shower area, a toilet area, and a sink.
There are soaps, lotion, dental kits, shower caps, and cotton buds/puffs.
This is the second bedroom. It shares the same bathroom with the first bedroom. It's furnished with a queen bed. Our daughter chose to stay here.
There's a study table and a TV.
If you open the bathroom doors you can see the first bedroom from the second bedroom and vice-versa.
This is the master bedroom. It's furnished with a king-sized bed, a study table, and a chaise lounge.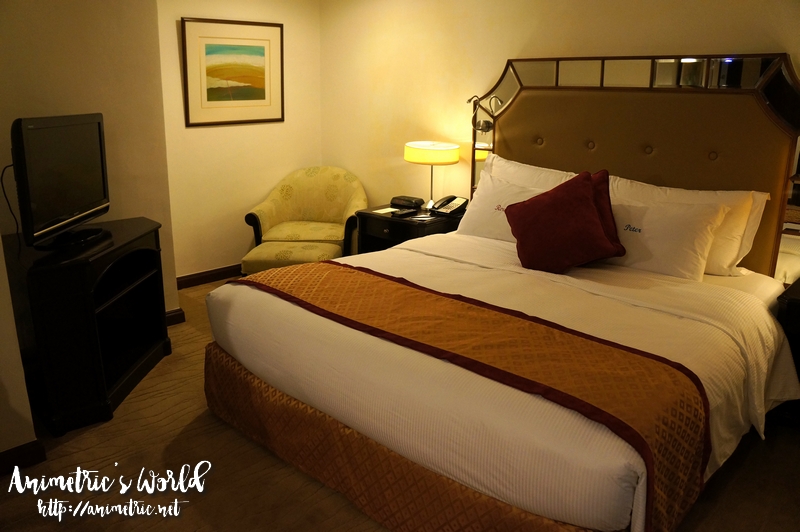 There's an LCD TV too. Surprise #2: We got personalized pillow cases!
The room is quite big.
In the closet was a steam iron and ironing board along with a couple of bathrobes. All the closets had robes actually.
This is the master bedroom's bathroom. There's also a toilet and shower area…
…and there's a bath tub too!
Surprise #3: A pillow menu! This is a unique service we tried during our stay at Discovery Suites Ortigas. A lady came knocking on our door with a rack piled high with pillows. There are orthopedic pillows, antibacterial pillows, extra soft pillows… I swear they have whatever type of pillow that tickles your fancy.
Surprise #5: I went back to Mother's Day gifts from Discovery Suites and my family when we went back to retire after dinner at 22 Prime (will post about it separately). My hubby and kids wrote me letters and I got a big bouquet of red roses, the most delicious chocolate cake covered in fondant, and a pencil sketch of me beautifully gift-wrapped. 😀
When we woke up the next morning, we went down to the fifth floor for breakfast at Restaurant 5. The swimming pool area is located next to the restaurant.
Restaurant 5 had a breakfast buffet spread set up. There were cereals and drinks (milk, juices, coffee, tea, hot choco).
There was a salad bar with cold cuts and cheeses.
I had an omelet made at this station.
There was pork adobo and garlic rice as well as the usual breakfast fare such as sausages, bacon, bread, pancakes, fruits, yogurt, etc.
I loved the combination of these roasted tomatoes and mushrooms.
After breakfast we visited Discovery Suites Ortigas' playroom for kids. It's filled with toys and games to keep the most active toddlers engaged. There's actually an adjoining room where older kids can play video games.
We checked out by Sunday noon. Thank you so much Discovery Suites Ortigas for making it a really memorable Mother's Day weekend for my family and I! I really was not expecting all the surprises, I think it's the most anyone has ever done for me on this special day. 😀
You can avail of the Serendipity 3-Bedroom Suite at Discovery Suites Ortigas at a rate of P13,300 per night, which comes out to a little over P16k after taxes. Considering it can accommodate at least 6 people comfortably, it's very reasonable. The hotel's location is good too since it's right in the heart of the Ortigas business district and you only have to cross the street to get to the mall (The Podium). It's a stone's throw away from SM Megamall too.
Discovery Suites Ortigas
25 ADB Ave., Ortigas Center, Pasig City
+(632)719-8888
http://www.discoverysuites.com/
Like this post? Subscribe to this blog by clicking HERE.
Let's stay connected: