Had a late lunch with a friend at the new Chinese restaurant in Il Terrazzo called Wangfu Chinese Cafe some weeks ago. I didn't quite know what to expect… was it going to be like one of those short order places like Le Ching? Perhaps a dimsum place like King Chef?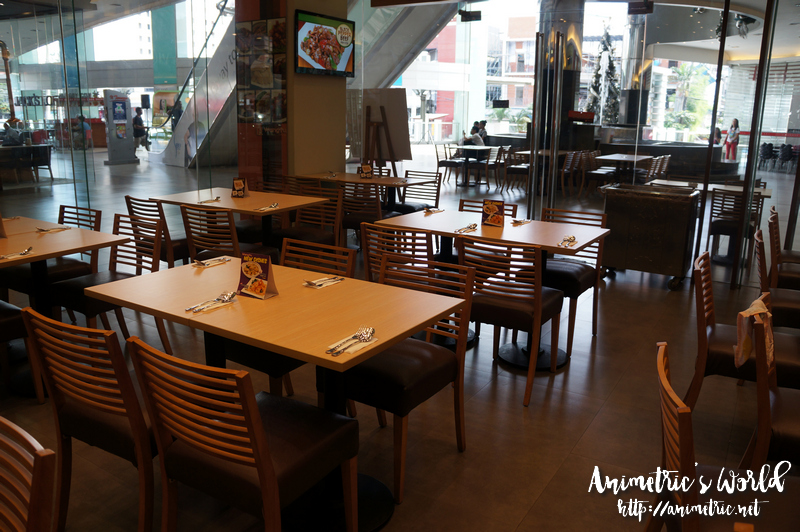 Everything was bright, shiny, and new. 🙂
I ordered Orange Freeze (P98) which is a cold and refreshing orange drink with popping boba. I really enjoyed it.
Upon the restaurant's recommendation we ordered Wang Fu Hainanese Chicken 1/4 (P198). It turned out to be really, really good. The chicken is well-cooked and tender, served with the usual array of sauces — sate, chili sauce, and ginger sauce. You can actually order a Hainanese Chicken Rice Set for P168.
We also had Crunchy Sweet and Sour Pork (P228). Another winner. Lean, mean, and well… crunchy! I'm sure my kids will love it!
I saw Chili Potato Strings (P128) on the menu and was curious so we ordered. Blanched julienned potatoes are cooked in what seemed to be a spicy vinaigrette-like marinade. Yum! I think I finished most of it.
We also had Tomato Fried Rice (P168) which can actually serve 3-4 hungry people. It's very tasty and it's not greasy. The rice is fried with eggs and tomatoes.
Last but not least was the Singapore Mango Fish Fillet (P268). Pieces of fish are breaded and fried then served with a sweet and sour mango-based sauce with slivers of fresh ripe mango and bell peppers. Delicious!
Wangfu Chinese Cafe was a pleasant surprise. Prices are very reasonable — I daresay affordable even… and yet you're presented with a wide selection of delectable dishes. I'll definitely go back soon with my hubby and kids. It's perfect for quick, casual meals and take-out for those days when you don't feel like cooking at home. I wish they had a delivery service because I really like the food.
Wangfu Chinese Cafe
G/F Il Terrazzo,
Tomas Morato cor. Sct. Madrinan, Quezon City
709-0569
Like this post? Subscribe to this blog by clicking HERE.
Let's stay connected: