When hubby, the kids, and I visited Tsukiji Fish Market last March, we had what we thought was the best meat of our lives. One stall was selling trays of freshly grilled wagyu beef. It cost almost P600 for 6-7 slices but wow… it was so mind-blowingly awesome. It was so juicy that each piece seemed to just melt in our mouths. We've been fantasizing about that beef ever since.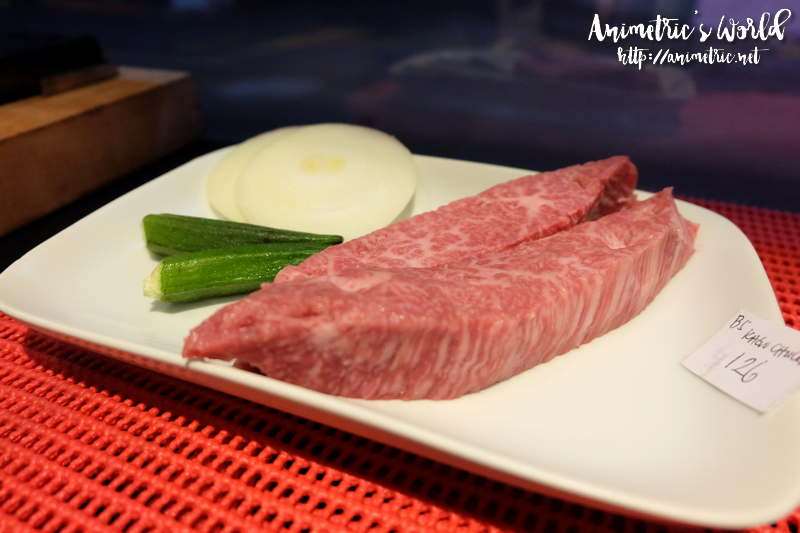 Anyhow hubby spotted this hole-in-the-wall in the Makati Cinema Square area. The sign outside simply said Wagyu Japanese Beef. It's a small 2-storey restaurant reminiscent of small eateries in Japan. As the name suggests, they specialize in wagyu beef. We looked through the menu and decided to order the Chuckroll Kagoshima Beef (P1,270 for 100g). It was brought out for us to see. Just look at that marbling! We chose to have the beef grilled.
Then the beef was sliced and grilled on a hot stone slab along with onions, carrots, and okra.
I watched as the beef turned light brown.
We wanted it well done and that was exactly what we got. Some chili powder and 3 kinds of salt was placed on our table — plum salt, lime salt, and pepper salt. They were for seasoning the beef. The wagyu beef was heavenly but really, it's way too expensive at almost P1.3k for 100 grams. Did it measure up to what we had in Tsukiji? Unsurprisingly, I thought the beef in Tsukiji was better.
We each had a bowl of Angus Gyudon (P250). Whoa, now this is the best gyudon bowl I've tried in Metro Manila so far! The beef is really tender and subtly flavorful. You just want to keep eating. They even serve a bit of extra sauce on the side so you can dip the meat. Yum! If the wagyu beef is out of the budget, the complete meal in a bowl Angus Gyudon is nicely satisfying.
We also ordered Inari Sushi (P120). Deliciously sticky Japanese sushi rice is wrapped with sweet beancurd skin. Delicious, plus the pieces are pretty big.
We had icy cold Mugicha (barley tea) to wash everything down. This is actually their complimentary service tea. You can have it hot too if that's what you prefer.
All the diners were Japanese when we were there. I take it as a good indication of the restaurant's authenticity. We loved everything we ate. It's a bit cheaper if you go during lunch time. They have great deals on lunch sets. We went there for dinner so we couldn't avail of the sets. Anyhow, I don't think we'll repeat P1.3k for 100g but we'll definitely be back for the Angus Gyudon and the other interesting things in the menu… such as the P500+ bowl of Wagyu Curry.
Wagyu Japanese Beef
G/F Sunvar Plaza
156 Amorsolo St., Legaspi Village, Makati City
808-9508
Like this post? Subscribe to this blog by clicking HERE.
Let's stay connected: