Sometimes we need a little extra help in trying to make the most of what we have. We look to products that work from within — dietary supplements. These days there are supplements you can take for every kind of concern. Supple and young-looking skin? Check. A brighter complexion? Check. A slimmer figure? You bet. For all these, there are Vitapack Supplements.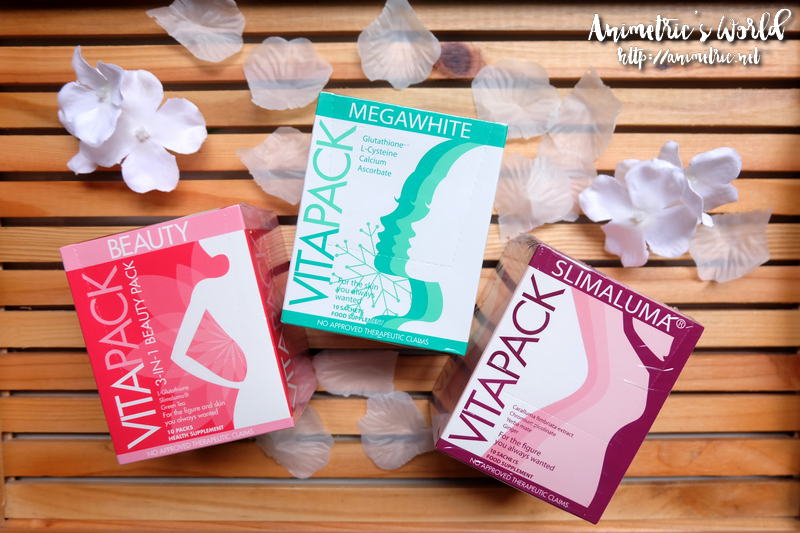 Vitapack Supplements come in 3 different variants:
Beauty 3-in-1 Beauty Pack (P690 for 10 sachets)
Megawhite (P960 for 10 sachets)
Slimaluma (P560 for 10 sachets)
For the purposes of review, I decided to try taking Vitapack 3-in-1 Beauty Pack (P690). Each box contains 10 sachets.
I chose this because it's all in one. Taking this will help you attain your ideal figure and skin. Each sachet contains 3 capsules — 1 Slimaluma capsule, 1 Megawhite capsule, and 1 anti-aging capsule. As the names suggest, Slimaluma is for losing weight while Megawhite is for lightening your complexion. I tried taking these for 10 days. According to the package directions, you take all 3 capsules together upon waking up or at bedtime on an empty stomach. You can take either 1-2 sachets a day. Since I don't want to overdo it, I stuck to one sachet a day.
Before I discuss how taking Vitapack 3-in-1 Beauty Pack has affected me, let's take a look at the two other supplements.
This is Vitapack Megawhite. Each capsule contains 250mg of Glutathione, 50mg of L-Cysteine, 100mg of Calcium Ascorbate (also known as Vitamin C).
One sachet contains 2 capsules. You're supposed to take 2 sachets a day (1 before breakfast and 1 before bedtime) if you want to visibly whiten your skin. If you simply want to maintain what you have, one sachet a day is enough.
This is Vitapack Slimaluma. Each capsule contains Slimaluma 250g, an appetite suppressant from the Indian plant Caralluma Fimbriata. This blocks fat absorption too. There's also .06mg of Chromium Picolinate which helps control blood sugar. Then there's 100mg of Yerba Mate which lowers glucoase, bad fat, and blood pressure. The 25mg of Ginger also helps suppress appetite.
For maximum weight loss, you take one sachet 30 to 60 mins before breakfast, lunch, and dinner. For maintenance, 1 capsule before meals is enough.
I'm already light skinned. Plus I have my skincare regimen and diet delivery. I figured I didn't need anything drastic where supplements are concerned. Hence I went for Vitapack 3-in-1 Beauty Pack for just a bit of a boost. So that's one Slimaluma capsule, one Megawhite capsule, and one anti-aging capsule once a day. The anti-aging capsule contains antioxidant-rich Garlic, Green Tea, Turmeric, Gotu Kola, and Grapeseed extracts. It does everything from lower cholesterol to protect the cells from free radical damage.
While I can't attribute my skin color, skin condition, and weight loss solely to Vitapack Supplements, I noticed that in the 10 days that I've been taking Vitapack 3-in-1 Beauty Pack, I have had more energy. I also didn't get sick easily. There was even a day I walked in the rain and was exposed to people who had cough and cold. I used to be a serial snacker who's always thinking of food. These days I don't get hungry as much.
It's good that your daily dose is already segregated into sachets so it's easier to remember which capsules to take. It's also convenient to bring them around if you're traveling. At the rate I'm taking Vitapack 3-in-1 Beauty Pack, my overall beauty and health boost costs P69 a day. You actually don't need to take separate Vitamin C and Vitamin E supplements since the anti-aging capsule has more potent antioxidants that give you the same benefits. Vitapack Supplements are BFAD-approved so you can be sure they are safe.
Vitapack Supplements can be purchased online from BeautyMnl, Lazada, and Zalora.
Like this post? Subscribe to this blog by clicking HERE.
Let's stay connected: