Comfort has always been my prime consideration when buying shoes. No matter how nice or fashionable a pair is, if it doesn't feel good on my feet, I don't want it. Life's too short to be walking in pain. I don't believe in sacrificing comfort for style. It's with this mindset that I literally squeezed in the Vionic footwear launch into my crazy schedule.
I visited the Vionic boutique at Uptown Mall in BGC.
There were a lot of styles ranging from slip-ons, sandals, flats, boots, to athletic shoes.
Vionic Tide Rhinestone (P3,400)
Vionic began with the work of its founder, renowned podiatrist Phillip Vasyli. Having treated a multitude of people for foot, ankle, and leg problems, he invented one of the first heat-moldable orthotics (custom made insert) that let his patients walk out of his practice feeling better. This became the basis for Vionic's stylish range of comfortable shoes. According to Michael O' Donnel, VP International of the Vionic Group, Vionic's first pair of shoes were flipflops. Eventually they came out with more and more styles to suit different occasions.
Rest Karina Toe Post (P3,800 per pair)
Minna Ballet Flats (P5,000)
I didn't get the model name of their ankle boots but it costs around or a little over P6k per pair.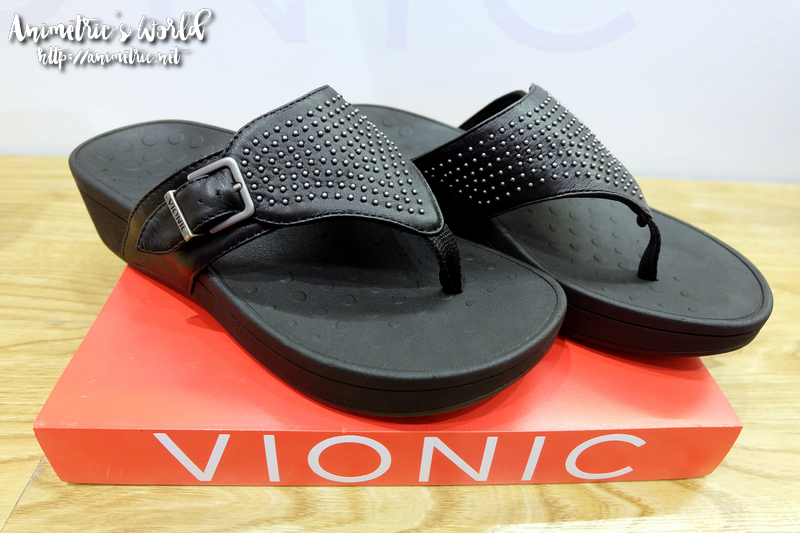 I wanted something I could wear everyday so I picked these platform sandals called Pacific Capitola (P4,500).
They have fashionable pointy flats like the Caballo Flat (above left) beside my Pacific Capitola (above right). I prefer open footwear for daily use.
Vionic has athletic shoes too! Above are the Fyn Active Sneakers (P5,200 per pair) and the Opal Mary Jane Sneaker (P4,500). I actually considered the Mary Janes but I prefer footwear with a bit more height so I still settled for the Pacific Capitola.
They have a men's line as well. This is the Roth Wing Tip (P7,000).
Other men's styles include (from top row to bottom row): Men's Tide Toe Post Sandal (P3,600), Jon Slide Sandal (P5,000), and Gerrit Sandal (P5,200).
Vionic footwear aren't just comfortable, they're actually healthy too. They help support the natural alignment of our feet, ankles, and legs. Moving in accordance to our natural alignment helps prevent heel, knee, and back pains.
Vionic footwear are available online at Zalora and http://vionicshoes.com.ph. If you prefer to shop offline, you can also find a complete list of stores at the website.
Like this post? Subscribe to this blog by clicking HERE.
Let's stay connected: