We were invited to dine at Village Tavern last August 30, 2012. Village Tavern is located at Bonifacio High Street Central in Fort Bonifacio Global City. It wasn't my first time there because it was part of the BHS Central Food Tour I attended last summer.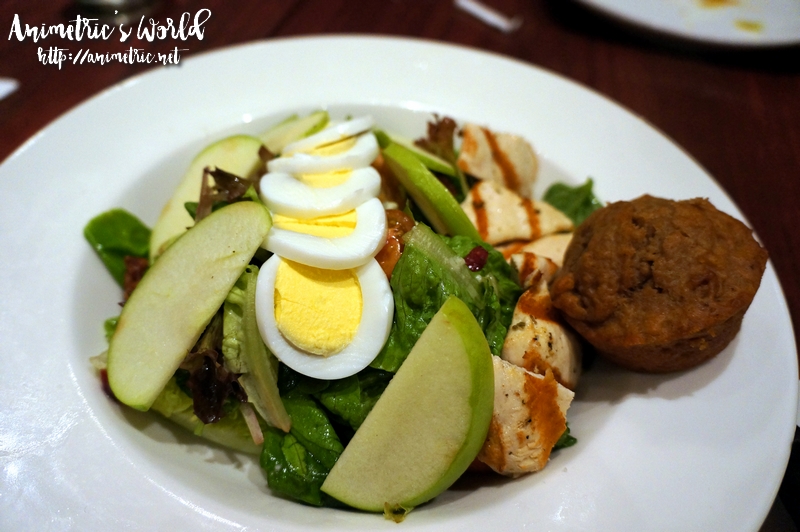 We started off with Grilled Chicken Spinach and Mixed Greens (P595). Fresh spinach, seasonal greens, bacon, apple slices, cranberries, spiced pecans, blue cheese, sliced hard-boiled egg, and grilled chicken pieces are tossed together in a sweet vinaigrette. It even comes with an apple cinnamon muffin on the side, which was a very unique touch. It was a hit with the group and the servings were polished off in no time.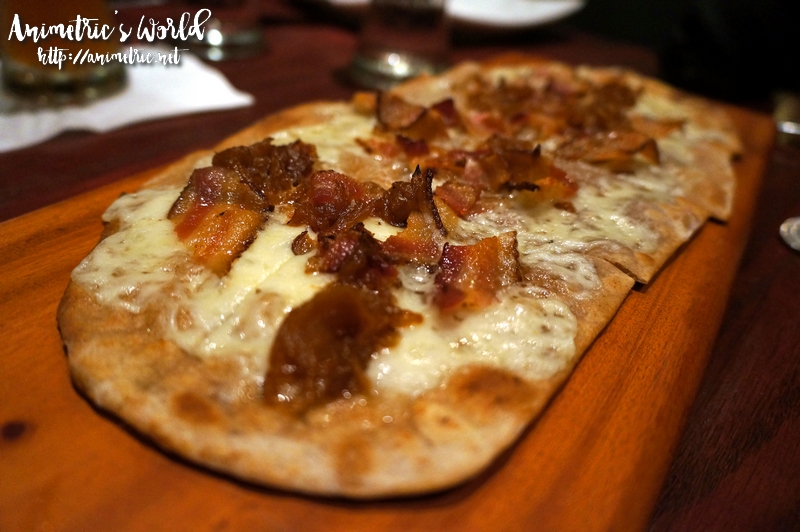 Then we had Gruyere & Applewood-Smoked Bacon Flatbread (P495). Flatbread is one of Village Tavern's specialties. They make it from scratch using whole wheat flour and bake it in their coal-fired oven. This one is topped with gruyere cheese, bacon, and caramelized onions. It's soooo good. If you can only try one kind of flatbread I highly recommend this one. The sweet-smoky-savory flavor is just too good for words.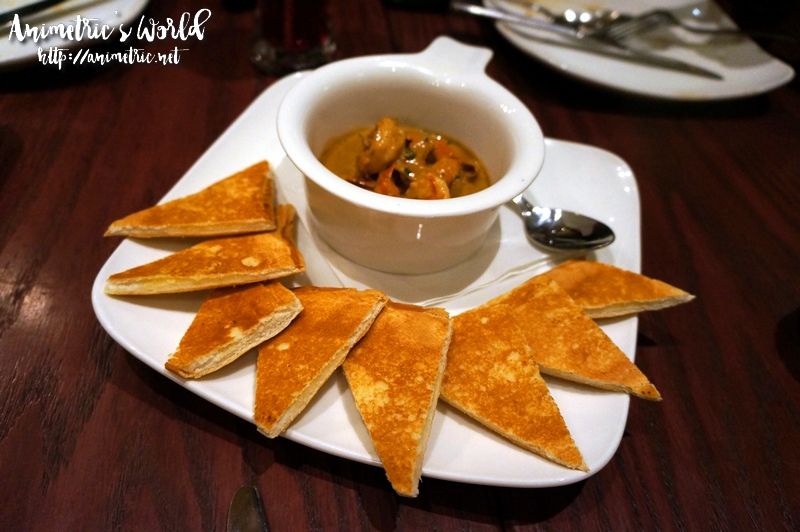 Then there was Blackened Shrimp (P595). Big juicy shrimps in bayou cream sauce and toasted homemade garlic bread on the side make for a scrumptious appetizer. The bread has the texture of a pancake except that it's more bread-like than cake-like. Yummy! Serving is small for the price though.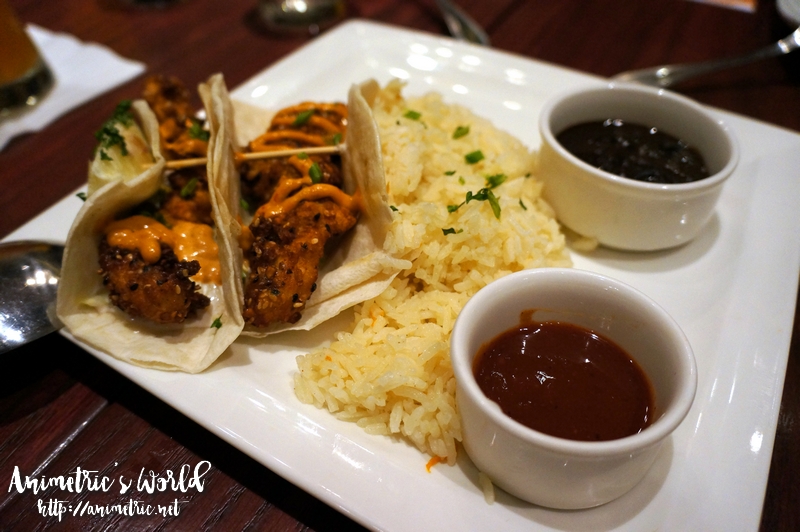 Crispy Chicken Tacos (P475), another Village Tavern bestseller, was served next. Crispy chicken fingers with mango slaw and chipotle sauce are served with rice pilaf and baked black beans in chocolate sauce on the side. This alone is filling already and so we split one order among four people since there were still a lot of dishes lined up.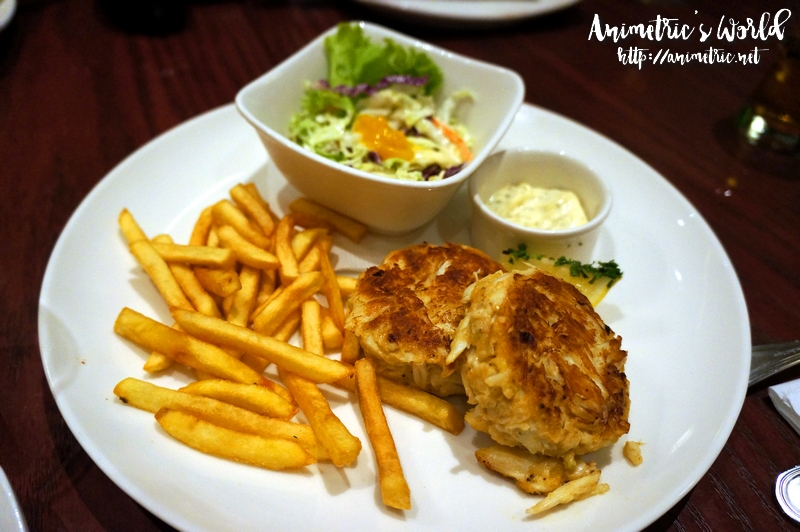 One of my favorites for the night was Maryland-Style Crab Cakes (P550). Each cake is made of really high quality crab meat that's so succulent that I could not believe my tastebuds. These are by far the best crab cakes I've ever eaten. They come with homemade tartar sauce, side salad, and fries. Pricey, but a must-try if you visit Village Tavern.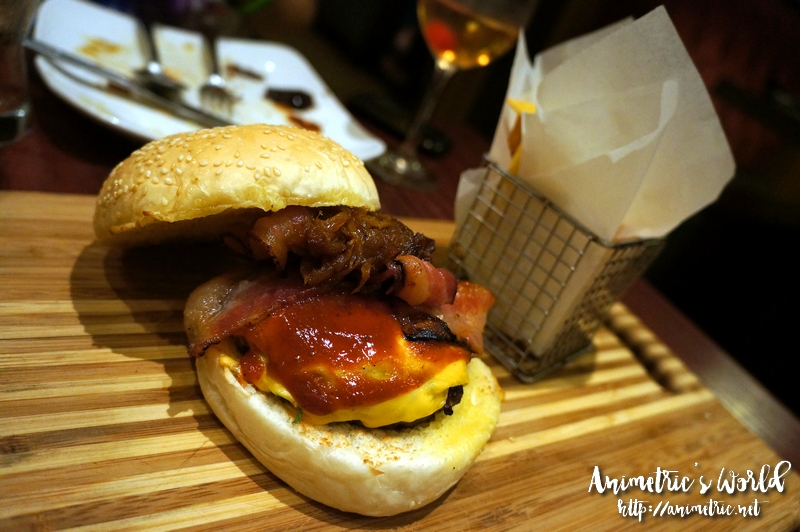 Cowboy Burger (P595) was up next. A thick and juicy all-beef patty is covered in cheddar cheese, caramelized onions, and Applewood-smoked bacon.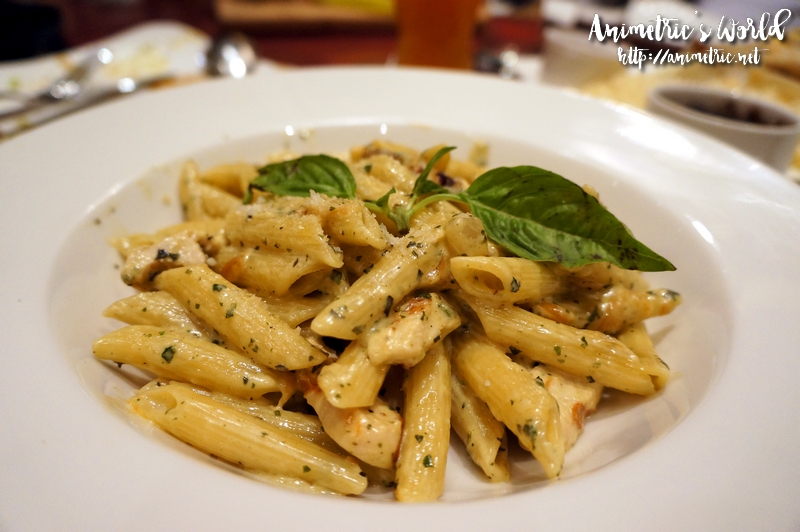 I was already full at this point but then Grilled Chicken Penne (P425) was served. It's a pretty unique pasta dish comprised of crispy pancetta, grilled chicken, caramelized onions, and basil cream sauce. I didn't quite taste the cramelized onions though.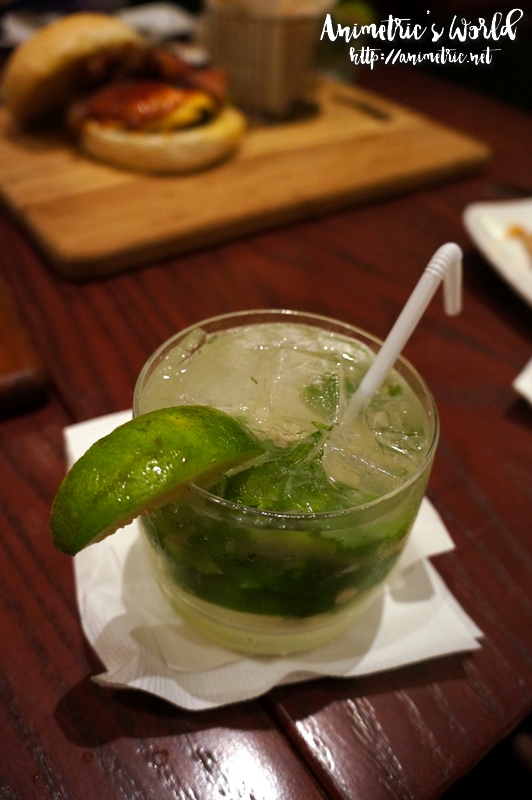 We washed all the food down with a Tavern Mojito (P150).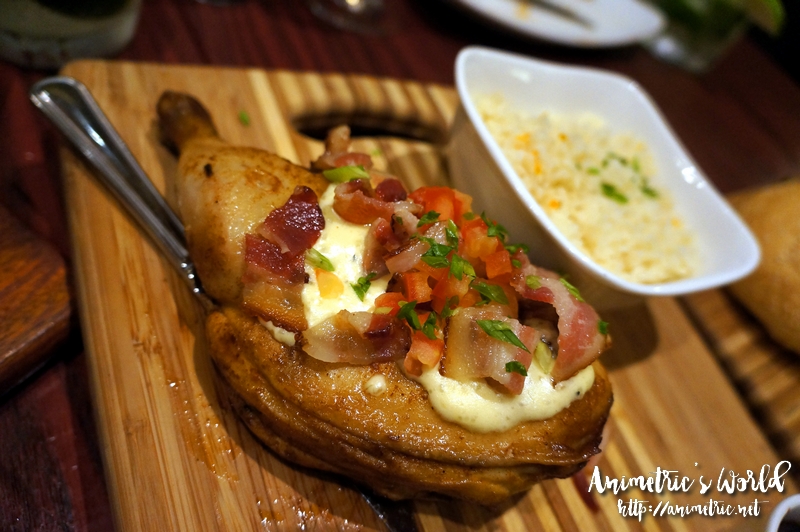 Last but not least for the main dishes was the Chicken Colorado (P675). Grilled chicken breast is topped with Applewood-smoked bacon, tomatoes, scallions, Monterey Jack + cheddar cheese, and barbecue sauce. It's served with rice pilaf and and black beans in chocolate sauce. Almost P700 for chicken breast with rice, lol.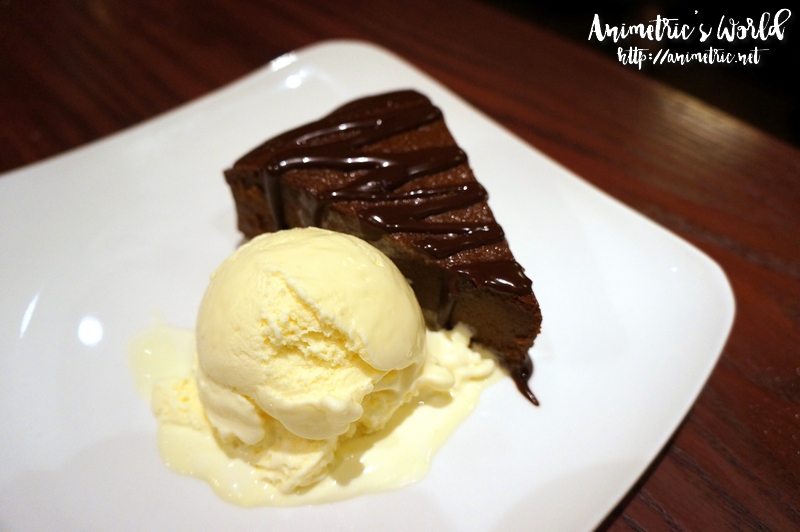 And now it's time for desserts… first one on the table was St. Barth's Chocolate Cake (P395). Wow, I was blown away by how rich and deep the chocolate taste was. The scoop of vanilla ice cream on the side complements it perfectly! Well at P400 for a small slice it better be exceptional… and it is.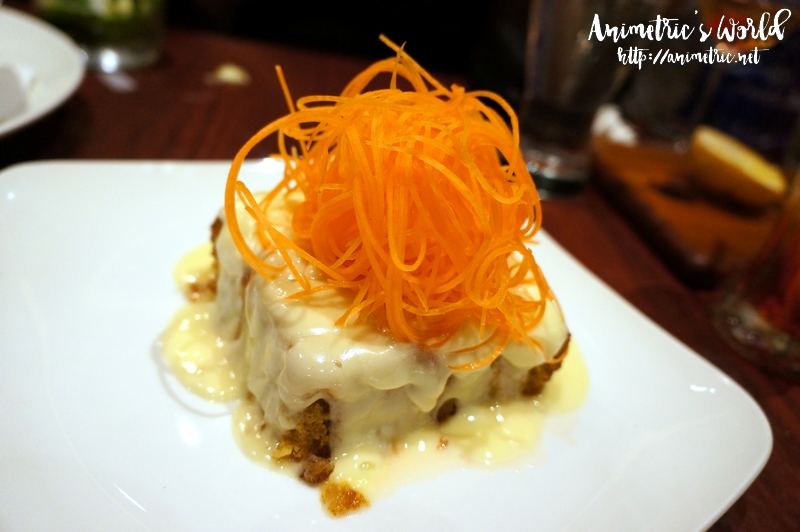 Very Best Carrot Cake (P345) was the dessert I found most interesting since it had fresh carrot strands on top and the cream cheese icing was simply overflowing. I had a bite and it was also filled with pecans, raisins, and carrots. It would have been perfect except that it was way too sweet. :/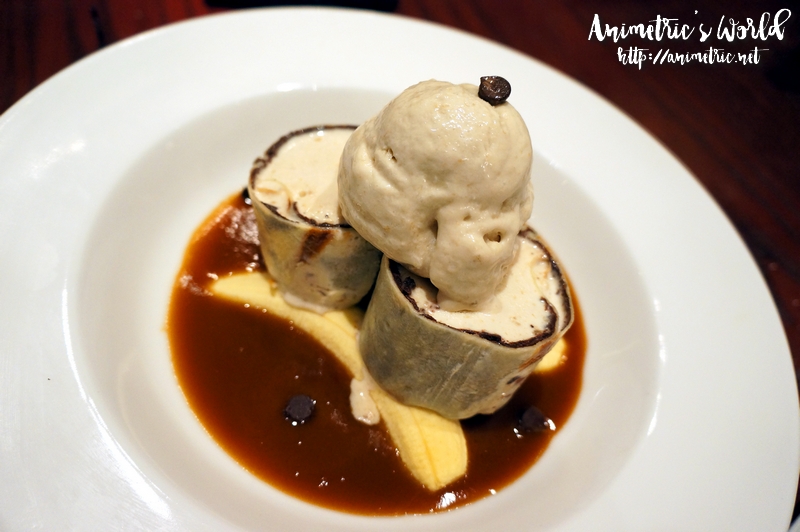 Another divine dessert was Banana Crepes (P395). Banana ice cream is wrapped in chewy soft crepes with a chocolate hazelnut layer on a bed of caramel sauce and fresh bananas. It's topped with yet another scoop of ice cream. Yum!
Double Decker Cheesecake (P450)
features a bottom layer of chocolate cheesecake and a top layer of traditional cheesecake. It's served with chocolate and raspberry sauce.
The food is undoubtedly good at Village Tavern. They don't skimp on the ingredients that go into making them. You can even see how the food is prepared as they have an open kitchen overlooking the dining area. But while prices are sky high, the gustatory experience each dish imparts is exceptional. Even my hubby who is normally a Chinese food nazi is all praises for Village Tavern's fare. The good news is, serving portions are quite generous (except for a few) so you can easily share a dish with your companion(s).
Village Tavern
2nd Level Bonifacio High Street Central
7th Avenue cor. 29th St.,
Fort Bonifacio Global City, Taguig City
621-3245
Like this post? Subscribe to this blog by clicking HERE.
Let's stay connected: