Our helper takes the weekend off every other week. When she's not around, we'd rather dine out. It's just too taxing to do everything from preparing everything to washing the dishes by myself! When she's there at least she can wash up afterwards. Anyhow on one such weekend the kids and I went to check out Vanilla Cupcake Bakery and Cafe near ABS-CBN. Did you know that this restaurant is actually from the same company behind the clothing brand Kamiseta?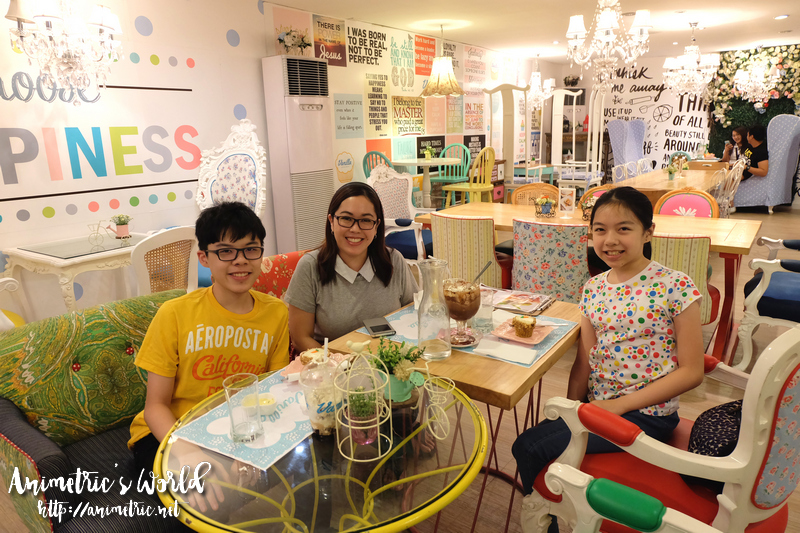 My hubby had stuff to take care of so it was just us three. We were amused by the charmingly colorful and eclectic interiors of Vanilla Cupcake Bakery.
We started off with Garlic Spinach Dip (P148). The cheesy, garlicky, and creamy dip was pretty good! It was served with thinly sliced toasted bread which was kind of brittle (makunat) though. This would've worked better with more crisp pieces of toast. We ate it all just the same lol.
We also ordered Calamari (P188). Big battered squid rings are served with a lemon slice and some mayo-based dip on the side. It wasn't bad but it would be better if the breading was more crunchy. It's kind of soft so you get the feeling that it's soggy even when it's fresh off the kitchen.
My daughter had Pasta Alla Puttanesca (P218). I could see tomato pieces in the sauce, which is a good thing. She finished her order and said it was quite good.
She also ordered a Frozen Hot Chocolate (P168 for Grande). This drink is available in 2 sizes, Tall and Grande. We forgot to specify which one we wanted and the order-taker didn't bother to ask so I'm assuming we got Grande. I told my daughter not to expect Serendipity Las Vegas levels of Frozen Hot Chocolate because hey, this costs less than half the price of that drink. True enough, this one tastes like Magnolia Chocolait or Nestle Chuckie poured into a huge goblet and then topped with a lot of whipped cream and chocolate shavings. The chocolate syrup on the sides of the glass is purely decorative.
I could probably make this drink at home and it wouldn't cost me P228. Yep, despite the largest (Grande) size being pegged as P168 on the menu, this actually came down to P228 on the bill. I saw it when I got home so I wasn't able to ask them about it. Too sweet, we weren't even cooperatively able to consume half the goblet.
My son opted for Granny's Crock Pot Roast Beef (P298) based on the lovely description on the menu. He said it was just okay.
He did however like his Frozen Coffee Jelly Frappe (P168).
I had the Special Bagnet (P348). I liked how crunchy the pork rind was on the bagnet. The bagnet went very well with rice, green mango salsa, and the dip (I forgot if it was soy sauce or vinegar based or both but it went nicely with the pork).
For dessert both kids had a Chubby Bunny (P128) cupcake. It's a 2-in-1 cupcake that's half carrot cake and half banana cake. It's topped with a nice cream cheese frosting and walnut bits. I've had this before and I can say it's pretty good.
I had an order of Mango Panna Cotta (P128). The milky creamy panna cotta topped with sweet cubed mangoes was a nice way to cap off my meal.
I give Vanilla Cupcake Bakery and Cafe plus points for the cool interiors and cozy ambiance. Food is average at best, I think they're better at pastries. Prices are quite reasonable, with most dishes being in the P200+ to P300+ range. Service is friendly and efficient. I think it's a lovely place to catch up with friends for some chika and enjoy tea time.
Vanilla Cupcake Bakery and Cafe
Mother Ignacia Ave. (near ABS-CBN and Tomas Morato)
South Triangle, Quezon City
374-3783
Like this post? Subscribe to this blog by clicking HERE.
Let's stay connected: