We had dinner at Vagabonds Artisan Comfort Food in Quezon City last Sunday, which was incidentally Fathers Day. As usual our helper took the day off and since nobody else cooks it's either call for delivery or go out to eat.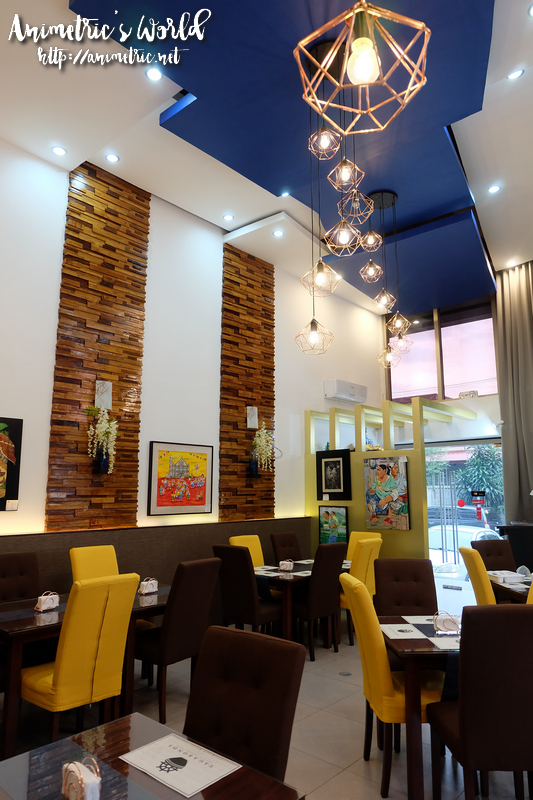 Vagabonds Artisan Comfort Food is located along Scout Limbaga near the Tomas Morato area. We got there before 6pm and we pretty much had the restaurant to ourselves. I liked the bright interiors and the high ceiling. Honestly speaking I've read mixed reviews where Vagabonds Artisan Comfort Food is concerned… but since the location is convenient for us and we wanted to avoid the Fathers Day crowd, we pushed through with dinner.
Quatro Formaggi & Garlic Dip (P150)
We started off with an appetizer, Quatro Formaggi & Garlic Dip. Like what several reviews said, the cheese dip is da bomb. It's a tasty medley of melted cheeses with lots of garlic. There was a slightly sweet aftertaste. We all agreed it was yummy but the bread sticks are just 2 pieces sliced toasted white bread. I think they'd be better off using something more solid and crunchy… or maybe crustier and thicker bread. If they insist on using this bread I think they should provide more than 2 sliced pieces.
Chelsea's Fish and Chips (P250)
We skipped dishes that people said were bad (based on numerous online reviews). I didn't find any feedback on Chelsea's Fish and Chips so we ordered it. Not bad. The fish is tender and squeezing the lemon wedge (yes it comes with a lemon wedge, it must be on the other side so it's not seen here) all over makes it even better. We actually dipped the fish into the leftover cheese dip instead of their tartar sauce which is basically just mayo.
Steak and Eggs (P550)
Online folks are pretty much in agreement that Vagabonds Artisan Comfort Food serves decent steaks and they're right. We ordered Steak and Eggs to share, I told them I wanted it medium well. They got the doneness right. The steak was flavorful and tender too. The gravy is tasteless though… fortunately you don't really need it.
Boracay Chori Burger (P280)
I've read that the Boracay Chori Burger is hard to make sense of and I agree. I can't even describe the taste except that it's spicy… and weird.
Yeah the size is okay but the patty is bland and spicy. The fries were dry and kinda hard… as if they were NOT optimally cooked using the slim fry function of a Samsung Smart Oven. I don't recommend this burger.
Ibiza Chicken with Chorizo Pilaf (P280)
This was hailed as the best dish in every Vagabonds Artisan Comfort Food review I've read so we ordered it. The Chorizo Pilaf is really tasty… so is the chicken, best eaten with lemon squeezed over it. The serving size is big too, good for sharing.
Mediterranean Pasta (P300)
Since everyone said the Mac and Cheese dishes at Vagabonds Artisan Comfort Food aren't any good, we opted for Mediterranean Pasta instead. It's olive oil and garlic based with squid and shrimp. Not bad, again best with the lemon lol. Are you seeing a trend here? Haha!
Scout Treats (P150)
This is another dish that has received high praises from everyone who has tried it. It's basically chilled S'mores in a glass. According to the menu, it's chocolate mousse (although the texture is more similar to fudge) topped with crushed graham crackers and blow-torched marshmallows. It's really rich and chocolatey and I think I detected a hint of caramel in the mix. We love it! I kinda wanna go back to Vagabonds if just for coffee and dessert.
Vagabonds Artisan Comfort Food is an okay place to chill. The place is quite lovely, the food isn't bad, and the prices are reasonable. Service is good too. Of course, I did quite a lot of research and went out of my way to avoid ordering the misses all the others who had dined before me had. Good to try if you're in the area but probably not worth going out of your way to visit if you live far.
Vagabonds Artisan Comfort Food
G/F RGI Building
Scout Limbaga cor. Scout Torillo, Quezon City
799-2599
Like this post? Subscribe to this blog by clicking HERE.
Let's stay connected: