I normally post about things in chronological order but heck, restaurant posts have been few and far between here on my blog lately.
Anyhow, I had dinner with my sister and cousin at this small, quaint Italian place called Va Bene Pasta Deli. It's located on the second floor of a gas station, but that shouldn't deter you from checking it out… especially if you love pasta.
We were served complimentary toasted bread with a bowl of tomatoes, herbs, and parmesan cheese in olive oil. We munched on these while trying to make up our minds about what to order.
Then we decided to order Buffalo Mozzarella Salad (P370). It consists of tomatoes, capers, and mixed lettuce in balsamic reduction. I ordered it thinking I'd get crunchy deep friend mozzarella cheese that's kinda like Buffalo Wings but I was apparently mistaken hahaha. It's a nice light salad to start your meal with though. 🙂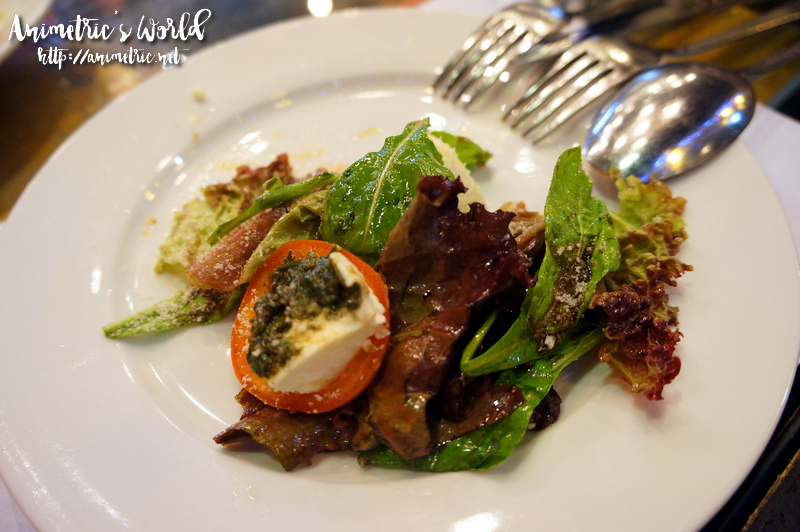 Okay, so this is what a small portion of the salad looks like.
Next up was Organic Eggs Tagliolini (P380). Thick spaghetti-like pasta is served in a rich aromatic white wine-based sauce with truffle oil plus sliced portobello mushrooms. Wow. It's one of the best pasta dishes I've had in my life. You can smell the truffle oil a mile away! The pasta is cooked perfectly al dente so it's chewy yet firm. Va Bene Pasta Deli makes their own pasta from scratch.
Then we had Rolled Spinach Canelloni (P360). It's a baked pasta dish that has smoked ham in a light tomato cream sauce aside from spinach. Lovely, but the Organic Eggs Tagliolini is almost impossible to beat so it was kind of anti-climactic.
Of course we saved room for dessert! First in line was Lemon Tart with Coffee Ice Cream and Wild Nuts (P250). Tangy with a hint of creamy sweetness, it's perfect with a cup of hot coffee or tea. I don't really like ice cream so I just had tart. :p
The wild nuts are just chopped walnuts lol.
Our next dessert was Panna Cotta (P190). It's supposed to be topped with strawberries, but they were out. Cubed ripe mangoes were used instead. The Panna Cotta was milky and creamy with just the right level of mild sweetness.
In general, the pasta dishes are reasonably priced considering they're made from scratch and good for sharing. Desserts are small and expensive. You also end up smelling like food since the place is pretty small and all the cooking takes place in the vicinity. Service is quite good, they even check to see how you're liking what you ordered. Well worth the trip if only for the pasta. Reservations are recommended.
Va Bene Pasta Deli
2/F Petron Gas Station
EDSA cor. Arnaiz Ave. (Pasay Road),
Makati City
556-9442
Like this post? Subscribe to this blog by clicking HERE.
Let's stay connected: