Back in 2007, our kids were issued US non-immigrant visas valid for 5 years. They expired last April. Good thing I heard about the VRP (Visa Reissuance Program) last year when my in-laws were about to reapply for a US visa. Prior to VRP, you had to repeat the entire visa application process the way you did it the first time. That meant having to tote around mountains of papers which would probably include bank certificates, NSO documents, real estate titles, car registration, and so forth. It's very tedious.
Good thing they came up with the US Visa Reissuance Program (VRP) last July 25, 2011. With VRP, all you have to do is fill up an application form, get an appointment, go to the embassy, submit passports for pre-screening, and get ten-printed (fingerprint scanning). After that you just wait for your passport and renewed visa via courier (if you opted for delivery).
First thing though… are you qualified for VRP? Please note that according to the US Embassy website, only the following are qualified for VRP:
Philippine passport holder
Must have been previously issued a full validity B1/B2 visa good for 5-10 years. Anything less than that and you're not qualified.
US visa is still valid or has expired within the last 12 months. No exceptions, even one day after 12 months will not be accepted. I've seen a whole family denied entry to the US embassy proper because  they got a VRP appointment when their visas were more than 12 months expired. They were however informed that they could convert their VRP appointment to a regular visa application appointment since they already paid the fees. BUT they could not do it on the same day they went to the embassy, they had to get a new schedule.
Must have all passports covered by your last full validity visa
Must have not been denied a visa in the last 12 months
Visa is not annotated "Clearance Received"
Must have not stayed in the US longer than 6 months
Must have never been arrested or convicted of any crime or offense
Can provide the visa control number located on the upper right hand corner of the visa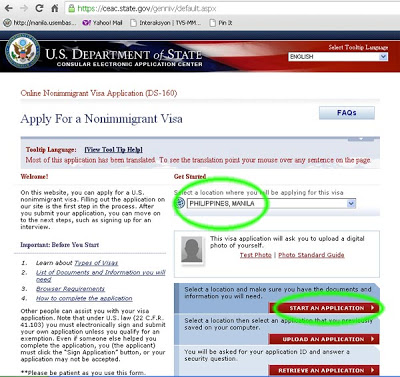 If you meet all the qualifications listed above, you can now proceed with your VRP application. First step would be to proceed to 
https://ceac.state.gov/genniv/
 and start an application. Indicate Philippines as the location you're applying from and then click "Start an Application".One of the first things you'll be asked to do is upload a 2″ x 2″ photo with a white background. I went to Picture City and had 2″ x 2″ photos taken then asked them to save it onto my USB drive. I also had them print out the photos because you're also asked to bring actual prints on your appointment date. If for some reason the photo you uploaded and the photo you brought do not pass their standards, you can have new photos taken at the Kodak booth inside the US embassy so make sure you bring enough money to do so. Proceed to fill up the entire application. I suggest saving from time to time so in case your internet dies or power goes out you don't have to repeat everything and you can retrieve you application from the last save. After you're done, have your application confirmation emailed to you so you can print it out. It's one of the documents you have to bring on your appointment date.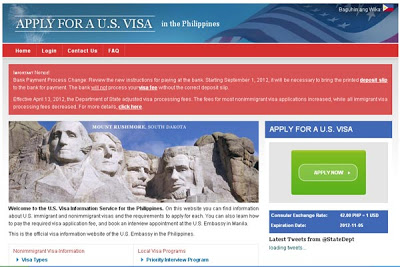 After getting your confirmation, proceed to http://www.ustraveldocs.com/ph/index.html. If you don't already have one, you will need to make an account so you can login, get a payment slip, and set an appointment.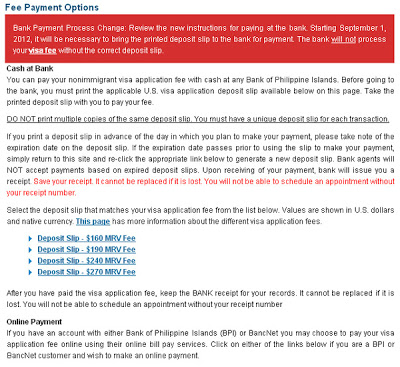 Go to the Fee Payment Options section and click on Deposit Slip $160 MRV Fee. This will lead you to a deposit slip indicating the peso equivalent (P6,720 at the time) which you have to print out and bring with you to any BPI branch for payment. When making the payment, you will have to bring your application confirmation, deposit slip, and passport.
After paying the fee, you can set an appointment via http://www.ustraveldocs.com/ph/index.html already. Take note that no matter what date you choose, VRP appointments are all slated for 12nn. It is recommended that you be there one hour before your appointed time. I chose a date which fell within my kids' semestral break so they would not have to be absent from school.
On the VRP appointment date:
Any form of electronics will not be allowed in the US embassy premises. Make sure to leave your cellphone, iPod, and whatever else behind or else you will be denied entry. There is no depository for these items. Also, USB drives are considered electronics.
For VRP, all you need to bring are your passport, application confirmation, 2″ x 2″ photo, and appointment letter.
Once your requirements are checked, you will be given a number. Proceed to the waiting area and eventually you will be ushered in to the air-conditioned area where your number will be called for pre-screening and then ten-printing (fingerprint scanning).
Pre-screening and ten-printing are all you need to do for VRP… UNLESS the consul at the ten-printing window tells you that they need to interview you. By then you will be asked to proceed to a third window where the consul will talk to you. Otherwise, after ten-printing, they'll tell you that's all for today, take your passports for processing, and tell you to wait for delivery via courier.
Since both my kids were both minors under 14 years of age, fingerprint scanning was not required for them. The consul just asked them when their birthdays are and then told me that's all for today, and that if they needed more info they would give me a call by Friday. If not, then all I had to do was wait for the passports via courier.
We arrived at the US embassy around 10 mins before 11am and got out before 1pm. We were #22 for VRP at that time so if you want to be done earlier, go there by 10:30am.
I'm so glad there's VRP now. When my hubby's visa expired in December 2010, he had to reapply all over again for a new one since there was no VRP at the time. It was a lot more complicated.
I hope this helps! I was Googling about VRP prior to actually going through it and I couldn't find too much information apart from what's on the US Embassy website.
UPDATE: We applied for VRP on Tuesday, October 29 and by Saturday, November 3 we already received my daughter's passport with a renewed US visa valid for 10 years.
Like this post? Subscribe to this blog by clicking HERE.
Let's stay connected: