Hi everyone! Sorry if I haven't been able to blog. I'm currently on vacation with my family and friends in Singapore and we won't be back till the weekend.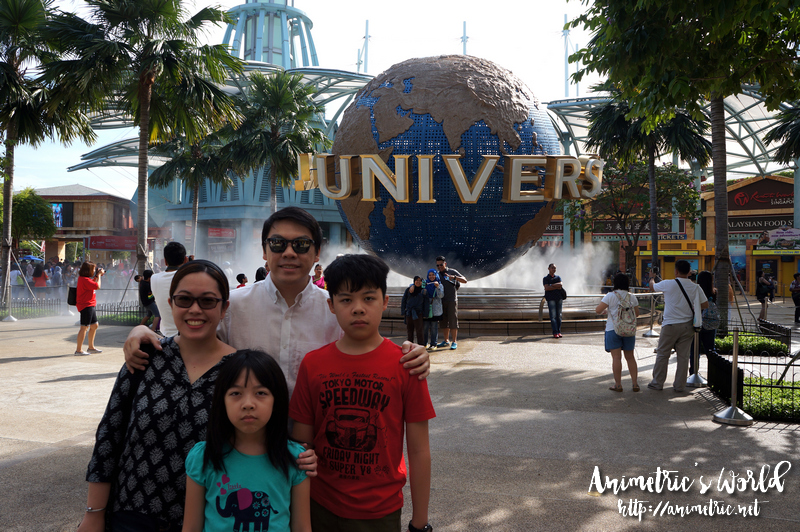 Since I am in a vacation mood, I'll veer away from my usual daily posts and share a bit of what we've been doing here. For starters, we visited Universal Studios Singapore! We've been to the Hollywood version a few times in the past but I know that the one in Singapore is a bit different (the Madagascar attraction isn't available in Hollywood for starters) and so of course we just had to dedicate an entire day there.
We bought tickets in advance from the Resorts World Sentosa website so that we could immediately proceed to the turnstile. Also, we had a discount voucher that takes SG$10 off per ticket if we book online.
Since we were there at 9:30am right at the moment when the gates opened, we had the park pretty much to ourselves so we could move around in a relaxed pace and take photos.
The first ride we went on was the Sesame Street Spaghetti Space Chase. It's a kiddie ride. You ride in pairs and go around an air-conditioned area full of Sesame Street characters. Pretty fun, it reminds me of the Winnie the Pooh ride in Disneyland.
Just our luck, two of the Fast & Furious 7 cars were on display at Universal Studios Singapore. This is the 1973 Cuda, driven by Letty Ortiz (played by Michelle Rodriguez) in Fast & Furious 7.
This is Fast Attack, driven by Shaw (played by Jason Statham) in Fast & Furious 7.
After Sesame Street we immediately went to Transformers The Ride: The Ultimate 3D Battle. You roll out with the Autobots led by Optimus Prime in this wild and action-packed 3D ride. You can't take photos though so I just had a photo opp with this figure in the souvenir store.
This is the area outside the ride.
After Transformers the Ride, we went to go on Revenge of the Mummy. Revenge of the Mummy is my favorite ride at Universal Studios Hollywood but whoa, it's different here. It's more… daring? I read that the one in Singapore is an exact replica of the Florida version. The Hollywood version is a lot more tame and so I like that one better. Since it was a high-speed wild indoor roller coaster ride I did not even attempt to take pics.
We went into Jurassic Park and rode the Air Canopy. It was the only ride we queued up for, the rest had 0-5 mins waiting time. For Air Canopy, we had to line up for 20 minutes. Still, not bad! It's kind of like ziplining except that you're seated… I guess it can be described as ziplining in an open cable car?
The Jurassic Park area had dinosaurs everywhere.
Then we went to Far Far Away. It was noon and very very hot by this time. We wanted to go on Puss in Boots' Giant Journey but there was a 35-minute queue so we skipped it.
We just went on the Madagascar ride.
It's a very mild boat ride where you tour around an indoor air-conditioned area with all the Madagascar characters.
So you see scenes like this.
Right after we stepped out of the Madagascar ride, we saw the characters outside and lined up for a photo opp!
These minions were so hyper, they kept jumping around!
Transformers plushies being sold at the souvenir store!
It's so fluffy I'm gonna die! Lol!
For our last photo opp, we had one with Po the Kungfu Panda! We were able to finish going around the entire park by around 3:40pm.
Some tips to help you make the most of your Universal Studios Singapore trip:
Book your tickets in advance. The ticketing booth has a separate queue so getting your tickets online saves you a lot of time… and money, because there are online promos and you can get discounted tickets by booking at the Resorts World Sentosa website.
Go early. I knew the park was opening at 9:30am so we were there by 9:15am. We were in as soon as they opened.
Wear cool clothes. We all wore shorts because it gets really hot especially around noon.
Don't forget to apply sunblock! You'll be spending a lot of time outdoors walking from one area to another.
Check the park map for schedules of character meet and greets so you can have your photos taken with them.
Tickets cost SG$74 (around P2,500) for adults and SG$54 (around P1,800) for kids aged 4 to 12.
Universal Studios Singapore
8 Sentosa Gateway, Singapore
http://www.rwsentosa.com/Homepage/Attractions/UniversalStudiosSingapore
Like this post? Subscribe to this blog by clicking HERE.
Let's stay connected: