One of the places we went to see while we were in Guam was Two Lovers Point. It's some sort of cliff where a mythical couple jumped off. It's one of the tourist attractions in Guam.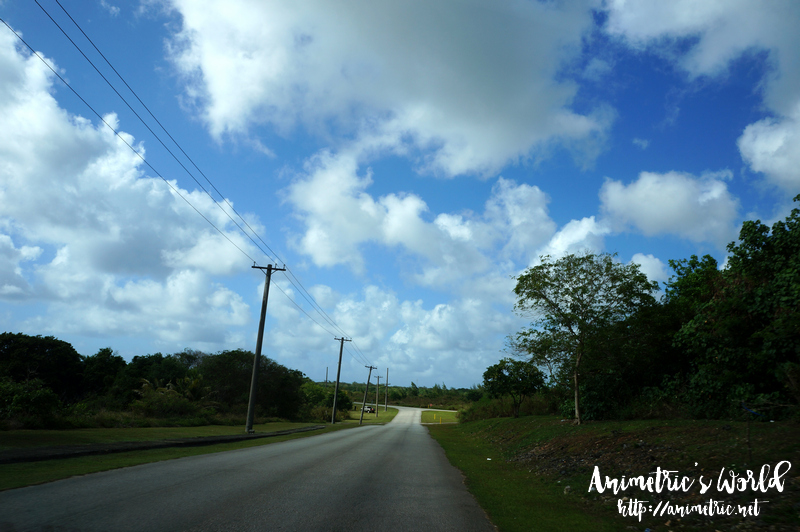 Going there is kind of like taking a long and straight road to the edge of Guam. There's no traffic. Aside from us driving a mini van, there was only a lone shuttle bus on the road going there.
See that pavilion on top of the cliff? You pay US$3 per person to gain access but children aged 6 and below can go in for free. The legend was written on stone tablets in different languages. I copied the story to share here:
The Legend of Two Lovers
In ancient times, a beautiful maiden, the eldest daughter of the most powerful Chamorro chief was ordered by her father to marry a Spanish army captain. The maiden was so young, shy, yet strong-willed. She had no intention of allowing her heart to be just given away. She had chosen her own love. He was a strong, handsome Chamorro warrior. Alas, her parents forbade their daughter from seeing her chosen one. Despair filled her heart for without the blessing of her family, they could never marry.
The lovers met in secret at the waters edge planning to flee the island by canoe. The moon's silver veil of shimmering light danced across Tumon Bay, anointing its surface with magic. Suddenly, Spanish soldiers appeared, ending the lovers' dream of a life together. With their freedom gone, the two lovers fled. High up on the summit of the cliff, the lovers united for the last time sharing their love to its full ecstasy. Fulfilling their hearts and souls, moonlight touched their beautiful faces. They were so young, so perfect, their beauty unblemished. As one, they tied their long shining black hair in a single knot. Now they were inseparable. Holding hands they fearlessly walked to the edge of the cliff and gazed down to their destiny. The soldiers appeared, breathless, but too late. Soft moonlight caressed the lovers' journey into eternity as they leapt to their fate. Now they would be together forever.
To this day, there are those who claim to have heard the whispers of the two lovers upon the waves proclaiming their undying love.
Two Lovers Point actually overlooks the Philippine Sea.
At the park, there are fences adorned with heart-shaped padlocks and love notes by visitors.
These fences with padlocks and notes go all the way to the peak of Two Lovers Point.
Here's a closer look. There were notes in English, Japanese, and a few other languages. We actually saw a couple in their wedding clothes roaming around the park. We were told a lot of folks like to get married at Two Lovers Point.
Two Lovers Point
Tumon Bay, Guam, USA
http://www.twoloverspoint.com/
Like this post? Subscribe to this blog by clicking HERE.
Let's stay connected: