Hubby, daughter, and I had an impromptu lunch at TWG Tea Shangrila Mall East Wing earlier today. We had a 1pm appointment and it was already 12nn when we got to the mall. We needed to have a really quick lunch and TWG was the first resto we haven't tried that we came across. Whenever we're eating out, we try to do so some place new.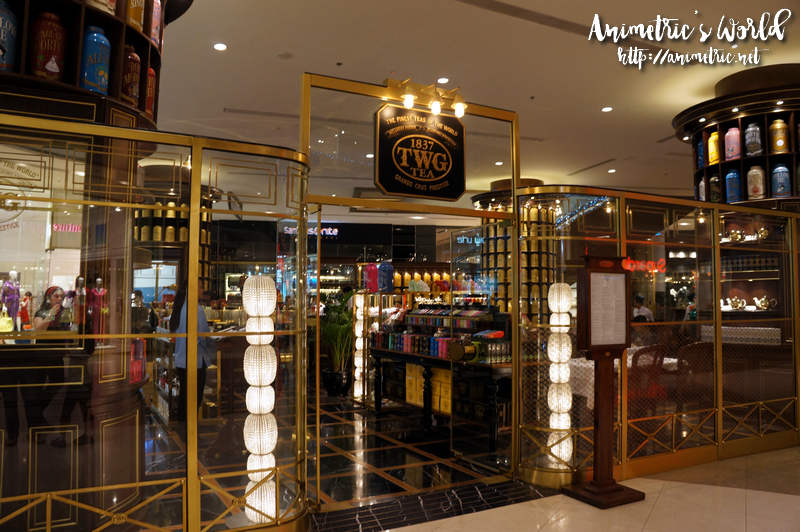 I'm probably one of the few who hasn't tried TWG Tea ever since it launched last year. It's a Singaporean franchise. TWG stands for The Wellness Group. As the name suggests, they specialize in tea.
Although TWG Tea Shangrila Mall is located in an open space in the middle of the East Wing, it seemed like a different world when we stepped inside its transparent glass walls. Everything about it definitely screams high-end.
These were already on our table when we took our seats.
Aside from the usual menus, we were given a Tea Book. It has detailed descriptions for over a hundred varieties of tea, all of which are being offered by TWG Tea. Hubby wanted something along the lines of Japanese green tea (but not Genmaicha since we always have Genmaicha) and so the server suggested Sencha.
So we ordered a pot of Sencha (P295). Sencha is described in the Tea Book as a green tea with a strong, grassy fragrance and floral accents. It's supposed to go well with meals. One pot contains roughly three cups. You can't ask for more hot water when it runs out. I thought it was just so-so, nothing special. I probably would not order it again.
Quite predictably, our daughter picked TWG Tea Lasagna — there are two versions, Garden Vegetables (P350) or Beef Ragout (P380 — she picked this). It's served with a soft bread that's kinda like a big dinner roll. My daughter exclaimed "It's so small!" upon seeing it. I had a spoonful and it was surprisingly good. Lots of good quality ground beef with every bite. The sauce is made of fresh tomato and basil then infused with Moroccan Mint Tea. She finished the entire dish.
Hubby opted for Roast Apricot Cod (P550). Roast cod fillet is served on top of potato puree. It's sprinkled with Matcha green tea powder and accompanied by a rich Apricot Tea sauce. Hubby let me try a spoonful and it was actually very good.
He also ordered a side dish of Rice Pilaf infused with Taiping Houkui (P60) to go with his fish. He said he didn't taste anything special about it as it tasted just like plain rice lol.
I decided to have Eggs Benedict (P420). Toasted English muffins are topped with poached eggs and your choice of either smoked salmon or turkey ham (I chose salmon). They're smothered with creamy hollandaise sauce and served with a side salad of mixed greens tossed in a citrusy vinaigrette dressing. I was really hungry so I pretty much wolfed it all down in minutes. I really liked the salad — despite just being composed of mixed greens it was delicious. It complemented the Eggs Benedict perfectly. Although I loved what I ordered, it may not have been such a good idea to have it on an empty grumbling stomach because for the rest of the day I felt strangely full, like up to my neck full, even during dinner time when I was actually hungry already. I think it may have been too creamy with those runny yolks and hollandaise sauce.
I couldn't not try a TWG Tea Macaron (P55) when I was already there so I ordered one for dessert. I had the Napoleon Tea and Caramel flavor as I was told it was one of the bestsellers. I was surprised it was black when it was served. I bit into it and it was so so so soft, moist, and chewy, so unlike all the other French Macarons I've eaten thus far which are mostly on the dry side. It tasted like a combination of dark chocolate and caramel plus it wasn't overly sweet. Compared to French macarons from Bizu, Tous Les Jours, Empire Macarons, Sweet Bella, French Baker, Aubergine, The Cake Club, and The Cookie Jar, the TWG Tea Macaron is definitely a world better.
Our quick lunch came out to almost P2,000. It's definitely super expensive considering the servings are small and this isn't really a fine dining restaurant. The service was excellent as the staff are very attentive. In a nutshell, we had good food and ordinary tea in a luxurious place with sky high prices. It's probably better to visit them during tea time (around 3pm) as they had some more reasonably priced high tea fare on the menu which I unfortunately could not order at noon.
TWG Tea Salon & Boutique
Mid-level 2/3, Shangri-la Plaza Mall,
East Wing Expansion, Mandaluyong City
654-1421 / 654-2557
Like this post? Subscribe to this blog by clicking HERE.
Let's stay connected: