If there's one thing we can't get enough of in the kitchen it's containers. We put everything in them — leftover food, stuff we baked, unused ingredients, baon, etc. There's never enough. Unfortunately, we don't have unlimited space and these containers do occupy quite a bit of space. But what if we could actually flatten them? We could fit more in our drawers and cupboards, right? That's where Tupperware Go Flex comes in.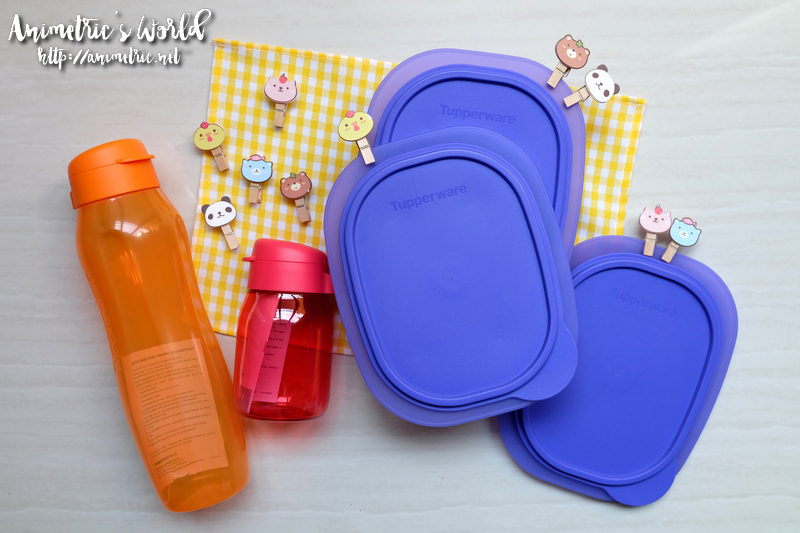 First of all, the good news. I'm giving away over P2,500 worth of stuff:
3 pcs. Tupperware Go Flex (P699 each)
1 1L Eco Bottle II (P539)
So basically everything in the photo above except the small red bottle. I'll share the mechanics at the end of this post, just make sure you're following me on Instagram at http://instagram.com/animetric.
Tupperware Go Flex is not your ordinary plastic container. You can expand or collapse it as needed so it's adjustable in terms of size.
This is Tupperware Go Flex at full capacity. There's actually still space between the lid and the top of the eggs.
This is what it looks like from the side.
This is how flat it is when completely collapsed. It's so thin you can actually bring it in your bag hassle-free.
I can hold 3 containers with one hand when they're flat.
They're very easy to store when flat, taking up minimal space.
When expanded, they take up a lot more space. This is how conventional containers keep in your cupboards. I can stack maybe 4 when they're this size. If they're flat however, I can easily stack a dozen!
At this rate I can keep them in a shallow drawer and it wouldn't be a problem.
What's more, these containers come with a 10-year warranty against cracking, chipping, breaking, and peeling. How cool is that?
What I like about Tupperware Go Flex:
The containers are sturdy and lightweight.
They're space-saving. I can store them practically anywhere!
Great for travel since they're easy and convenient to bring around.
Food items are kept fresh because they're air-tight.
There are different colors to choose from.
Downside? They're a bit pricey at P699 a piece but you can get them for P200 off until the end of September.
For more information, visit http://www.tupperwarebrands.ph. Keep updated on the latest products and promos by following Tupperware on Facebook, Instagram, and Twitter.
As promised, I'm giving away P2,500 worth of Tupperware products. Go to https://www.instagram.com/p/BZGs1jpnBkg/ for the giveaway mechanics. Prizes will be for claiming at the nearest Tupperware outlet.
Like this post? Subscribe to this blog by clicking HERE.
Let's stay connected: