Tsuta Ramen, the first ramen restaurant to be awarded a Michelin star, opened in BGC sometime last December. Of course there has been a lot of hype. Quite predictably, food bloggers they invited are all raving about them. On the flipside, paying customers on review platforms like Zomato and Google have been giving them so-so to lukewarm ratings. They currently register at 2.8 stars / 5 at Google reviews.
So what was it going to be? We decided to have lunch there earlier today and see… or rather, taste, for ourselves.
For Sunday noon, there was surprisingly no line outside Tsuta Ramen. Our party of 5 people got seated immediately. Tables are furnished with wooden trays, napkins, soup spoons, and chopsticks. I told hubby that if I was going to have to line up for an hour or two, I'd rather go elsewhere.
Tsuta Ramen offers 3 kinds of soup bases: Shoyu (Soy Sauce), Shio (Salt), and Miso (Soybean Paste). Price per bowl starts at P390, which is pretty standard.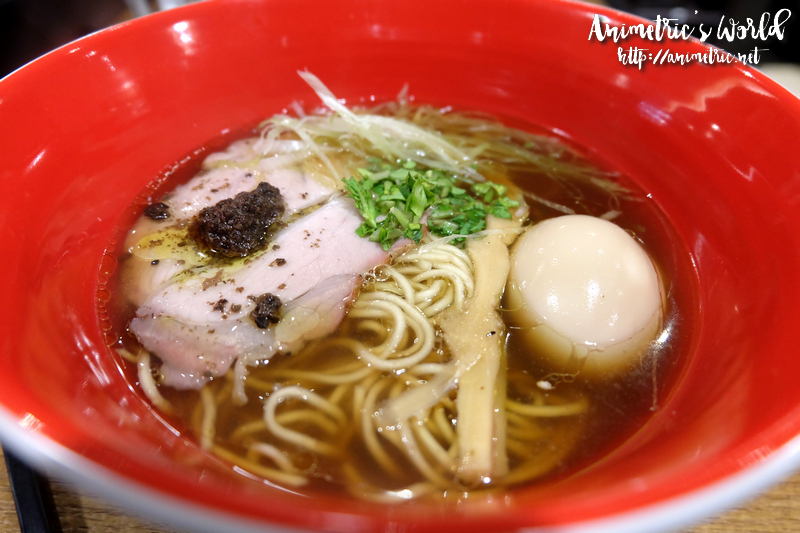 Tsuta Ramen's specialty is Shoyu so that was what I ordered. I had the Ajitama Shoyu Soba (P440), which is Shoyu Soba with Ajitama (Flavored Egg). If you order this without the egg, it's P390. If you decide you want an egg later on, you have to pay P60 for it so it'll come out to P390 + P60 or P450. So better make up your mind about the egg prior. The server will ask you if you want extra noodles before taking your order to the kitchen. The extra noodles have to be cooked with your order. You can't order extra noodles AFTER your order has been served.
Their Ajitama is indeed flavorful. The yolk is runny and yet soft-boiled at the same time. I loved the Shoyu broth too. It's light yet flavorful — clean tasting. Mixing the truffle puree into the noodles and broth yields a unique aromatic taste that's not at all cloying. I liked it. It's not hard to slurp up the soup even after the noodles are gone because it's not greasy. The Char Siu pork is good too, I finished the entire slice.
Everyone in our table ordered Shoyu Soba except for my daughter, who opted for Shio Soba (P390). Whoa, if you prefer broth that's even lighter, this is the one for you. Instead of pureed truffle, this one has pureed green olives in truffle oil. They make this with Okinawa sea salt… and there's even a surprise ingredient — mint leaves! The result is a refreshingly light ramen experience.
At this point, I can understand the 2 star and 3 star ratings. I like Tsuta Ramen, even more than the other places, because I don't feel like I downed a bowl of fat and grease after a bowl. But due the lightness of the broth, some might dismiss Tsuta Ramen as "not rich enough" compared to the heavier and creamier tonkotsu-based broths in other places. As for me, I prefer this combination — flavorful and light. The noodles are okay. I usually get Extra Hard noodles at Ramen Nagi and Ichiran so this is a tad soft for me. Just a tad though. It's still nice, firm, and chewy.
Overall, Tsuta Ramen is excellent. I'd give it maybe 4.5 stars if I ever get around to reviewing it on Zomato or something. I don't know how it compares to the Japanese branches but I intend to find out when we go to Tokyo this April.
Tsuta Ramen
UG/F C3 Bonifacio High Street Central,
Bonifacio Global City, Taguig City
Like this post? Subscribe to this blog by clicking HERE.
Let's stay connected: