I love milk. I always have and I guess I always will. My grandma would buy boxes and boxes of milk from Duty Free when I was a little girl. Back then, there were not as many available brands in the local market. For me, there was no contest between milk, soda, or juice. My beverage of choice was most often a glass of chilled milk. I believe I have my penchant for milk to thank for my strong bones. I'm already in my 40s but I don't really feel joint pains the way some of my contemporaries do.
My most recent milk discovery is Selecta Fortified Milk. Fortified? What does that mean? Let's just say it's leveled up milk, enriched with Vitamins A, B2, B6, B12, and D3. Each glass also provides Calcium, Protein, Magnesium, and Vitamins B1 & B3. All of these nutrients help build strong bones, body, and brain.
Whenever I feel like snacking, I opt to drink a glass of Selecta Fortified Milk instead. It's only 140 calories per serving and it satisfies both my hunger pangs and my cravings. It's filling and it has a creamy vanilla taste. Surprisingly, it's not too sweet so I like it.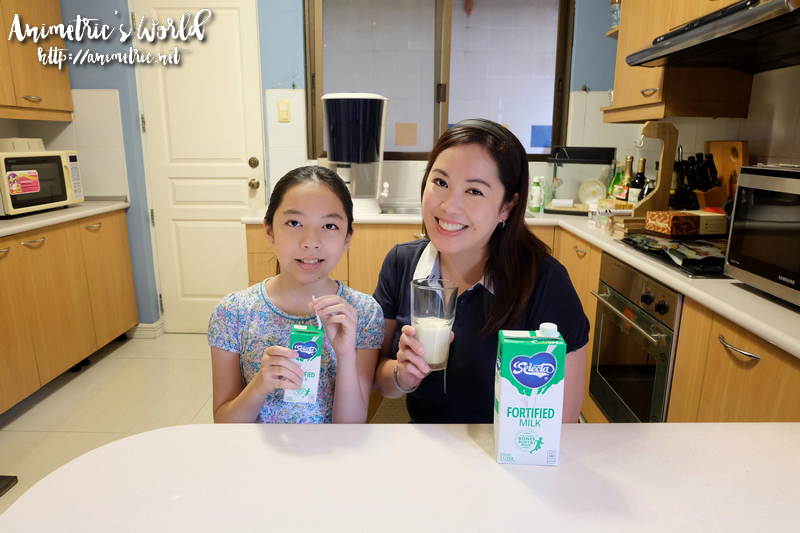 Selecta Fortified Milk comes in 245ml packs (P21 each) and 1 liter packs (P66 each). It's actually more affordable than most brands because on the average, a liter of milk costs P70+. While it's more economical to buy by the liter, the single-serve size is convenient when you're on the go. It's perfect for baon when my kids go to school. It's also easier for me to bring to the office for when I feel like snacking.
I like having muesli with Selecta Fortified Milk for a supercharged breakfast.
Selecta Fortified Milk is great for baking too. It gives cakes, cookies, and other pastries extra oomph with its creamy vanilla flavor.
Nutritious, economical, and versatile, there's simply no reason not to try Selecta Fortified Milk. I love how something so yummy can be good for me and good for my family!
Selecta Fortified Milk is available at all leading supermarkets nationwide. There are promo packs which let you save P15 with every purchase of 2 1-liter packs. You can also purchase at the RFM Store on Lazada.
Like this post? Subscribe to this blog by clicking HERE.
Let's stay connected: