When I was in high school, perfume was a must. I don't know why but we'd lug around bulky bottles of everything from Nenuco to Eternity. During one of the times I had brought such a bottle along… I think it was Samsara, it got STOLEN. I'm like wow. Someone actually opened my school bag and got a whole bottle of perfume. I don't know who but perfume is (and was) expensive so I was pretty upset. After that I never brought perfume to school ever again.
If I had then what I have now, I wouldn't have had to lose an entire bottle of expensive perfume. Of course bringing it to school was a bad idea but I was a dumb kid who didn't know better. So anyway back to the topic… how do you lug around bulky bottles of perfume? You don't. Not with Travalo and Pefume Pod around.
This is the Travalo (P999.75), a 3-inch atomizer which is super easy to fill and refill with your favorite fragrance. It meets airline standards so you can actually tote it around inside your purse.
It's so handy and sleek. It reminds me of a lipstick tube. It comes in different colors too.
You fill and refill the Travalo via this hole at the bottom — I'll show you how in a bit.
A more economical alternative to the Travalo is the Perfume Pod (P349.75), which is basically the same thing.
Unlike the Travalo, the Perfume Pod is transparent. The Travalo is probably the more durable of the two since it seems unbreakable.
So how do you fill up the Travalo and Perfume Pod?
Take off the head of your perfume bottle's spray nozzle.
See this hole at the bottom of the Perfume Pod? It's just like Travalo's.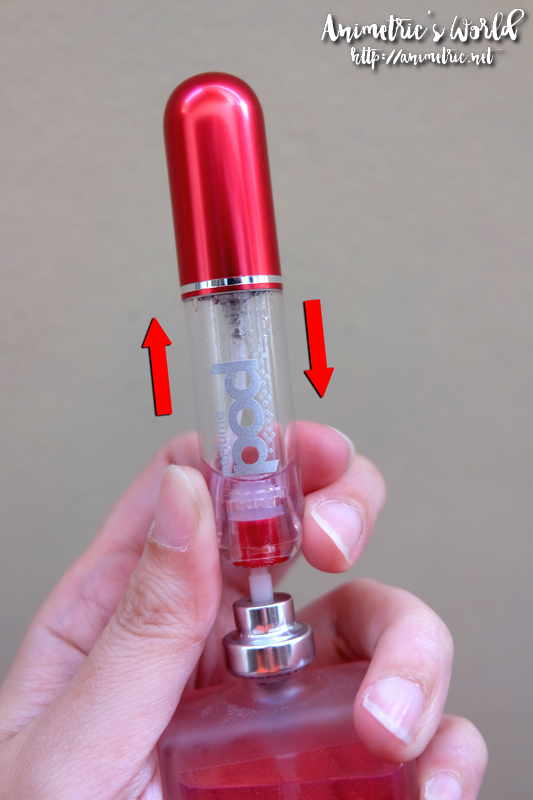 Push in the exposed tip of the perfume nozzle onto the hole at the bottom of the Travalo or Perfume Pod. Fill up the atomizer bottle by pumping it up and down.
Voila! Your favorite fragrance is now in a small, airplane-friendly bottle which can easily fit in your purse or pocket. Great for traveling!
The problem is, it doesn't work with my favorite fragrance… Bvlgari Omnia Amethyste. The spray nozzle is embedded into the bottle's spherical design. There's no way to expose it enough to transfer the contents.
Still, this is a really handy contraption for people who like to bring their favorite perfume around.
Travalo and Perfume Pod are available at Travalo kiosks located at 2/F SM North EDSA and 4/F SM Aura. You can also purchase from Lazada Philippines.
Like this post? Subscribe to this blog by clicking HERE.
Let's stay connected: