The first time I visited Toyota Megaweb was back in 2005. My hubby and I went on a semi-business trip to Tokyo and we alloted a few days for going around. More than 10 years have passed since then. We're finally back with the kids!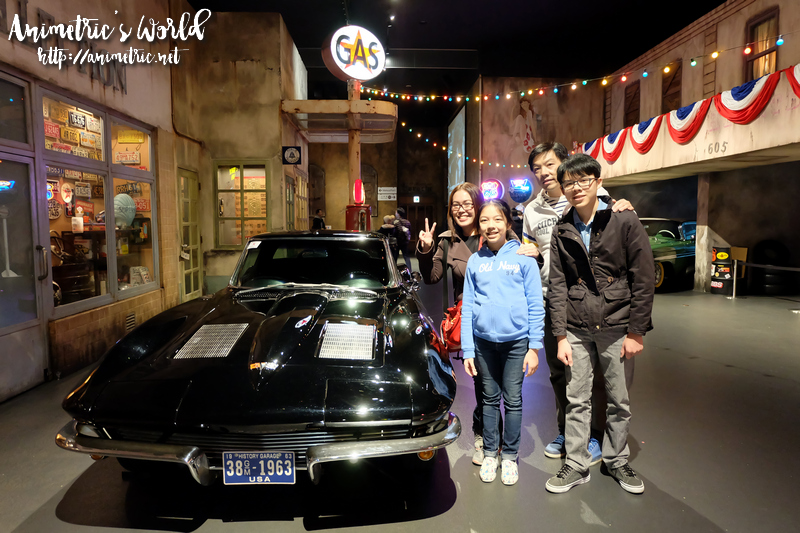 Toyota Megaweb is referred to as a Look, Ride, Feel Car Theme Park. But unlike most theme parks, entrance is FREE! Toyota Megaweb is divided into 3 main areas — History Garage, Toyota City Showcase, and Ride Studio. We started off with the History Garage where vintage cars are displayed.
They have maybe 20 classic cars there, manufactured between the 1950's and 1970's.
There's also this 30m long corridor with shelves on both sides.
The shelves house miniature diecast cars.
Then we walked over to the Toyota City Showcase. You can check out Toyota's newest technologies here. It figures that their concept car, the Toyota FCV Plus was exhibited there. It's a hydrogen fuel cell vehicle which they unveiled at the Tokyo Motor Show 2015. It looks like a spaceship!
It's interesting to see the science behind the cars.
But you're not just an onlooker at Toyota Megaweb. You can experience things hands-on too. We all tried out this Safety Simulator which lets you try driving a gas-powered car and an electric car (specifically a Prius). It's very realistic! The entire cabin jerks when you bump into things. After driving 2 courses, you're given a rating based on your driving performance.
The Toyota Safety Sense Virtual Test Drive lets you take a test drive by sitting down and putting on VR headgear. There's also a Racing Game in another area which takes you around the world and pits you against other players.
There's definitely a lot of eye candy for car enthusiasts.
This is the Toyota I-Road, a personal mobility vehicle for one.
We moved on to the Waku-Doki Zone where Toyota's supercars were showcased.
They even have Formula cars!
When we were visiting, there was a Tamiya event on the Mega Stage.
Tamiya was giving little kids rides on their remote-controlled trucks. That's how much torque these vehicles have — they can take a small child round and round the track.
We went around the Toyota Line-Up Zone where all the existing cars in their lineup can be viewed. This is the Toyota Prius PHV (Plug-in Hybrid Vehicle).
Check out the control panel of the Toyota Prius PHV!
They really spare no expense showing you every little thing that makes a Toyota vehicle so great.
Toyota Megaweb has a souvenir store where you can buy various car merchandise, not just Toyota-branded ones.
Toyota Megaweb is worth checking out if you're in Tokyo. There's a lot to see and do, plus most of the activities are free. If you have a valid international license, you can even test drive your choice of car on a 1.3km track for 300 yen (a little under P150). I wouldn't call it a theme park though, more of an interactive museum of sorts. Still quite fun though.
Toyota Megaweb
1-3-12 Aomi, Koto-ku, Tokyo, Japan 135-0064
03-3599-0808
Like this post? Subscribe to this blog by clicking HERE.
Let's stay connected: