During the first day of the Yakult Japan Journalist Tour (May 26 to be exact), we left the hotel at 8am and boarded a bus to the Yakult Central Institute. Our Yakult Lady adventure actually took place on the second day, May 27.
Our bus had a chiller full of Yakult drinks I have never seen before, such as these 100% fruit juices. Yakult Apple Juice was officially the first non-dairy Yakult drink I tried. It tasted kind of like Mott's and Treetop apple juices, just a tad more subtle in terms of flavor. I tried orange later on (we were on this bus a lot, lol) and that one reminded me a bit of the now defunct Orange Julius.
Over an hour later, we arrived at the Yakult Central Institute located outside of Tokyo. This is where all the research and development occurs.
We all had a bottle of Yakult 400 by our places on the tables. Yakult 400? Okay, so this is how it is… regular Yakult (the one we have here in the Philippines, both the original and light variants) contain 8 billion live lactobacilli per bottle. Yakult 400 (both original and light variants) contain 40 billion live lactobacilli. For the record, I asked the folks at Yakult Central Institute, there is NO LIMIT to the amount of lactobacilli you can ingest in a day. It's the SUGAR you have to worry about because Yakult probiotic drinks are mainly of comprised of skim milk and sugar.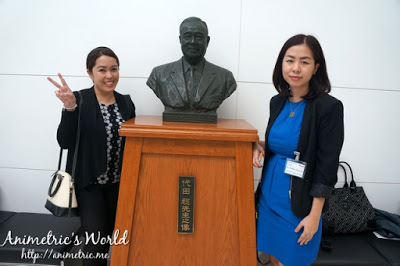 Photo opp with a bust of Yakult's Dr. Minoru Shirota
But I'm pre-empting, lol. Just to trace the history of this amazing drink, back in 1930, a Doctor of Medicine at Kyoto University named Dr. Minoru Shirota (remember the Yakult TVC which always states "lactobacilli Shirota strain"?) became the first in the world to succeed in culturing a fortified strain of lactic acid bacteria beneficial to human health. This bacterium was named "Lactobacillus casei strain Shirota" after Dr. Shirota. In 1935, "Yakult" was introduced to the market. 2015 marks Yakult's 80th anniversary.
Yakult is a probiotic health drink available all over the world — in Europe, America, Asia… even Australia and New Zealand! Taking Yakult daily promotes digestive health and longevity. Dr. Shirota has always advocated preventive medicine, so probiotics rather than antibiotics. He believes it's more important to focus on prevention of disease rather than relying on treatment.
It was Dr. Shirota's vision that brought us Yakult, his desire to provide good health to as many people as possible at an affordable price. A pack of 5 bottles in the Philippines costs P40, and one bottle a day is enough to:
Suppress the growth of harmful bacteria in the intestines
Enhances the body's natural immunity
Promotes healthier intestinal activity
No side-effects (unlike medicine)
At the Yakult Central Institute, we went to visit the birthplace of Lactobacillus casei strain Shirota, at the Manufacturing Room for Starter Cultures. It's a secure and pressurized room and we were not allowed to go inside or take a peek.
Mr. Shirota himself (yes, he is the Dr. Shirota's grand nephew… something like that) showed us around the Yakult Central Institute.
Since we couldn't go in the labs, here's a photo to show you what it's like inside.
This is the "Refreshing Corner" where people can relax and take a breather when they feel stressed out. They can have a massage, listen to music, and even watch DVDs on this super high-tech reclining chair.
The science behind Yakult's many drinks are posted on the walls of Yakult Central Institute. This is the poster for Pretio, a probiotic drink which has been proven to lower blood pressure. That's how advanced Yakult Japan is in terms of probiotic research. Yakult Japan has drinks that lower breast cancer risk, lower blood sugar levels, enhance memory, etc. Even if it seems impossible anytime soon, I still wish that someday these drinks can all be made available here in the Philippines.
Yakult Pretio, a probiotic drink proven to lower blood pressure
I tried Yakult Pretio, the taste is similar to that of regular Japanese Yakult (less sweet than the Philippine version) but the consistency is thinner and more water-like. I seemed to inhale it because it was gone too soon, haha!
We went outside one of the higher floors of the Yakult Central Institute where this garden is located.
An impressive organization housed in an equally impressive facility!
These are ALL the Yakult products. Yes, there are a lot! Drinks, food items like instant noodles and yogurt, skin care products, makeup… even toothpaste!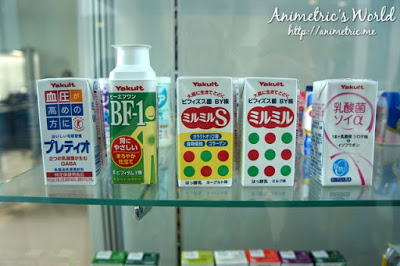 Some Yakult probiotic health drinks — I've tried 2 out of 5! There are more.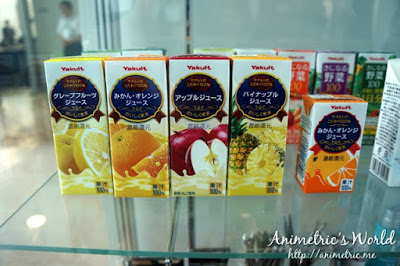 Yakult 100% Fruit Juices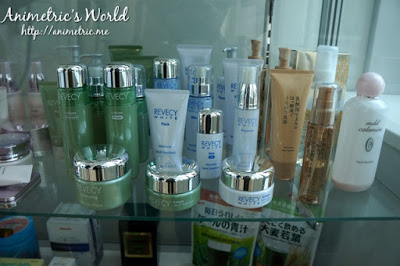 Yakult Skin Care Products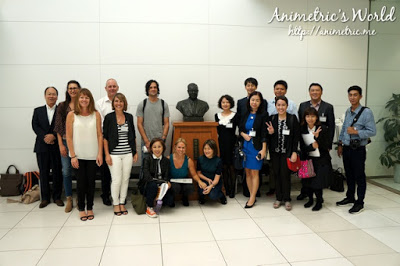 With media folks from Australia, New Zealand, Singapore, China, and Thailand!
It was a learning-filled day for me at the Yakult Central Institute. I love how easy and affordable it is to incorporate the preventive power of probiotics into our family's daily routine because of Yakult — P8 a day if I buy the original variant or P10 a day if I get Yakult Light. I used to buy Yakult every once in a while or if someone was having tummy troubles at home but after everything I've learned, I've made Yakult a part of our daily life. I wish that at the very least Yakult 400 (with 40 billion live lactobacilli) would also be made available to us here in the Philippines!
Thank you Yakult Philippines and Yakult Japan for this unique opportunity! Will share more of the 2015 Yakult Japan Journalist Tour in the coming days. 😀

Like this post? Subscribe to this blog by clicking HERE.
Let's stay connected: