Heya! Whenever you need to check your child's temperature (or your own), what do you use? When I was a little girl, I remember having to put a glass thermometer into my mouth. These days, I use an ear thermometer I bought in the US back in the year 2001.
Anyhow, shortly before I left for the US last May, I actually received a unit of Topcom Ear and Forehead Thermometer 301 for review. My trip was sudden and so amidst the rush of last-minute packing and other things I needed to do, I was unable to try it out right away.
Let's unbox, shall we? The unit comes with a base stand, carrying case, and an instruction booklet.
The unit fits perfectly inside the carrying case.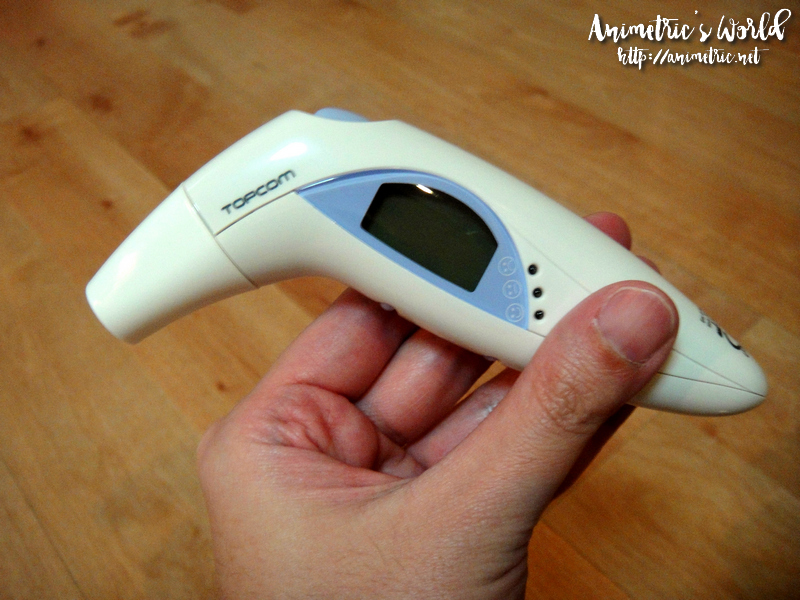 It's very handy in terms of size. It fits comfortably in my hand.
You can use the base stand if you want to keep it on your tabletop.
The Topcom Ear and Forehead Thermometer 301 uses a CR2032 Lithium battery which can be bought at watch or camera stores.
This is the tip with the sensor for measuring temperature.
If you are measuring body temperature, just place it on the middle of the forehead and press the lavender button.
It will immediately display the body temperature and a smiley face which signifies that everything is A-OK — meaning the result is within the normal range and there's no fever. I actually liked using it better than the dedicated ear thermometer because my kids complain a lot when I place the sensor in their ear canal. This is actually a multi-function thermometer because aside from a forehead thermometer, you can also use it on ear mode, or to measure room temperature, or to measure the temperature of food and drink.
What I like about Topcom Ear and Forehead Thermometer 301:
It's very easy to use. I actually had a harder time when I tried reading the instruction booklet, lol. Just aim and press the button.
It's lightweight and portable — easy to bring around.
My kids like it better since the forehead mode is more unobtrusive compared to our old ear thermometer.
In case you are nursing a fever, the thermometer can remember your last ten results so you can keep track of your improvement.
It's consistent. I took my son's temperature 5x on the forehead and got the same result.
It's pretty reasonably priced. I remember buying my ear thermometer from the US for US$35 back in 2001. This one is priced at P1,800.
All units come with a one year warranty.
Downside? None really. Topcom Ear and Forehead Thermometer 301 is available for P1,800 at Rustan's, South Star Drug, The Landmark, Babyland, and Crossings.
Like this post? Subscribe to this blog by clicking HERE.
Let's stay connected: