This is the lipstick that has launched a thousand questions… lol. What I mean is, whenever I wear this, people ask what lipstick I'm wearing! Meet one of my favorite lip products — Too Faced Melted Matte Lipstick in Queen B (US$21 + Sales Tax). I ordered it from Sephora USA. The peso cost based on today's exchange rate is a little over P1k. It's half the price of the Kylie Lip Kit I bought from a reseller.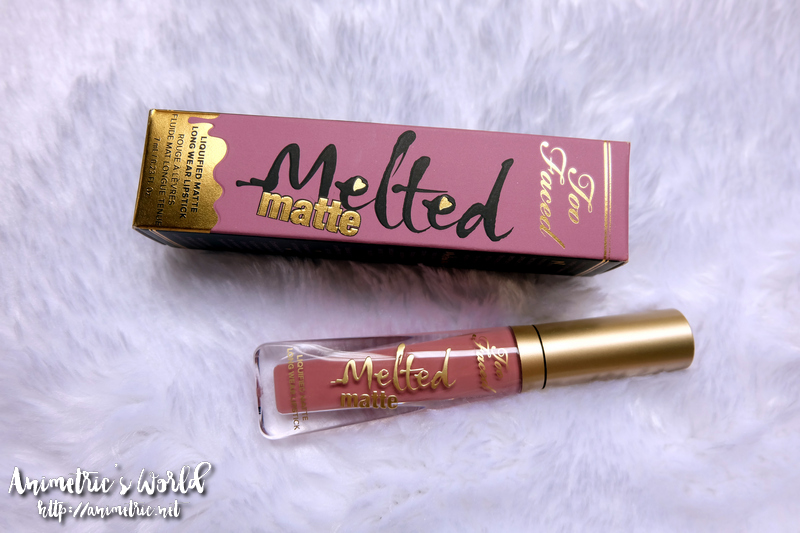 Queen B is a mauve shade I first saw in Sephora when I went to Malaysia last year. Unfortunately it was out of stock. Thus I had to order from Sephora USA. I love rose, pink, and mauve lipstick shades. I think they are the only shades that really stay with me.
Here's the blurb on the box.
Like most liquid lipsticks, it comes with a sponge-tip applicator.
Here's a swatch. I love this shade!
It looks so nice and natural. Plus it doesn't make my teeth look yellow!
This is how it looks indoors under artificial light.
This is how it looks under natural light.
What I like about Too Faced Melted Matte Liquid Lipstick:
It's very pigmented. You can see how solid the color is on my arm and on my lips.
It's easy to apply because it glides like a dream.
It dries quickly to a nice matte finish.
There are 23 shades available (there's green!) so I'm pretty sure you'll find one you like.
It stays on perfectly until you start eating and drinking, then it chips off a bit… just a bit though. Still looks decent in photos.
Price is reasonable. I consider the P1k range normal for high quality lipstick.
Downside? Like most liquid matte lipsticks, it can be drying. I suggest keeping your lips moisturized all the time if you have a penchant for liquid mattes. I also didn't see or feel the claimed plumping effect.
Too Faced products are not readily available here in the Philippines. I had to order from Sephora. I will most probably buy this again, but I will try other shades. 🙂
Like this post? Subscribe to this blog by clicking HERE.
Let's stay connected: