One makeup essential that everyone will need at some point is concealer. Why? Because no one is completely flawless. We all have something we need to cover up — dark undereye circles, a zit or two, sun spots, scars, insect bites, etc. Now my favorite concealer at the moment is the Tonymoly Timeless Carat Dual Concealer (P598).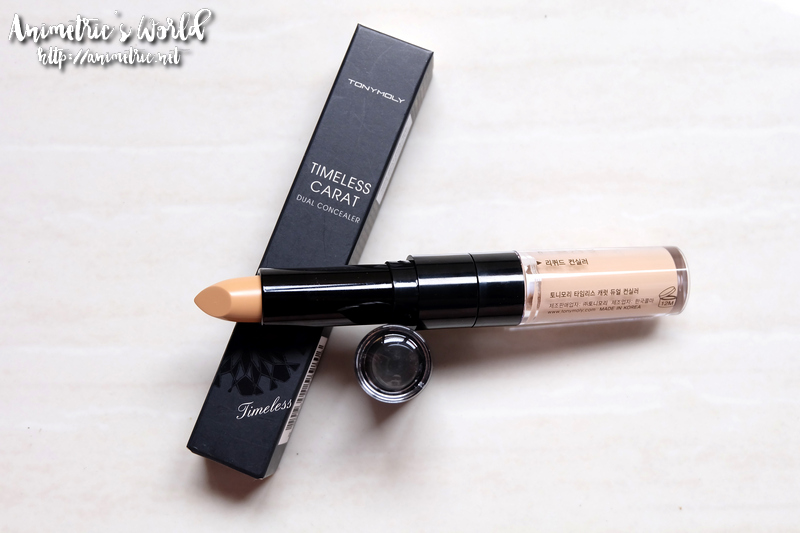 As the name suggests the Tonymoly Timeless Carat Dual Concealer is a 2-in-1 product. One end is a stick concealer, the other end is a liquid concealer. There are 3 shades: 01 Light Beige, 02 Skin Beige, and 03 Natural Beige. I got 02 Skin Beige.
The liquid concealer comes with a sponge tip applicator.
Here are swatches of the Stick Concealer and the Liquid Concealer. The Liquid Concealer is noticeably lighter in terms of tone. They actually recommend using the stick concealer to cover blemishes. The liquid concealer is supposedly for undereye circles.
This is me without any makeup.
Dark undereye circles will forever be my problem and so I tried swiping on some of the stick concealer (after I had patted on BB Cushion for an even base) then patted it in to blend.
Then I dotted on some of the liquid concealer then I patted with my finger to blend.
And voila! I can still see my dark undereye circles but at least the Tonymoly Timeless Carat Dual Concealer did quite a good job of concealing them. My overall eye area brightened up considerably too. The undereye area is the toughest to cover up. I've tried this concealer when I had a laser treatment similar to cauterization. I had red marks all over my face (which eventually turned to scabs). Tonymoly Timeless Carat Dual Concealer was able to cover them all up easily and people never even knew I underwent such a treatment lol.
What I like about the Tonymoly Timeless Carat Dual Concealer:
I love the creamy yet lightweight texture of the stick concealer! It glides on and isn't sticky, very easy to blend.
The slight difference in tone of the two concealers makes it possible to use them together and come up with the perfect shade you need.
The yellow undertone (at least of the shade I tried) is great for Asian skin.
It's super reasonably priced — you're getting 2 full products for P598!
It's easy to bring around since everything is in one tube. Perfect for travel!
It's available in three shades so you can get the right shade for you.
Downside? I'm not sure if 03 Natural Beige is dark enough for morenas.
Tonymoly Timeless Carat Dual Concealer is available at Tonymoly counters and boutiques for P598. Log on to http://www.tonymoly.ph for a complete list of stores.
Like this post? Subscribe to this blog by clicking HERE.
Let's stay connected: