Your holiday look, all inside one book… quite literally. That's how I'd describe Tonymoly's special holiday release, the Tonymoly Snow Fantasy Face Book. There are 2 volumes: Vol. 1 Brilliant Eve and Vol. 2 Golden Love. Each one is a set of makeup products placed inside a book-type case.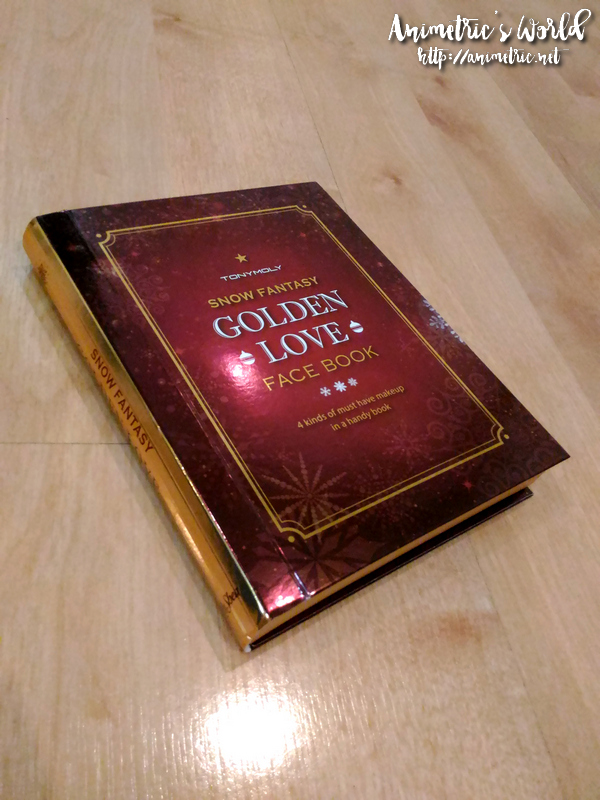 I got Tonymoly Snow Fantasy Face Book Vol. 2: Golden Love (P1,498). I love the packaging, it's just the kind of gift I'd be very excited to open!
Opening the book reveals 5 different makeup products.
First we have the Tonymoly Quick Base. It's a transparent primer that holds moisture, giving you a nice dewy look that Koreans are famous for. It also makes your makeup last longer.
Then we have the BCDation All Master SPF 30 PA++. It's a lightweight all-in-one product (functions as a BB, CC, and foundation) which provides buildable light to medium coverage. It brightens skin and conceals minor flaws.
So anyway here are swatches of BCDation All Master and Quick Base. You're supposed to apply Quick Base first onto your clean face and then BCDation afterwards.
Wow, I love how my skin looks after I blend the two products together. It's luminous and dewy — and that's just my hand! The finish actually has a hint of gold.
There are also 2 eye pencils in this set — Tonymoly Perfect Eyes Gel Fit in 03 Deep Cookie (left) and 04 Ginger Gold (right).
One is dark brown while the other one is glittery gold.
Check out the swatches — they're so pigmented!
I used both at the same time — Deep Cookie to line my upper lids and Ginger Gold on the lids to add shimmer.
Just these two pencils and a coat of mascara and you're good to go. How's that for a simplified eye look?
My favorite product in this set is definitely the Tonymoly All Flash Lip Pigment in 02 Good Kiss.
It's got the consistency of lip gloss but it's got rich color. It's also not sticky. I love the texture.
OMG it looks so natural it's MLBB (my lips but better!). This is definitely my new favorite lip product!
So this is the full-faced look of Tonymoly Snow Fantasy Face Book Vol. 2: Golden Love. Only the eyebrow pencil, concealer, and mascara aren't from the book. What do you think?
The Tonymoly Snow Fantasy Face Book is a great gift for those who aren't quite sure which makeup products to buy. For P1,498, you get a makeup kit (except eyebrows, mascara, and blush) so you have around 80% of what you need for a complete look. It's great for travel too because the products are travel-sized.
Tonymoly Snow Fantasy Face Books are available at Tonymoly counters and boutiques for P1,498 per book. Log on to http://www.tonymoly.ph for a complete list of stores.
Like this post? Subscribe to this blog by clicking HERE.
Let's stay connected: