I have a very bad habit of leaning on my left elbow every night. When I play with the iPad or Nintendo DS… when I type on my laptop… and so forth. As the years passed, I noticed that my left elbow had darkened considerably. I hate it. I hate myself even more for causing it.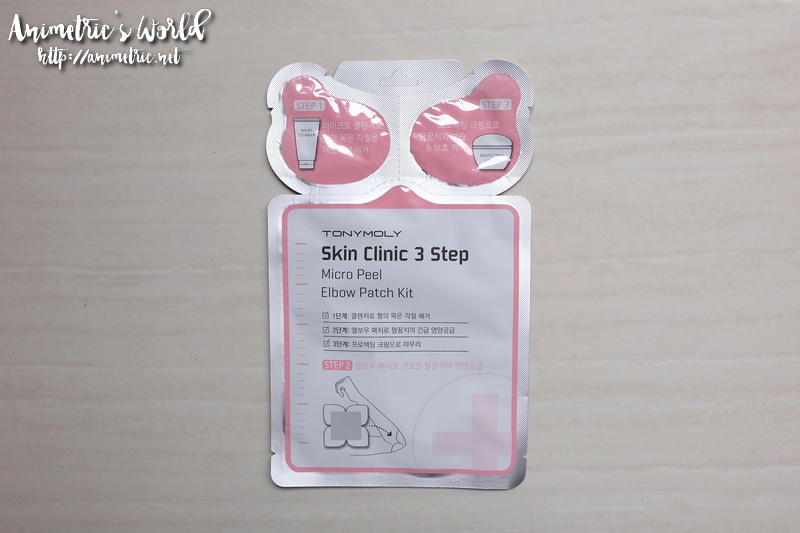 Anyway one time while shopping in Tonymoly's SM North EDSA boutique, I saw this unique product displayed along with face masks. It's the Tonymoly Skin Clinic 3 Step Elbow Patch Kit (P248). The entire foil pack is in Korean but I'm assuming it's for whitening the elbows.
As the name suggests, this kit entails 3 steps. They are clearly labeled as Step 1, Step 2, and Step 3. Detach the two sachets on top of the foil pack before you proceed.
Step 1 is a Micro Cleanser in a small sachet. It cleanses the skin. It also exfoliates by gently removing dead skin cells. You wet your elbows and massage this all over the surface. Rinse and dry your elbows.
For Step 2, open the biggest foil pack marked Step 2 and take out the elbow patches. You stick the flesh-toned square onto the center of your elbows. This is the actual mask treatment. It repairs skin damage and infuses the skin with nutrients. You leave this on for 30 minutes. Don't move so much so the patches stay put.
After you've removed the patches, it's time for Step 3 which is the Protecting Cream. Apply this cream all over the elbow area. This brightens and protects the skin.
So this is me doing all 3 steps.
OMG the Tonymoly Skin Clinic 3 Step Elbow Patch Kit actually works! My elbow lightened around 2 shades. I think I'll use this 2x a week for best results. So excited to restore my elbows to their former glory wahahahaa! Instead of enumerating this products good qualities, I shall let the photos speak for themselves. Totally hoarding this on my next visit to Tonymoly!
Tonymoly Skin Clinic 3 Step Elbow Patch Kit is available at Tonymoly counters and boutiques for P278. Log on to http://www.tonymoly.ph for a complete list of stores.
Like this post? Subscribe to this blog by clicking HERE.
Let's stay connected: