I don't like Argan Oil. I have tried over half a dozen different Argan Oil based hair products ranging from shampoos, conditioners, to serums… none of which have made it to my blog. I've since concluded that I'm not hiyang. So when I got a bottle of Tonymoly Make HD Silk Argan Oil (P598) for review, I was very very skeptical.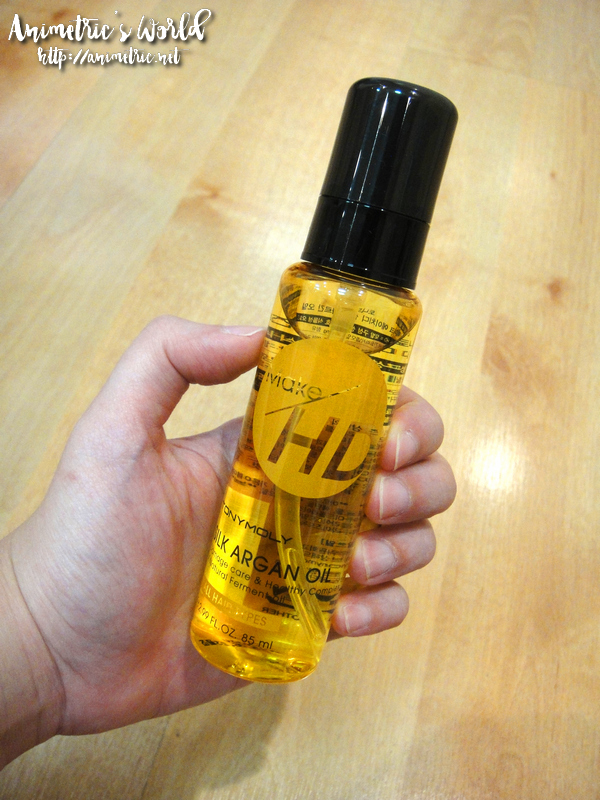 Tonymoly Make HD Silk Argan Oil (P598)
So the Tonymoly Make HD Silk Argan Oil is the latest Argan Oil product I've gotten my hands on. When I went to Japan last May, I actually bought a tube of Argan Oil Hair Treatment by Kose (yes even after all the product fails I was still trying) but that also didn't work out for me.
So anyway Tonymoly Make HD Silk Argan Oil comes in a handy dandy 85ml pump bottle.
The oil is gold tinged. It smells pretty nice too.
Before (left) and after (right) Tonymoly Make HD Argan Oil application photos
So anyway, during a particularly BAD hair day, I decided to give it a go. Talk about challenge, lol. My hair was super dry and frizzy and well… just all over the place. I hated it. I pumped some oil onto my palms, rubbed them together and massaged through my hair. There was an instant improvement as you can see above.
Okay so I was debating whether to show you my bad hair day photo because it's really really bad, lol. That's how GOOD this product is, it transformed my hair into something acceptable and party-ready if I may add after just a few pumps. I'll let the pictures do the talking haha.
What I like about Tonymoly Make HD Silk Argan Oil:
It's moisturizing and it controls frizz effectively.
It smells nice and it makes hair shiny.
It's lightweight and doesn't weigh hair down, love that there's no heavy, sticky, or greasy feeling.
The effect is immediate, like magic! When you apply it to your hair you can see and feel the instant smoothing effect.
It's not expensive. Most Argan Oil serums in the market cost around P1k or more, this one is only P598.
Downside? None. I love this product! I didn't think I'd ever find an Argan Oil serum that would agree with my hair but I finally did!
Tonymoly Make HD Silk Argan Oil is available at Tonymoly counters and boutiques for P598 per bottle. Log on to http://www.tonymoly.ph for a complete list of stores.
Like this post? Subscribe to this blog by clicking HERE.
Let's stay connected: