Last June 18, I had my first real encounter with CC Cream, specifically Tonymoly Luminous Pure Aura CC Cream. I'm a BB Cream fanatic if there ever was one… I've tried and reviewed almost 20 different BBs. It's very timely because lately I have been getting a lot of questions about CC Cream.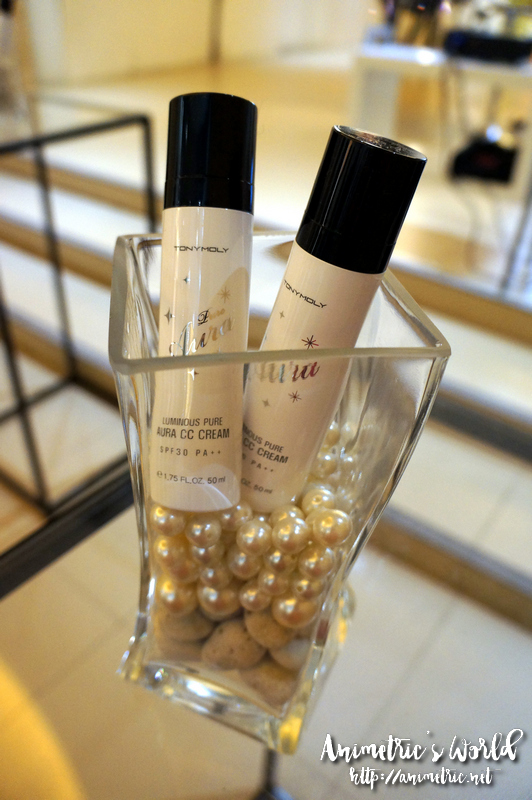 So anyway, I attended the launch of Tonymoly Luminous Pure Aura CC Cream at Market! Market!.
The event was hosted by model, celebrity, host, and make-up artist Bianca Valerio.
What's the difference between CC Cream and BB Cream? CC Cream stands for "Color Corrector", "Color Change", or "Complexion Correcting" while BB stands for "Blemish Balm". CC Cream offers extremely sheer, translucent, and next to no coverage as opposed to BB which ranges from light to heavy which can even be used to replace foundation. Both have skin care functions depending on the kind you buy. CC is lighter in texture and consistency compared to BB.
Bianca explained that CC Cream can function as a moisturizer, primer / makeup base, sunscreen, and skin treatment as it also has whitening and anti-wrinkle properties. It can also be used as a highlighter as it give skin a luminous glow so you can apply it on areas like the bridge of your nose or the apples of your cheeks to draw them out.
Bianca then conducted a makeup demo with Tonymoly's store supervisor to show us that CC Cream can be used even by morenas (darker-skinned women).
Bianca put CC Cream on her skin before applying all other makeup… you can see the glow even from here.
So anyway, I got to take home my very own 50ml bottle of Tonymoly Pure Aura CC Cream from the launch. It retails for P948, which is pretty reasonable as it's still under P1k.
I like that it comes with a pump dispenser. It's a lot more hygienic and easy to use compared to jars.
As you can see, the CC Cream starts out white. When you put it onto your skin it adjusts to match your skin tone. When I blotted my face several hours after application I noticed it came off light beige.
Hahaha, pardon the photos. I just got out of bed. Anyway, my face is naturally ruddy and rosy so I like using BBs to tone down the ruddiness so that my neck and face would match. CC Cream stands for Color Correction right? Well, I think it did a pretty good job because my face actually matched my neck more AFTER I applied CC Cream. Color Correcting capability? Check.
These days, I'm making it a habit to have photos under sunlight when I'm reviewing beauty products. So here I went to our bedroom window so the sun can shine on my face. Pardon the blemished forehead, I am still recovering from my nightmare facial pricking session. But see, the CC Cream can do so much to brighten my face without actually changing its color. In fact, it matches my neck perfectly. Tonymoly Luminous Pure Aura CC Cream has been touted as the celebrities' secret unbelievably real no makeup cream and it actually lives up to the hype!
I love how light it feels on my face. It's looks and feels like I have nothing on.I think I can pull off wearing this solo. We were told during the launch that it's not recommended that you use this alone if you have blemishes and skin texture problems since it doesn't cover much.
What I like about Tonymoly Luminous Pure Aura CC Cream:
It's very lightweight since it's water-based.
It's very easy to apply, I just used my fingers actually.
It has a light pleasant scent which is characteristic of Tonymoly products.
It adjusts to match my skin tone so it's a no-brainer, lol!
I don't look like I'm made up. It actually looks like bare skin, only better.
It has SPF 30 so I can actually use it as my daily sunscreen.
The price is reasonable at under P1k for everything it does.
Downside? Makeup like eye shadow or eyeliner won't adhere properly when used alone without BB, foundation, and/or powder on top. If you need to be made up, it's best that you don't use this alone — top it with BB or foundation and set with powder if desired. It will still give you the glow and let the rest of your makeup stick better. Also, it provides extremely sheer coverage (next to none) that is not buildable and so you can't use it by itself if you have a lot of blemishes and skin texture flaws.
All in all though, I love it! As far as I'm concerned, the product delivered everything it promised. I'm not a fan of the heavily made up look (as if it's not obvious by now lol) and I think I can pretty much carry wearing CC Cream by itself thus far so this is really perfect for me. I still won't give up BB Cream since it serves a different purpose altogether but I can see myself sampling other CC Creams from here on out.
Tonymoly Luminous Pure Aura CC Cream SPF 30 PA++ is available for P948 at all Tonymoly counters and boutiques. Log on to http://www.tonymoly.ph/ for a complete list of stores.
Like this post? Subscribe to this blog by clicking HERE.
Let's stay connected: