Ah yes, I'm slowly building my collection of CC Cream reviews as this is my 7th — Tonymoly Luminous Baby Aura CC Balm (P948).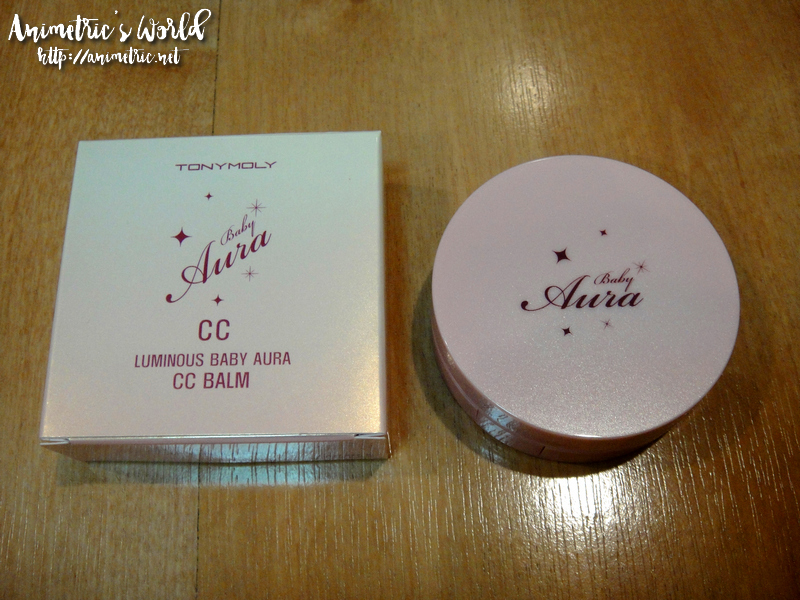 It's not just baby aura, it's Luminous Baby Aura. See those sparkles on the logo? Lol! Me, me… I want baby aura because I'm turning 40 in less than a month.
Tonymoly Luminous Baby Aura CC Balm is in compact form, which is good, because it means it won't be messy to apply. Okay, so according to Tonymoly this is actually a 5-in-1 product — Primer, Moisture Cream, BB Cream, Aura Effect, Volume Filler.
I love how it looks. It's so cute! This product promises to plump, moisturize, cover (imperfections), fill in (lines and wrinkles) and make skin look shiny (hence the sparkles on the logo).
I got Tonymoly Luminous Baby Aura CC Balm in shade 02 Natural Beige (the other shade is 01 Light Beige). I was a bit concerned at first because it might be too dark. I usually get the lighter shade when it comes to CCs and BBs.
Anyhow, I tried swatching.
02 Natural Beigs is pretty fair in terms of color.
It does however blend nicely into my skin.
The beige mixes with the white stripe so the color becomes lighter than what you would expect. That said, I'm glad I got 02 Natural Beige.
So here's a before and after application pic. I'm like, wow, my face looks Photoshop-smooth after putting on the Tonymoly Baby Aura CC Balm. I did not Photoshop my face though, it's really the CC balm! Is this visible smoothness the reason why they call it Baby Aura?
This photo was taken 8 hours after application. Still smooth-looking albeit not as matte as the first 2-3 hours. It's also not crazy greasy though considering I didn't blot.
What I like about Tonymoly Luminous Baby Aura CC Balm:
It's a combination product so it's not a CC Cream in the strictest sense, it's a CC Balm (CC-BB?) so you get the best of both worlds — more coverage compared to regular CC and more luminosity compared to regular BB.
It's pretty easy to apply since it glides on your skin. Just put some product on the sponge and spread evenly all over your face.
The shade is perfect for me.
It makes skin look super smooth and luminous so you become instantly photogenic.
You can readily wear it alone since it's kind of like BB Cream.
You can use it as a primer or use it to replace foundation if you don't need heavy coverage.
It's formulated with argan oil, avocado peptide, honey extract, marine collagen, Himalayan glacier water, and hyaluronic acid — all of which offer a host of skin care benefits!
Downside? There's no SPF so if you're using it during the daytime you have to apply sunscreen first. It's a small trade off for a really great product though.
Tonymoly Baby Aura CC Balm is available at all Tonymoly counters and boutiques for P948. Log on to http://www.tonymoly.ph/ for a complete list of stores.
Like this post? Subscribe to this blog by clicking HERE.
Let's stay connected: