And it's another lipstick review with Tonymoly Lip Click Styling Color Lipstick. Lipstick is IMPORTANT. No matter how fancy your eye makeup or how flawless your foundation, it's incomplete without lipstick to finish your look. Drab and colorless lips just don't cut unless you're masquerading as a ghost during Halloween.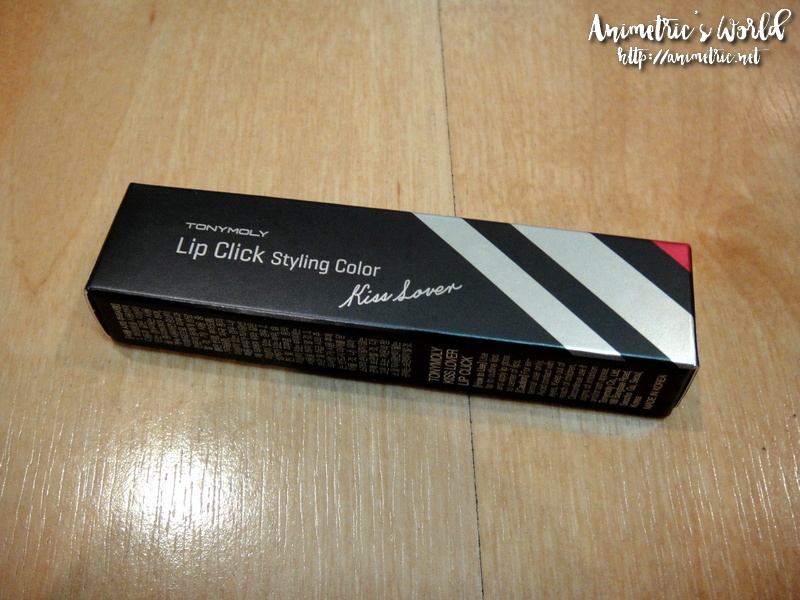 So anyway, today I'm reviewing a rather unique lipstick from the Korean brand Tonymoly — Tonymoly Lip Click Styling Color Lipstick (P598). I got this sometime last year.
It doesn't really look like a lipstick right? It actually reminds me of a marker from this angle.
It's called Lip Click because you have to push this button at the end of the tube to dispense product and it makes a clicking sounds. It's kind of like a pen.
So the more you push and click, the more lipstick comes out.
I got Tonymoly Lip Click Styling Color Lipstick in M04 Passion Coral. I was impressed at how pigmented this lipstick is. It looks bright reddish pink at first glance.
But true to its shade name, it actually is coral when you apply it to your lips — so it's got a pinkish orange tone to it.
For noticeable lips, this is a good lipstick to pick up.
What I like about Tonymoly Lip Click Styling Color Lipstick:
It's very neat and convenient to use because you just click as you go along. There's no possibility of accidentally twisting or over-twisting the tube. You get to dispense product as needed.
It's highly pigmented. You get really solid color and coverage with this one.
It starts off kind of shiny when you apply it but dries off to a semi-matte finish.
It's creamy and moisturizing. I had dry chapped lips when I applied it but it was still relatively easy to apply.
There are several shades available.
Downside? None really, except that I don't really like coral-hued lipsticks but that's just me. It didn't look so coral when I swatched it on my arm lol. When swatching or trying out lipsticks, applying them to your lips (you can ask salespeople to sanitize the sample and you can use a cotton bud to apply) is the best way to determine if the shade is right for you. 🙂
Tonymoly Lip Click Styling Color Lipsticks are available at Tonymoly counters and boutiques for P598 per tube. Log on to http://www.tonymoly.ph for a complete list of stores.
Like this post? Subscribe to this blog by clicking HERE.
Let's stay connected: