I love Korean Mask Sheets. When I want the works when it comes to skincare but I'm too tired to go through the 10-step drill, I put on a mask sheet. Mask Sheets are among the most intense treatments you can give your skin. They not only focus on specific concerns, they take care of everything else while they're at it too. As a result, you get brighter, clearer, and moisturized skin immediately afterwards. Now my latest Mask Sheet discovery is the Tonymoly I'm Real line.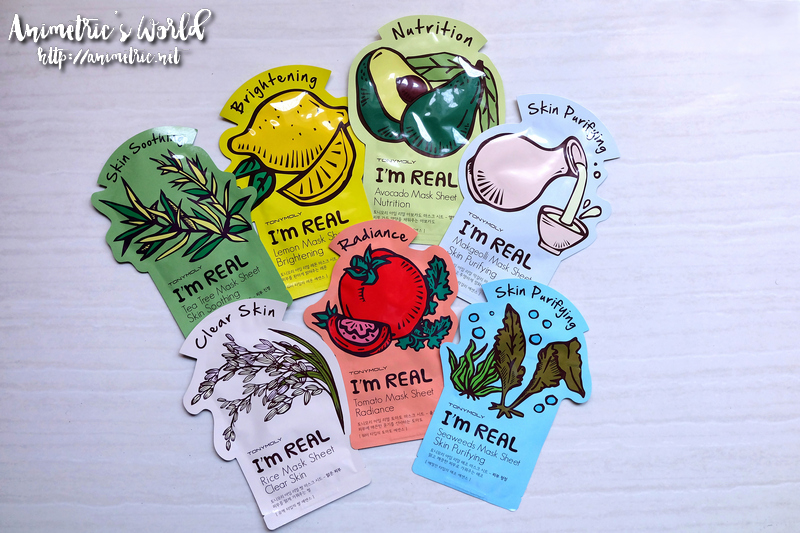 The Tonymoly I'm Real line of mask sheets are comprised of 11 kinds. I was only able to buy 7 due to stock issues. They cost only P78 each so my haul totals to just P546. They have:
Tea Tree Mask Sheet for Skin Soothing
Lemon Mask Sheet for Brightening
Avocado Mask Sheet for Nutrition
Makgeolli Mask Sheet for Skin Purifying (Makgeolli is Korean rice wine)
Rice Mask Sheet for Clear Skin
Tomato Mask Sheet for Radiance
Seaweeds Mask Sheet for Skin Purifying
Aloe Mask Sheet for Moisturizing
Broccoli Mask Sheet for Vitality
Red Wine Mask Sheet for Pore Care
Pomegranate Mask Sheet for Elasticity
I was able to get everything except for Aloe, Broccoli, Red Wine, and Pomegranate. To date I've tried the Tea Tree, Lemon, and Seaweeds Mask Sheets.
For today I shall review the Tonymoly I'm Real Lemon Mask Sheet (P78). The first thing I noticed was how sheer it was. It's very easy to put on your face because the thin mask hugs everything effortlessly. There's also an instant cooling effect. I also loved the refreshing lemon scent. So you leave it on for 20-30 minutes. I always opt for the maximum time so 30 minutes it was.
These are my before and after photos. One of my main problems is reddening. I thought Tonymoly's I'm Real Lemon Mask Sheet did a good job of brightening my face. It toned down the redness right after use.
What I like about Tonymoly I'm Real Lemon Mask Sheet:
I love the cooling sensation. My face feels like its radiating warmth most of the time for some reason.
The fresh lemon scent is invigorating.
There's no sticky or slimy feeling.
It brightens skin immediately after use.
It's cheap at P78 a pop.
There's a mask for just about every skincare concern.
Downside? None so far, I've tried 3 variants already and I haven't had any adverse reactions. Tonymoly I'm Real Mask Sheets are cheap and effective, I really couldn't ask for more.
Tonymoly I'm Real Mask Sheets are available at Tonymoly counters and boutiques for P78 each. Log on to http://www.tonymoly.ph for a complete list of stores.
Like this post? Subscribe to this blog by clicking HERE.
Let's stay connected: