Sometime ago, I bought a Tonymoly Egg Pore Nose Pack (P28) from Tonymoly in Market! Market!. So far I've had nothing good experiences with Tonymoly products, especially with the most recent one I've tried which is the Tonymoly Luminous Pure Aura CC Cream.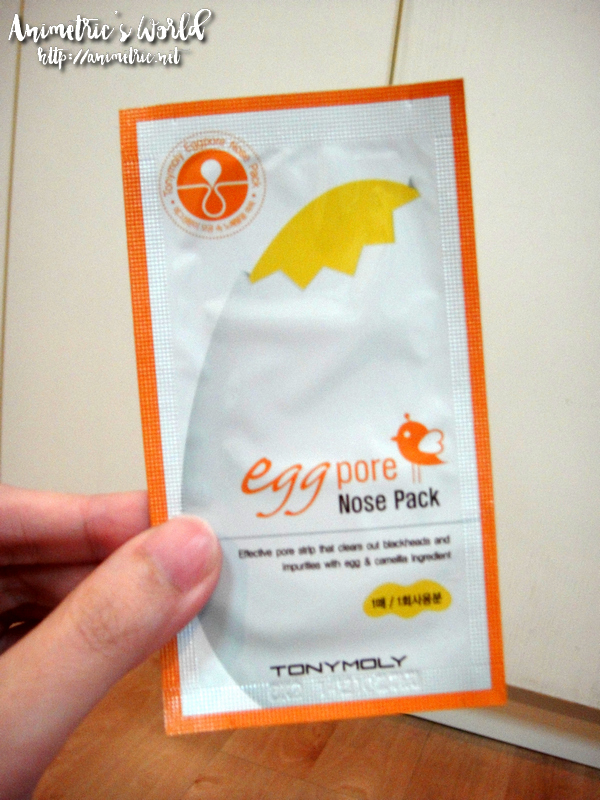 One sheet like this costs P28. I've been feeling a lot of bumps on my nose lately so I figured I could use one.
This is what the actual product looks like. You're supposed to wet your nose area then peel of and attach this sheet.
You press the sheet down on your nose area. It was enough to cover my entire nose from the center to the sides. It should look something like this. I noticed it smelled kind of like raw eggs. According to the instructions, you let it stay for 10-15 minutes or until completely dry (whichever comes first I guess, lol!).
I watched a bit of TV and when the sheet felt dry I started to peel it off. You're supposed to start from the sides then work your way to the center. Ouch!!! Removing it was painful. It was really firmly stuck to my skin. I think I teared up. XD
Anyway, I peeled it off super slowly to minimize the ouch factor. This is the result. Some little bits of what looked like whitehead/blackhead tips and some miniscule strands of facial hair. My nose area was red afterwards but the redness subsided after a while.
What I liked about Tonymoly Egg Pore Nose Pack:
It's affordable at P28. Sure, you get only one strip but that's really all you need. When I was younger I would buy pore strips (different brand) from Hong Kong in boxes of 10 and well, after using a couple I would forget about them only to rediscover them years later.
It's effective. My nose area felt perfectly smooth afterwards, no more bumps!
It's fast and efficient. Using it takes all of ten (10) minutes. After my bad experiences with blackhead/whitehead extractions and prickings, I'd rather do this. At least it doesn't cause breakouts and I have no one else to blame but myself if any problems should arise, lol.
Downside? Well, it is quite painful to remove since it really sticks to your skin like glue. Your nose area will redden immediately after removal too so I don't suggest going out right after use.
Tonymoly Egg Pore Nose Pack is available for P28 at all Tonymoly counters and boutiques. Log on to http://www.tonymoly.ph/ for a complete list of stores.
Like this post? Subscribe to this blog by clicking HERE.
Let's stay connected: