Tonymoly is one of the Korean beauty boutiques we frequent because of the vast array of skincare and makeup products they carry. I think they have everything for everything — no exaggeration. And that is why Tonymoly is one of my go-to places for beauty products.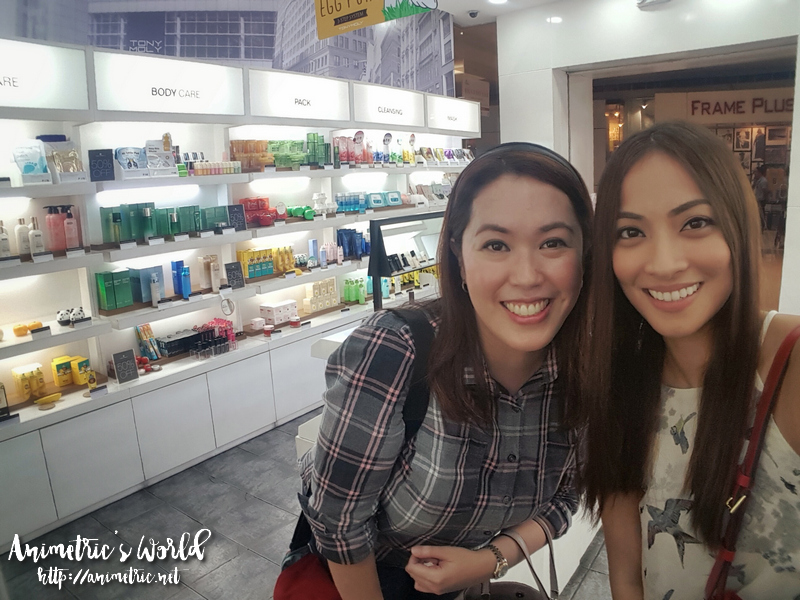 So sometime ago, Jackie and I did some shopping at Tonymoly SM Megamall.
For that particular shopping trip, I decided to focus on products that would help me achieve and maintain clear skin. It's very hot these days and the last thing I want to do is pile on thick makeup. If I keep my skin clear, I wouldn't have to… right?
Tonymoly Bamboo Fresh Water Soothing Mist (P548)
These days, I find myself dousing my face with cold water midday especially when it's super hot. That said I decided to pick up a bottle of Tonymoly Bamboo Fresh Water Soothing Mist. It's made of 94% pure natural Damyang bamboo water which refreshes and relaxes skin. It also keeps skin moisturized without leaving an oily film. Pop in the refrigerator for an even more exhilarating experience.
Tonymoly I'm Real Rice Mask Sheet Clear Skin (P78)
I picked up this sheet mask too, because the foil pack says Clear Skin lol! It contains no parabens and it promises to clarify and brighten skin with real rice extracts.
Tonymoly Walking Dead Facial Pack (P848)
Here's where it gets interesting. I grabbed this Tonymoly Walking Dead Facial Pack as soon as I saw it. YES I wanna be a zombie, the forever undead!!! Anyway, this product has been discontinued in Korea and I think I grabbed the second to the last piece so chances are there aren't any left in Tonymoly Metro Manila counters and boutiques. The salesperson did say that very few pieces made it here and they're not really bringing it in.
This is formulated with Dragon's Blood Tree extract and Rose Water. It supposedly tightens, lifts, moisturizes, and smoothens skin. Here's the thing, I found only 2-3 reviews online and they were all BAD. LOL. Most of them had problems removing the mask.
Because of the negative reviews I was too scared to try it on my face. I decided to test it on my hand first. It's actually a transparent gel that you spread all over your skin. It smelled like roses.
I felt the gel dry and tighten as the minutes passed. After 10 minutes, my hand did um… zombify. But here's the thing, it WASN'T hard to wash off like a couple of reviewers claimed. In fact, I used only water to remove it and I was able to do so easily. After I washed it off and dried my hand, wow my skin was very bright and smooth. I think I'm ready to try it on my face.
Tonymoly Bee Propolis Spot Ointment (P778)
I got this because I've always had good experiences with propolis-based products, especially where pimples and skin problems are concerned. In the past, I've used Ilog Maria Propolis Ointment and Pevonia Soothing Propolis Concentrate to treat zits and skin irritations. I don't have either on hand (because both are kinda hard to buy) and so when I spotted the Tonymoly Bee Propolis Spot Ointment, I was sold. I use Propolis on everything from breakouts to cuts to insect bites.
Tonymoly Floria Brightening Peeling Gel (P478)
To achieve clear skin, you need to exfoliate regularly. While I have my stash of exfoliating products at home, I decided to pick up an extra — Tonymoly Floria Brightening Peeling Gel.
The gel is really easy to use. Just apply onto the skin and massage. It will get rid of dead surface skin, just like that! You're left with smooth and bright skin right after you rinse.
Still thinking if I should review the Tonymoly Walking Dead Facial Pack since it's already discontinued.
Anyway, just wanted to share my latest Tonymoly haul for clear skin essentials. Will post detailed reviews soon!
For a complete list of Tonymoly counters and boutiques, log on to http://www.tonymoly.ph.
Like this post? Subscribe to this blog by clicking HERE.
Let's stay connected: