One of the most important things you can do for your face is to REMOVE whatever you put on it thoroughly before going to sleep. Believe me, I've fallen asleep with makeup on and the results weren't good. I'd get a breakout or extremely bad skin the next morning. That said, makeup remover is a non-negotiable product to have at home. Facial washes don't cut it — even those that claim to remove makeup. The rule of thumb is, if you wear makeup, you need to have a makeup remover.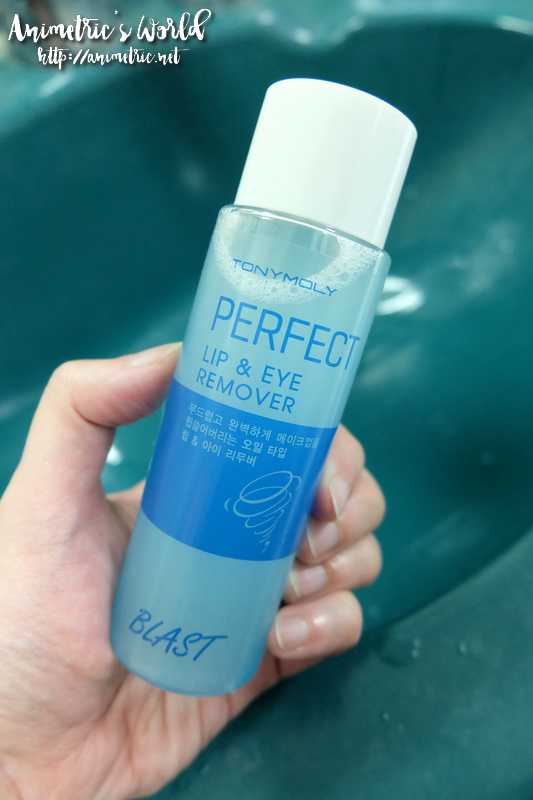 Tonymoly Blast Perfect Lip and Eye Remover (P348) is my latest discovery in the makeup remover category. You see my makeup essentials include eyebrow product, eyeliner, mascara, and lipstick and so I need a product that would remove all of them. Please note that it is important for you to shake the bottle before use because the oil tends to settle at the bottom.
Tonymoly Blast Perfect Lip and Eye Remover is an oil-based liquid makeup remover that is similar to a cleansing oil. I used to use only Shu Uemura Cleansing Oil to remove all makeup and while it's effective, it's also expensive. One 450ml bottle costs around P4.5k to P5k. I've learned to look for alternatives especially since I go through makeup remover more quickly these days.
So anyway this is my typical eye makeup look. I use waterproof mascara so that can be challenging to remove.
I don't use cotton balls or cotton pads to remove eye makeup. What I do is put a generous amount of product on my palm and totally saturate my entire eye area then I add a little water. I use only my fingers to gently rub the makeup off. I find that this is less abrasive to the delicate skin around the eye area. I rinse with water and then follow up with a gentle cleanser like Physiogel or Cetaphil.
Voila! All the waterproof eye makeup is gone! Quite easily I might add. No need to rub hard, it all just melts off.
What I like about Tonymoly Blast Perfect Lip and Eye Remover:
It's formulated with baking powder and 5 kinds of natural oils (avocado, argan, jojoba, olive, and lavender) to thoroughly yet gently remove eye and lip makeup.
It delivers what it promises — it removes even waterproof eye and lip makeup quickly and easily.
It's gentle and moisturizing.
It's easy to bring around.
It's cheap at P348 per bottle.
Downside? It leaves an oily film on your skin which is supposed be the moisturizing effect. Some people might not like it. Anyhow this is easily solved by following up with a facial cleanser. Personally, I like how effective, efficient, and economical this product is.
Tonymoly Blast Perfect Lip and Eye Remover is available at Tonymoly counters and boutiques for P348. Log on to http://www.tonymoly.ph for a complete list of stores.
Like this post? Subscribe to this blog by clicking HERE.
Let's stay connected: