Remember how I ended up with really dark purplish black hair last month after a L'oreal Professionnel Diarichesse coloring treatment? Well, there wasn't anything wrong with it but I wanted lighter-colored locks so badly that against my better judgement (I knew it would surely dry and fry my hair!), I decided to do another DIY coloring session at home. This time, I used Tonymoly Berry Trendy Hair Color Cream in Milky Blonde (P328).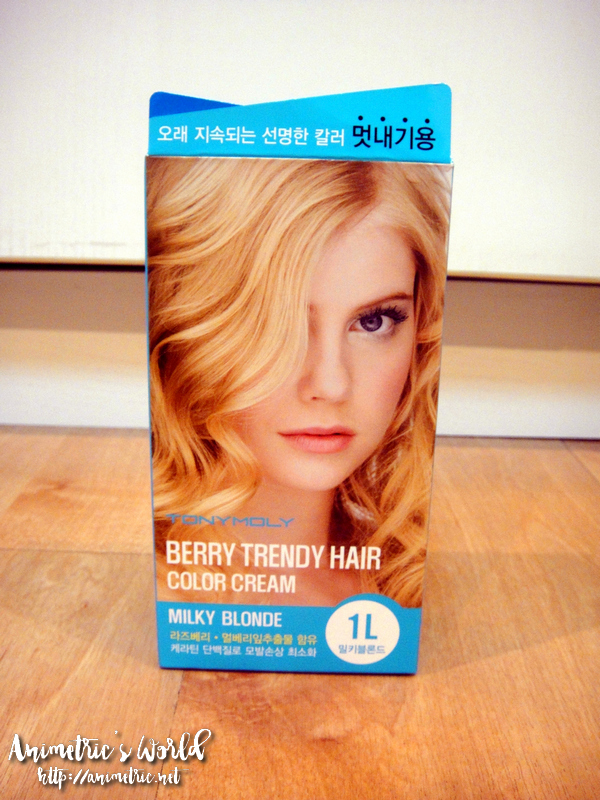 I bought this in Korea but Tonymoly Berry Trendy Hair Color Cream is actually available in Tonymoly outlets here in the Philippines for P328. There are several colors to choose from. In fact, I've seen this exact shade in SM Megamall's Tonymoly branch. I got the lightest shade because I wanted to lighten my dark dark hair.
As you can see from the side of the box, it's not really going to turn me into a blonde… dark hair will just end up with a lighter shade of brown.
The kit contains a tube and a bottle of solution, a plastic cape, plastic gloves, and a sachet of hair treatment.
It's really easy to use. Just empty the contents of the tube into the bottle. Close the cap and shake well so that the solutions are thoroughly mixed together.
Tadaa!
The solution is really liquid so it tends to run down the spout.
Anyway, this was the color of my hair before using Tonymoly Berry Trendy Hair Color Cream. You cover your entire head of hair thoroughly with the cream. I tied the cape around my neck and changed into button-down pajamas so my clothes don't get stained. Leave on for thirty (30) minutes.
After 30 minutes, you're ready to shampoo. After you wash off the coloring cream, apply the contents of the entire sachet of Tonymoly Berry Trendy Hair Treatment. Leave on for 2-3 minutes and then rinse thoroughly. This will effectively detangle your hair and make it soft and smooth after coloring.
This is now the color of my hair thanks to Tonymoly Berry Trendy Hair Color Cream in Milky Blonde. If you want to lighten dark hair, grab this shade.
This is my hair under natural light… I stood beside my bedroom window so I'm actually still indoors.
What I liked about Tonymoly Berry Trendy Hair Color Cream:
It's very easy to use and convenient.
Although it seemed runny at first, it actually doesn't drip when you cover your hair with it.
It smells so fruity, just like berries!
It's very reasonably priced… imagine, I was able to get a new hair color for P328!
Being a cream, it can cover white strands more effectively.
It didn't dry my hair, despite being colored a week before in the salon!
It's relatively easy to find as it's available at all Tonymoly outlets… and as of posting time there are over a dozen of them, most of which are in SM malls.
Really, there's no reason not to try this out if you're considering coloring your hair. 😀
For a complete list of Tonymoly stores, log on to http://www.tonymoly.ph.
Like this post? Subscribe to this blog by clicking HERE.
Let's stay connected: