Since I just got a haircut which removed a lot of damaged ends, I figured it was time for me to color my hair again. If it's one thing I've learned through the years it's not to be afraid to go for the lightest shade available. My hair is a really dark jet black when not colored and I feel it makes my features seem too harsh (pale white face + black hair). In fact, some of the older guys in high school used to call me white lady, bwahahaha… and I actually considered that a compliment because it was the effect I was gunning for then. So now I'm trying out Tonymoly Berry Trendy Bubble Hair Color in Golden Blonde (P428).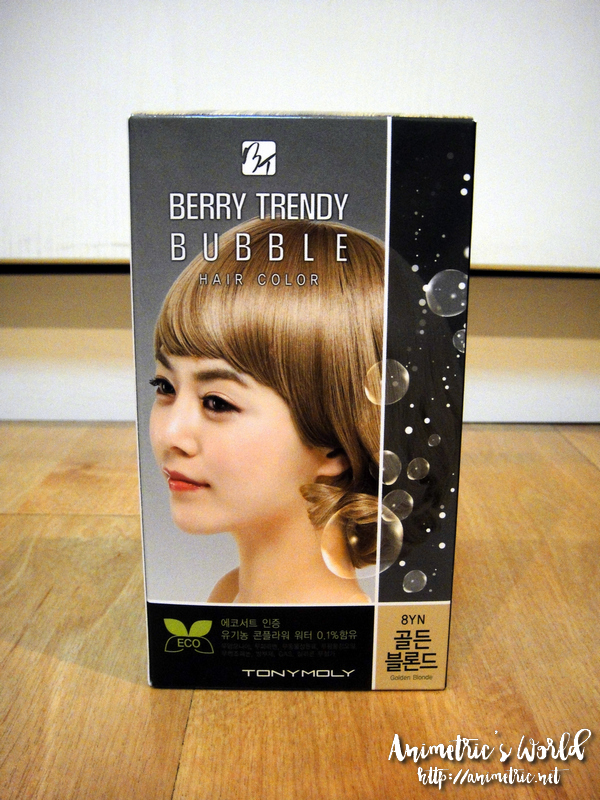 Last time I went to SM Megamall, I dropped by the Tonymoly boutique and found the Tonymoly Berry Trendy Bubble Hair Color. It's new. They used to have only cream hair color. I didn't see this when I went to Korea last year either (or else I would've bought some!).
I purchased this kit the same time I bought my Tony Moly Dear Me Petite Cotton BB Cream, but it's only now that I've gotten around to using it. It comes with two bottles, a sachet of hair treatment, an instruction brochure (purely in Korean so it's useless to me), a pair of latex gloves, and a plastic cape to protect your clothes.
The gloves remind me of those that come with the Etude House Bubble Hair Coloring kit.
Anyhow, pour the contents of bottle 1 into bottle 2 (with the pump).
Close the bottle securely and then swirl the solution around so it mixes thoroughly. Do not shake.
Twirl the bottle around in this motion to ensure proper mixing of the coloring solution and developer.
Push the pump to dispense the mousse. The foam is brownish in color for some reason so take care not to get it on your clothes. I noticed that due to the extreme hot weather the mousse isn't so fluffy, it kinda falls flat and liquefies right away as soon as I put it on my hair.
So my hair becomes wet like this after applying the foam. After covering your entire head of hair entirely, you let it stand for 30 minutes for the maximum effect. After 30 minutes, shampoo off and then use the hair treatment in the sachet. Rinse thoroughly.
My hair was not jet black to start with because I color on a regular basis. Still, it got noticeably lighter. Took these photos indoors during the evening with just my bedroom lights on.
My hair is even lighter when I'm outdoors during the daytime. I'm realistic. I'm not ending up with golden blonde locks unless I bleach but I don't think my hair will survive that ordeal. I'm content with lightening my hair to this shade. Yes, I'm pretty happy with the shade.
What I like about Tonymoly Berry Trendy Bubble Hair Color:
It's very easy to use.
It's A LOT cheaper compared to getting your hair colored in a salon.
It has a pleasant scent which is typical of most Korean hair coloring kits.
It lightens the hair in a single step. I tell you some salons I go to even ask me who colors my hair and what brand is used. They're pretty surprised that I achieve this lightness on my own at home.
Downside? None, except that when people discover how great this is I'll probably have a hard time finding stocks to buy, lol! XD
Tonymoly Berry Trendy Bubble Hair Color costs P428. For a complete list of stores, log on to http://tonymoly.ph/.
Like this post? Subscribe to this blog by clicking HERE.
Let's stay connected: