As far as beauty products are concerned, I'm foraging into a new territory with CC creams. I pretty much know my way around BBs, but I'm just getting started with CCs. My latest discovery is Tonymoly Aqua Aura Cooling Cushion CC Cream (P1,078). This is my third CC review, the last one I did was for Holika Holika Aqua Petit Jelly CC Foundation.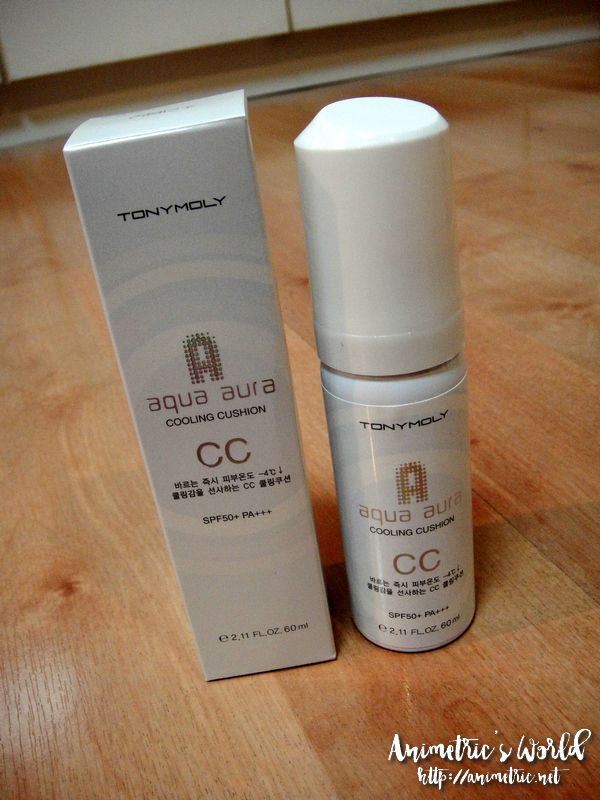 I've been curious about Tonymoly Aqua Aura Cooling Cushion CC Cream ever since I saw it being promoted on Tonymoly Philippines' FB Page.
Tonymoly Aqua Aura Cooling Cushion CC comes in a small metal canister. It's packaged like styling mousse. Removing the cap reveals a sponge tip.
You shake the canister (as you would styling mousse) and then press the indented area at the back of the sponge tip to dispense the product.
What comes out isn't actually a mousse, the CC is in a lightweight liquid form which eventually makes its way through the sponge.
Here's a swatch. I got the lighter shade, 01 Light Beige (which is supposed to be unisex). There's a slightly darker shade, 02 Natural Beige.
So anyway, since my face is naturally pinkish (check before photo above left), I love how CCs are able to "adjust" its color so it matches my neck more (check after photo above right). Ooh, I think this shade might be too light for most people albeit it's kind of translucent.
This photo was taken around 6+ hours after application. I came from a lunch appointment and my kids' school since I'm the one who picks them up during dismissal time. I haven't blotted in the photo so my face is oily and shiny.
This is pretty much how it looked like for most part.
What I liked about Tonymoly Aqua Aura Cooling Cushion CC:
It lives up to the name, you feel an intense cooling sensation once the product touches your skin!
It's lightweight and it smells nice.
It brightens instantly, moisturizes, and leaves a dewy finish.
The sponge tip ensures a mess-free application as you can use it to pat the product all over your face.
It's got SPF 50+ so you don't need to use a separate sunscreen during the daytime.
It works as a base that gives you a glow even if you put apply makeup over it.
Downside? Since it's sheer, it doesn't really have any serious coverage so if you have blemishes and other things to hide, you can't use this alone. It dries really fast too so you have to pat it all over your face just as quickly so it will come out even. If you have oily skin you might want to top with some finishing powder because you might end up too shiny.
Tonymoly Aqua Aura Cooling Cushion CC is available at all Tonymoly counters and boutiques for P1,078 per canister. Log on to http://www.tonymoly.ph for a complete list of stores.
Like this post? Subscribe to this blog by clicking HERE.
Let's stay connected: