Hey now it's my first CC Cream review of the year and it's for Tonymoly Luminous Aura Capsule CC Cream (P1,648)! Now it may sound a lot like the other Tonymoly CC Cream I reviewed, Tonymoly Luminous Pure Aura CC Cream but let me assure you the two are very different from each other.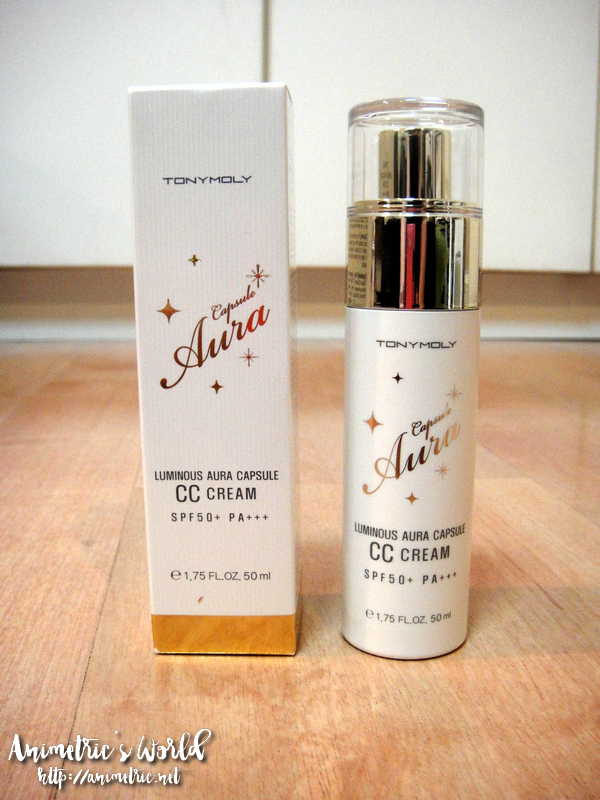 For starters, this is priced higher at P1,648. Pure Aura costs below P1k.
This is Pure Aura and Capsule Aura side by side.
You can immediately see the difference from the swatches alone. Pure Aura (top) starts out white, Capsule Aura (bottom) is already flesh-toned from the moment you dispense the product.
Pure Aura (top) has a lighter, more transparent coverage compared to Capsule Aura (bottom).
So anyhow, these are my before and after photos. If I look like I just woke up it's because I did just wake up when I took the before photo hahahaha!
These are fresh application (above left) and 8-hours-after (above right) photos.
Products I used on this photo:
What I liked about Tonymoly Luminous Aura Capsule CC Cream:
It's more wearable by itself because it's got thicker coverage compared to the average CC Cream.
It starts out light beige and adjusts to a more natural-looking beige as you blend. Medium to darker skin tones will have an easier time with this compared to Pure Aura CC.
It's highly moisturizing so it's recommended for people with dry skin since it's enriched with Marine Collagen and Hyaluronic Acid for moisture and elasticity.
It has a plumping and firming effect so you look younger.
It's free from Talc, Mineral oil, Benzophenone, Organic Dye, Benzyl Alcohol, Sulfate Surfactant, and Triethanolamine — harmful ingredients which can clog pores.
It has SPF 50+ so you get ample sun protection.
You get an instant dewy look upon application.
Down side? It's so moisturizing I had to blot my skin quite a few times during the day since it had a tendency to shine too much. It feels markedly more heavy compared to Tonymoly Luminous Pure Aura CC Cream too. So far this is the priciest CC Cream I've reviewed.
Tonymoly Luminous Aura Capsule CC Cream is available at all Tonymoly counters and boutiques for P1,648. Log on to http://www.tonymoly.ph/ for a complete list of stores.
Like this post? Subscribe to this blog by clicking HERE.
Let's stay connected: