A little over a week ago I dropped by Tomato's flagship store in Glorietta 2 for the Tomato Swap Watch DIY event. My curiosity was piqued because I've been hearing things about the Tomato Swap Watch for quite some time now and well, I haven't really seen one yet. I was told I could make my own customized Tomato Swap Watch so yay, I'll finally find out what the buzz is about.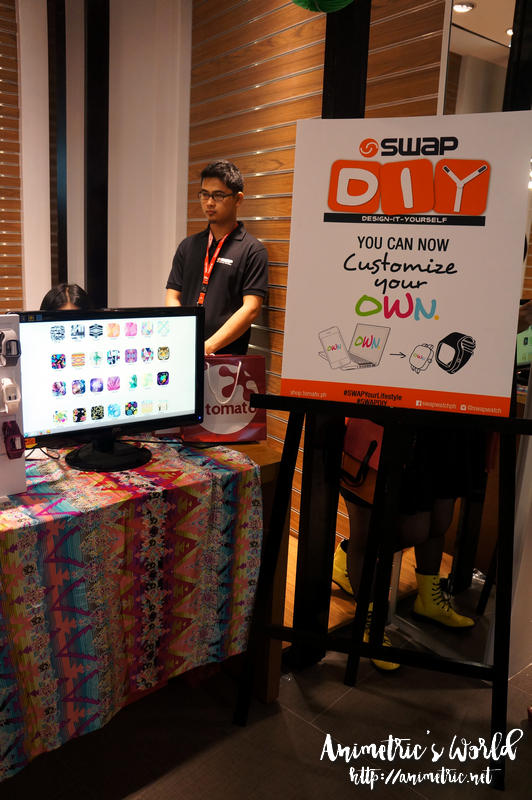 Tomato Swap Watches are mix and match timepieces. You can choose a face, choose a strap and boom — your own unique watch! Now you can create a face (yes, all you have to do is supply a photo) and loom a strap (yes, they have special clock face cases which can be used for looming!) for a higher level of customization.
If you're not into designing your own watch, you can grab ready made watches like these ones at P1,300 each. The faces and straps are interchangeable so you can just buy new faces and new straps then swap.
There are a lot of ready made clock faces and straps to choose from.
These are the Tomato Swap Loom Watches.
The loom bands / bracelets are not included, you have to loom your own strap for this.
Here are some samples.
For my DIY Tomato Swap Watch, I took a screenshot of my Xiaomi Mi3's Mi Bunny theme and told the Tomato folks I wanted a Mi Bunny clock face, lol! I picked a strap for it too. A custom clock face like mine costs P1,000 while the strap is around P350.
Yay for my Mi Bunny Tomato Swap DIY! I love it!
Yay also for a mini get-together with my beautiful blogger friends Martha and Shen! 😀
Tomato Swap DIY Watches are exclusively available at the Tomato.ph Online Store.
Here's a closer look at my Mi Bunny DIY Tomato Swap Watch.
Like this post? Subscribe to this blog by clicking HERE.
Let's stay connected: