I've been sporadically seeing Tom Sawyer's Old Fashioned Fried Chicken on my social networking feeds lately. I told my hubby about it and he said we just had to go eat there ASAP (and that meant Dec. 25, Christmas Day).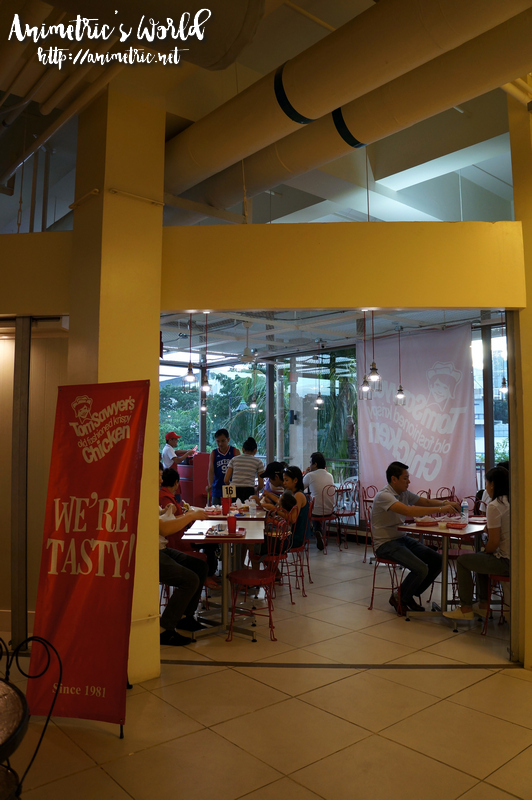 I remember Tom Sawyer's Old Fashioned Fried Chicken in Greenhills before. It was located in the vicinity of Unimart(?)… not really sure. It was a small place which I recall was dark brown all over. But that was all I could remember… the place. I honestly don't remember the food. My hubby, who used to live in San Juan, was a lot more familiar with the food and the place. He had a lot of good memories about Tom Sawyer chicken which prompted us to drive there on Christmas day. I was surprised that the place was soooo tiny, located in a corner of Tiendesitas. There were maybe 5-6 tables? But you can see Tom Sawyer from the street outside if you're driving by.
Tom Sawyer now has a fast-food vibe. I don't know if it was like this before. I seem to recall it being a sit-down type of restaurant.
The menu is quite simple and straightforward. In fact, that above is pretty much it. They serve chicken, ribs, and spaghetti plus several side dishes like fries, coleslaw, cornbread, etc.
Hubby and I ordered two dishes for sharing. First was the 2 Pcs Chicken with Rice and Gravy (P138). I thought the chicken was great — it's well-cooked through the bone and the skin is super crunchy just the way I like it. Hubby was kinda disappointed though he said he remembered it being so much bigger and better. I thought P138 for this meal was fair. It would be better if you had the option to "upgrade" the white rice to Hickory Rice but you can't, the order-taker said you have to order Hickory Rice as a side if you want it with chicken.
I was disappointed with the Hickory Ribs and Rice (P198). It's not really ribs per se, it's a thin strip of liempo (pork belly) drowned in really flavorful hickory barbecue sauce. The hickory rice tasted kinda like ketchup but I thought it was okay. Somehow I found P200 for one strip of liempo with rice kind of exagg.
I'd go back to Tom Sawyer's Old Fashioned Fried Chicken for the chicken (although I'm not willing to go out of my way and drive there for it), plus I have yet to try their spaghetti and side dishes.
Tom Sawyer's Old Fashioned Fried Chicken
2/F Building A, Tiendesitas, Pasig City
966-2291 / 0917-8110338
Like this post? Subscribe to this blog by clicking HERE.
Let's stay connected: