Lately I've been rather fascinated with this new place called UP Town Center. The first time I actually went there was when we were invited to check out Tokyo Tonteki a couple of weeks ago. I've gone back a few times since — got donuts from JCO, bought cronuts from Family Mart, and had dinner at 8 Cuts.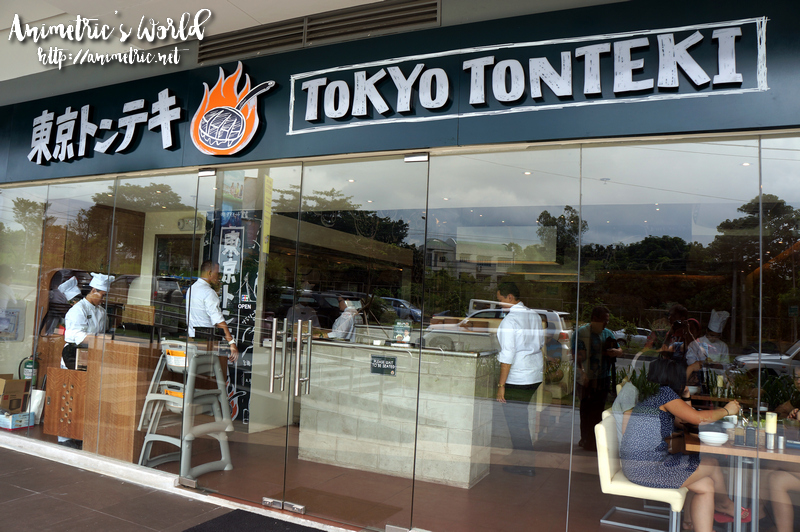 Tokyo Tonteki is a newly opened restaurant franchised from Japan. Tonteki literally means "pork steak". Tokyo Tonteki serves pork steak on a sizzling plate. I was surprised the restaurant was packed when we got there. It was just days old at the time.
We started off with Potato Salad (P150). I love Japanese-style potato salad. I think it's because of the mayo they use — it's tastier than local mayo and it's not overwhelming. Plus I find the sliced cucumbers and carrots are refreshing (both are staples in Japanese-style potato salad).
We also had an appetizer called Spring Roll of Prosciutto, Avocado, and Onsen Egg (P175). The savory ham, rich avocado, and runny golden onsen egg all combine to create a unique flavor experience.
This is what a typical meal set at Tokyo Tonteki looks like. This is the Large Tonteki Set (300-350g of pork for P450). It's their classic Premium Pork Steak. All meal sets are served with pickles, pork miso soup (yes, their miso soup uses pork broth so it's tastier than ordinary miso soup), rice, and cabbage. Extra servings of rice, soup, and cabbage are free. Like the tonkatsu places scattered all over the metro, there are bottled dressings on your table which can be drizzled on your cabbage. Their premium pork steak is very tender and tasty, cooked in a flavorful sauce that is not as sweet as teriyaki and not as savory as tonkatsu. It's kind of hard to describe but it's good — in fact you can use the sauce the pork is cooked in to season your cabbage.
We also tried their Ginger-Flavored Pork Steak (200-250g for P350). Instead of their classic tonteki sauce, this one uses sauce made from crushed ginger. It's topped with walnuts too. I found it to be uniquely tasty, although I think I prefer the classic tonteki sauce.
Cheese Tonburg Steak Set (300g for P350) was served next. It's called Tonburg because it's made of pure ground pork (Hamburg is what the Japanese call their burger steak which is made of beef). The thick pork patty is smothered with melted cheese and tonteki sauce. Wow! I think this is my favorite and I'm pretty sure my kids would love this! The pork patty is juicy, filling, and well-cooked. It's so big that I don't think I can finish one order by myself, I will probably have to share it with someone.
Special Fried Rice with Egg (P150) is soooo good it's worth ordering even if all meal sets already come with steamed rice. It's so garlicky and toasty, it's delicious even when eaten on its own. The soft-centered sunny side egg on top adds a nice touch.
Tokyo Tonteki serves desserts too. We sampled their Cheesecake (P140). It's prepared Japanese style, meaning it's very light and somewhat airy in terms of texture instead of solidly creamy like the cheesecakes we're used too. Hubby enjoyed it a lot but for me it was just okay.
The dessert I really loved was Homemade Almond Pudding (P110). It kind of looks like taho but it's nothing like taho. Creamy almond pudding and dates are served in thin syrup. It's not overly sweet and the pudding tastes really milky. I love it! I would definitely order this again.
Tokyo Tonteki is a good place to try if you want to venture beyond tonkatsu or just want a nice filling meal that's reasonably priced. You get pretty much the same trimmings (pork, cabbage, rice, pickles, miso soup) but at least you'll sample a different style of cooking that's ported over straight from Japan. No matter how thick the pork is, it's always soft and tender when served because of their unique low fire cooking method. I can already tell that it's going to be a hit with Filipinos because of the sheer volume of people eating there. By 2pm, the restaurant was still full! For more information, check out Tokyo Tonteki Philippines on Facebook.
P.S. If you don't like pork, they have chicken alternatives… just no beef. 🙂
Tokyo Tonteki
Level 1 UP Town Center
Katipunan Ave., Quezon City
747-2125
Like this post? Subscribe to this blog by clicking HERE.
Let's stay connected: