Last Monday, my hubby had a lunch meeting at SM Aura. My dad was scheduled for transfer at the chapel 8pm that night and so we had the afternoon to buy supplies for the wake. I had already cancelled all non-work related events for the week. Hubby encouraged me to go to Todd English Food Hall's press launch which was scheduled for noon that day. He said since we were already at SM Aura and we had time so I might as well. He thought it would help take my mind off things even if it was for just a couple of hours.
So I proceeded to the Skypark level of SM Aura on the 5th floor. I was greeted by the big bright entrance of the Todd English Food Hall.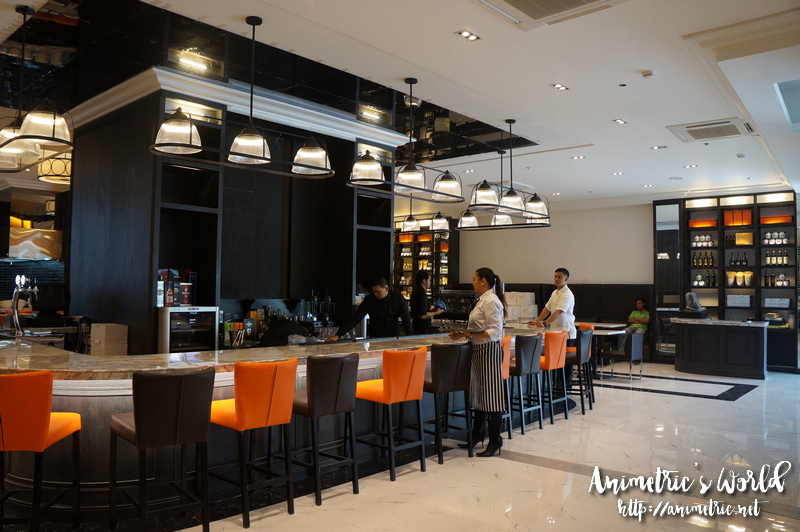 It's huge inside. There's a bar area and a whole lot of tables and chairs. The Todd English Food Hall occupies a whopping 900sqm of space.
No expense was spared with regards to the interiors.
Food preparation stations surround the dining areas. You see everything sliced, diced, cooked, and assembled right in front of you.
I went around to see how our lunch was being prepared.
Food is freshly made as you order.
This is Todd English's special pasta machine. There are only 3 in the world.
Different colored pasta adorn the racks.
I returned to my table. Flatbread Pizzas were already being served. This is the Truffle Fungi (P700). Todd English's signature hand-rolled dough is topped with truffle vinaigrette, mixed mushrooms, fontina, and parsley. It's really good — they didn't skimp on the truffle oil, I could smell the aroma with every bite. This is my favorite Flatbread Pizza along with the Fig & Prosciutto (P530) which I was unable to snap a photo of.
This is the Crispy Eggplant Flatbread Pizza (P460). Crispy breaded eggplant pieces, taleggio cheese, caramelized onions, and a baby spinach salad top this creation. I think it's a great way to get people who normally do not eat eggplant to taste it.
After the flatbread, we were served Tuna Tartar (P280). One order is comprised of two servings. Diced and marinated sushi-grade tuna are piled on top of a crispy marmalade shrimp and wrapped with a thin slice of cucumber. There's a bit of caviar on top too. Quite a classy starter and one piece is quite big.
Then we had Simple Salad (P285). Fresh mixed greens, grilled corn, cherry tomato, shallot, vinaigrette, and olive oil comprise it. I liked its fresh light taste which is perfect if you're having richer more flavorful fare in the next courses.
Todd English surprised me by bringing out the best-tasting taco I've had in my life so far, rivaled only by one that I had in Ensenada, Mexico during my younger days. Meet the Asada Steak with Pear Salsa (P320). You get 4 pieces with each order. Cubed tender and juicy striploin steak with fresh pear pico de gallo and cilantro creme… all of which you wrap with a warm, soft, and chewy flour tortilla. I suggest squeezing a lime wedge onto the filling before folding and eating in one fell swoop. It's so good it's heavenly. If there's a must try at Todd English aside from the Fig & Prosciutto and Truffle Fungi Flatbread, it's this one!
Todd English is renowned internationally for his pasta so it was inevitable that we would be having some. This is the Roasted Pumpkin Ravioli (P220). I love how chewy the ravioli is. If you like pumpkin soup and pasta, you'll love this.
We were already getting full at this point when they brought out TE Slider (P390). There are 4 sliders with each order. The mini brioche buns are filled with fresh home ground meat patties, tomato, lettuce, mustard relish, and TE sauce. It's really good. I bet my kids will love these.
The last savory dish served was a combination plate of Seared Tuna Loin and Miso Glazed Salmon. They are normally ordered separately ala carte but for tasting purposes we were served both dishes on the same plate. Both dishes are in the P500 price range. Nice and tasty, but I was saving room for dessert at this point.
And am I glad I did! This OMG chocolate dessert is epic! Everyone at our table agreed this was the best dish of the day. The rich and fudgy chocolate cake pieces, cereal balls, and molten chocolate Milo sauce all come together into a perfect, indulgent, and insanely divine dessert. Definitely a must-try!
I had a photo opp with the celebrity chef himself Todd English and his son Oliver.
I had a nice lunch with my tablemates Patty Laurel-Filart, Nicole Hernandez-De Los Angeles, and Jonel Uy. We were close to going into food coma after the OMG chocolate dessert.
Did you know that this is Todd English Food Hall's first branch outside New York City? I really do think that the Philippines is fast becoming one of the world's food capitals. 🙂
I would go back again (with my hubby and kids next time) since there are still a lot of other dishes on the menu I'd like to try.
The Todd English Food Hall is located at the 5th Floor Skypark of SM Aura Premier in Taguig City.
Like this post? Subscribe to this blog by clicking HERE.
Let's stay connected: